On April 23, 2007, the world was blessed with the premiere of a show that would change the Food Network forever: Diners, Drive-Ins and Dives. Guy Fieri's "chill bro" demeanor won over the hearts, stomachs, and collective indigestion of an American populace looking for greasy roadside eats they didn't even know they needed. And after 10 years of episodes (and a one-off special in 2006 that predated the show itself), some things haven't changed -- namely Fieri's unnaturally bleached, spiky coif. It's weathered everything from numerous visits to diners and dives (and all of two drive-ins), many rounds of grocery games, and a Donkey Sauce-coated life. To celebrate this not-unimpressive feat, we look back on a decade of Guy Fieri and his gravity-defying, gelled-up hair. Join us!
Recommended Video
The History of Delivery & Takeout
"Shut the front door! Can you believe someone gave me my very own television show with this haircut!?"
"I love diners, drive-ins, and dives! Righteous!"
With a year under his belt, Fieri is handed the Gilded Tongs, and he's freshly bleached his 'do down to his roots -- a bold step in our guy Guy's hair evolution.
"Tell me one more time that my flippy-floppies are three sizes too big. I dare ya, brotha."
Singing or yelling with known racist Paula Deen, we're not sure.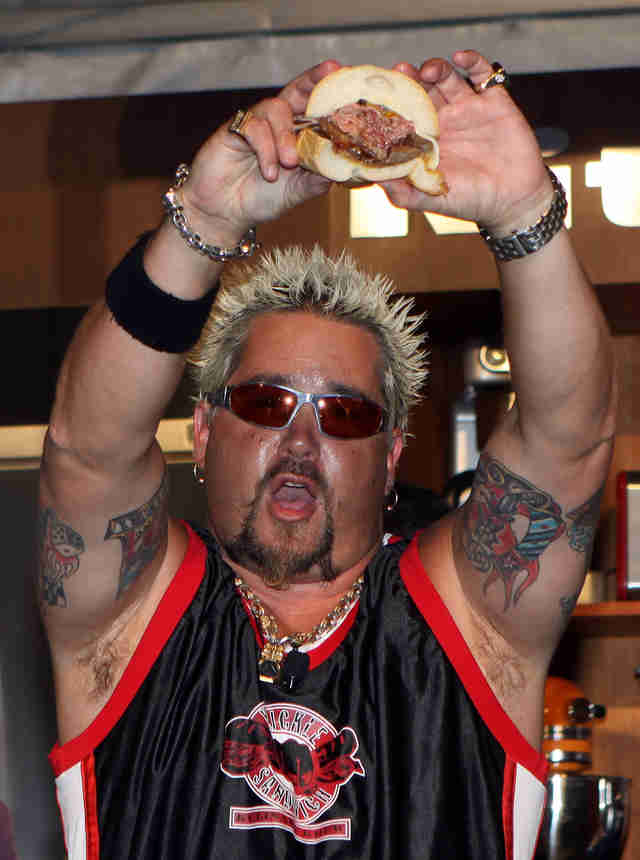 "Gotta signal to my Illuminati brothas, but with burgers so I stay on brand."
It's possible that some of Fieri's pomade dripped onto the burger meat, or maybe he just used his hair as a meat tenderizer. Either way, Éric Ripert and Anthony Bourdain clearly do not find this moment to be the bomb-dot-com.
I, for one, welcome our custom Ed Hardy-wearing, spiky bleached maniacal overlord.
In 2011, Fieri graduated to an MRI pattern with floral touches, and with the style shift came a yellowed root touch-up, which begs the question: Did he get a new stylist?
Nothing screams "Kentucky Derby" quite like Guy Fieri name-brand sunglasses, a chain-link skull necklace, and a single hoop earring, grinning as one does if they're dead inside.
Guy Fieri slays his haterz with cowboy boots, relaxed-fit jeans, and a bottle of Tabasco sauce.
The Fast and The Furious: The Road to Flavortown.
2013 was Guy Fieri's peak "gangsta" phase, with a side of x-treme appropriation.
He spent all night -- per his bedhead -- philosophizing on the magical effects of Donkey Sauce.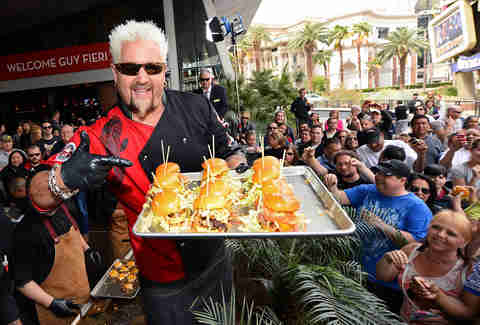 Fieri pointing to his 11 best friends.
Fieri decides to step out of the bleach-blond box he's been put into (or rather, put himself into) and let his inner brunette have some fun.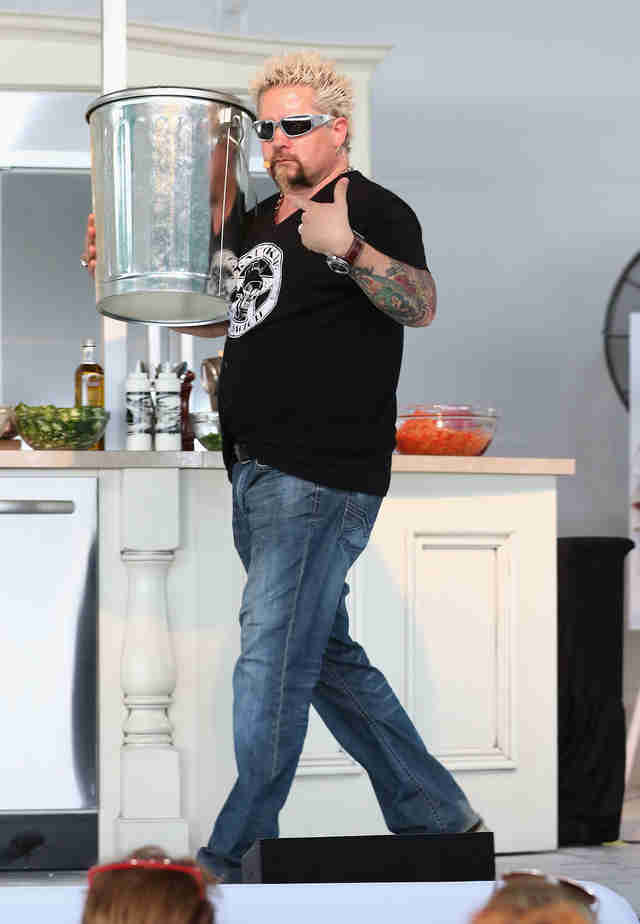 Fieri points to a Dadaist statue of himself.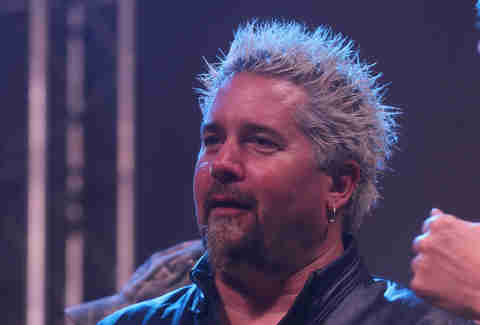 Fieri is stunned that his career has lasted eight full years and spawned an empire constructed of Donkey Sauce. Or he's just sad he left his sunglasses at home.
Guy Fieri SALT BAE-D BEFORE SALT BAE-ING WAS EVEN A THING.
When someone questions whether Fieri's burgers are truly "tatted up." Or, Pete Wells just walked into the room.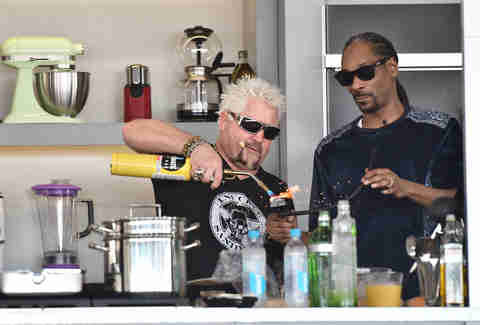 With no fucks remaining, Fieri gives Snoop Dogg a front-row seat to some real deal flame action.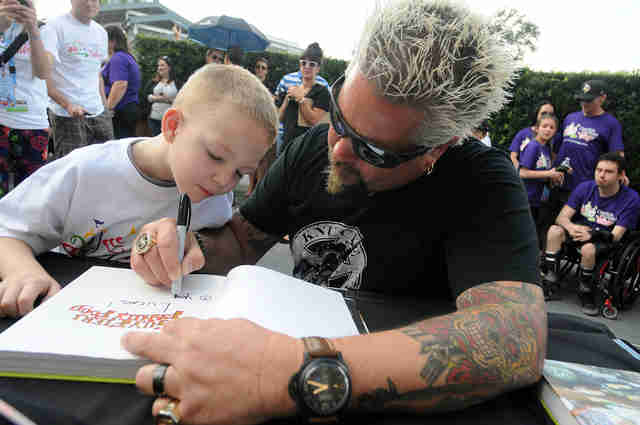 Guy Fieri will never gray, thanks to the pounds of peroxide that have inevitably seeped into his DNA. Guy Fieri may not be immortal, but his hair is.
Sign up here for our daily Thrillist email, and get your fix of the best in food/drink/fun.