These Top Chefs Are Putting a Spotlight on Haitian Cuisine
But not without the help of their mothers.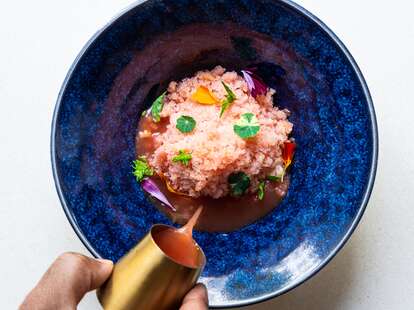 Soursop Ice at Kann

| Photo courtesy of Eva Kosmas Flores
Soursop Ice at Kann

| Photo courtesy of Eva Kosmas Flores
While much of the world toasted the start of a new year when midnight hit on January 1, Haitians had another occasion to celebrate. The Haitian revolution, widely considered the most successful large-scale insurrection led by enslaved people in this hemisphere, ended victoriously on January 1, 1804. The small but very mighty island was able to overthrow the French colonial government in a feat that inspired and emboldened enslaved people throughout the Americas.
Despite this legacy, and Haiti's proximity to the United States, many Americans know little about the island. There are countless ways to connect to a culture, but the chefs of two newly opened U.S. restaurants aim to do so via their heritage cuisine. In 2022, former Top Chef contestants Gregory Gourdet and Chris Viaud debuted Kann and Ansemn, respectively.
Gourdet's Kann, which was just nominated for a 2023 James Beard Award, opened in Portland, Oregon last August. "It felt like America needed a great Haitian restaurant," he says. On the other side of the country, Viaud transformed his former pop up, Ansanm, into a brick-and-mortar operation in Milford, New Hampshire. In varied spaces and very different ways, the chefs bring a taste of the island to far-flung corners of the United States.
Gourdet grew up in Queens and Viaud in the Boston suburbs. Both were born to parents who emigrated from Haiti, and recall being immersed in Haitian-American communities and cuisines throughout their childhoods. "Outside of Chinese takeout or lasagna night, we 100% primarily ate Haitian food growing up," Gourdet says. Viaud recalls his mother recreating classic Haitian dishes in their Massachusetts home from memory. "With a lot of non-Western cultures, it's not really recipes that you follow," he says. "It's more so that you have a touch, feel, and taste for the ingredients that you're cooking with, and you use memories to perfect those flavor profiles."
Until recently, however, neither chef considered himself an expert in Haitian cooking. "It was about maybe seven years ago that I did my first Haitian pop-up, and everything was, like, super wrong," says Gourdet, laughing.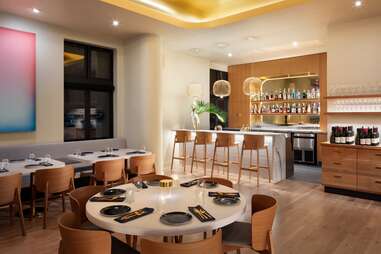 Both are quick to point out that their mothers are the real top chefs when it comes to native dishes. When Gourdet was invited to host a Haitian dinner at New York City's James Beard House in 2018, he enlisted his mother's help. "I was very clear that I wanted her to teach me how to make everything, and any holidays that we had together, I would stay home for like a week afterwards and we would just cook together," he says. "I would take a lot of notes."
Viaud first ventured into Haitian cuisine in 2021, when he debuted Ansanm pop ups. There was never any confusion about who was in charge, he says: "I tell everyone, when it comes to Ansanm, I am not the chef. I'm just my mom's chef. Whatever she says goes."
Griot, Haiti's national dish of citrus-marinated fried pork shoulder, is on the menu at both Ansanm and Kann, and both restaurants pledge to prioritize local produce. Their approaches vary, however, with Ansanm serving traditional Haitian patties and hearty squash soup. Highlights at Kann include creamed collard greens, plantain brioche buns, and desserts like shaved soursop ice. Whether sweet or savory, and served in takeaway bags or an elegant dining room, these dishes provide a direct, delicious link to a powerful legacy.
Nicole Rufus is a food writer and master's student in Food Studies at NYU. You can find her in her kitchen testing new recipes and playing around with West African ingredients.You can follow her on Instagram @norufus.