Whether you're in Baltimore or Budapest, you're going to spot that massive neon guitar, and you'll know exactly what it means: burgers, beer, and at least one jacket previously owned by George Harrison. Hard Rock Cafe has taken over the world with its unique combination of food and music fandom, and it's obviously picked up some crazy stories along the way. Here are just a few on its flagship London restaurant and current Native American bosses to get you started. Drop them into conversation the next time you grab lunch with your aunt who owns 75 HRC T-shirts.
1. The first one opened in an old Rolls-Royce dealership
Hard Rock Cafe sprang onto the scene in London in 1971. It was the work of partners Isaac Tigrett and Peter Morton, two American expats who wanted a place where they could grab a quality 'Merican burger. They managed to score a six-month lease at a space that used to sell Rolls-Royces, a car that very seldom appears in classic rock songs.
2. The co-founder's Dad built on empire on plastic ducks
Tigrett's Pops was a pretty cool dude in his own right -- he was pals with Isaac Hayes and Al Gore, wrote a book, and served in the Navy during WWII. But the most notable point in his career came when he purchased the Glub-Glub duck patent for $800 in the early 1950s. He would eventually sell 22 million of those suckers, proving there's always money in cheap desk toys.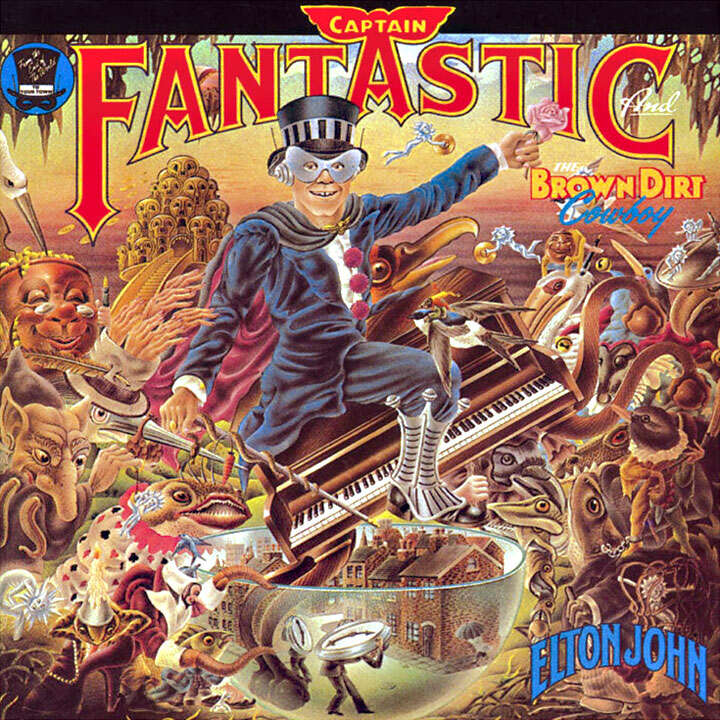 3. The logo was designed by the dude behind tons of iconic music art
For the simple Hard Rock logo, the guys brought in Alan Aldridge, a bonafide celebrity artist. The man did a lot of work with The Beatles, a slew of trippy Penguin book covers, and this Elton John album, among other stuff. Tigrett and Morton enlisted him to create their brand emblem, which was inspired by an old Chevrolet hood ornament. Unlike most of Aldridge's work, the final logo featured a shockingly low number of eyes, hearts, skulls, and DayGlo colors.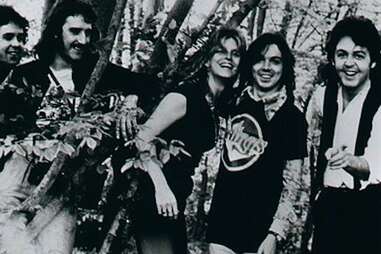 4. Paul McCartney & Wings performed the first live Hard Rock show
Live concerts are a huge part of Hard Rock nowadays, but the first two years of business were tragically devoid of amp feedback. That changed in 1973, when Paul McCartney & Wings put on a spontaneous show as a warm-up for their UK tour. Unfortunately, we were unable to confirm whether the restaurant was serving its Jumbo Wings at the time, but eating wings while listening to Wings would have been mind-bending, to say the least.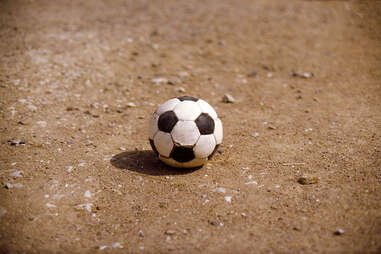 5. Soccer spurred their merchandise
Just like penicillin, Hard Rock Cafe's international T-shirt empire began completely by accident. Tigrett and Morton decided to sponsor a local soccer team in 1974, and naturally the players wore shirts with the restaurant logo on 'em. Only they had some extras, which they returned to the cafe. Tigrett and Morton handed those out to a few loyal customers, who went nuts over the stuff. Demand grew so quickly that the guys opened a separate shack for merch. Be sure to thank soccer the next time you bust out your Hard Rock shot glass collection.
6. Carole King wrote a song about them
The OG London restaurant quickly became a hangout for high-profile musicians, including Carole King. She channeled her love of the haunt in the song "Hard Rock Cafe," featured on her 1977 album Simple Things. According to her own lyrics, the original Hard Rock boasted "good company" and a "color TV," so clearly the place was hopping.
7. Eric Clapton donated the first major piece of memorabilia
Much like King, some passable guitarist named Eric Clapton was a regular at Hard Rock. One day, he asked Tigrett to hang his guitar over his favorite bar stool to "mark his spot" -- and word traveled fast. Just a week later, Pete Townshend sent one of his axes over with the note, "Mine's as good as his! Love, Pete." That's how the memorabilia collection was born, and also how Clapton and Townshend's bitter blood feud began.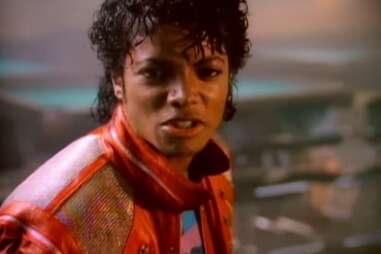 8. They scored MJ, Madonna, and Hendrix swag at a 1986 auction
Guitars from Clapton and Townshend are pretty sweet, but the place turned into a legit museum when they cleared out a Sotheby's rock-themed auction in the '80s. The haul had Madonna's "Like a Virgin" wedding dress, John Lennon's glasses, Jimi Hendrix's Flying V guitar, and Michael Jackson's red "Beat It" jacket. Many middle school yearbooks and beaded bell-bottoms would follow over the years, eventually putting the tally at 74,000 pieces. Moral of the story: stay out of a bidding war with any and all Hard Rock personnel... especially if they're wearing one of those intimidating red jackets.
9. Their first server acts as an international ambassador
Rather than use a giant smashed guitar as a mascot (safety hazard!), Hard Rock tapped their very first waitress. Rita Gilligan has been with the company for over four decades -- Tigrett and Morton hired her away from a much swankier establishment in 1971 -- and she now travels the world representing HRC-related interests. By all accounts she's a delightful Irish lady, and also apparently tight with the Queen of England.
10. The chain is now owned by the Seminoles
Not the Florida State football team -- the actual Native American tribe. The Seminoles' ties to Hard Rock go back to at least 2004, when they opened a pair of Seminole Hard Rock Hotels and Casinos in Florida. But then they outright bought the chain in 2006 for nearly $1 billion. The sale came as a surprise for some, but considering the Seminoles were also the first American tribe to get into the gambling biz, we should've seen this power move coming.
Kristin Hunt is a Food/Drink staff writer for Thrillist, and has a T-shirt somewhere in her parents' house from the Barcelona Hard Rock Cafe. Follow her at @kristin_hunt.