Imagine the voiceover from Apocalypse Now where Captain Willard says, "Everyone gets everything he wants. I wanted a mission, and for my sins, they gave me one… It was a real choice mission, and when it was over, I never wanted another." Now imagine having the opposite sentiment, and you'll know how I feel about the beautiful meat gauntlet I just completed with Hard Rock Cafe's World Burger Tour.
 
What is the WBT? It's 20 burgers from cafes around the world built with flavors and ingredients inspired by their home cities. Now, Hard Rock's brought those international meat bombs to American locations, all of which also offer their own unique local burgers.
 
My benevolent editors presented me with the following task: pack a bag and travel to seven Hard Rock Cafes in six different cities to inhale each of their four global burger offerings and their Local Legendary. And do it in four days because "this ain't a vacation."
 
So I took the mission. What the hell else was I gonna do?
We start in New York. Times Square. You probably know the Hard Rock Cafe here with its iconic giant guitar on the marquee. I've prepared for weeks; ritual starvation, meditation, and playing Atari's Burger Chef until 3am every day. My body is ready -- bring on the beef (also haggis, but we'll get to that later).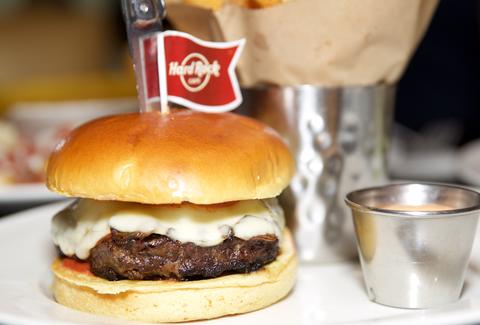 Out comes the first set of sandwiches: the local Pizza burger and a couple of menu regulars piled 4high. The pizza edition's pepperoni proves game-changing for a friend I bring along. Apparently, he didn't like pepperoni until this. Very. Moment. I reconsider the foundation of our friendship as the burger takes me back to late night slices in the Lower East Side and 2:00am quests for cabs and carbs.
Between bits of burger, our host Daniel gives us background on the joint: that marquee? That's the only remaining one in Times Square. That motorcycle we walked by on the way in? That's Billy Joel's. The day after he donated it he came in unannounced, straddled it, and looked like he was trying to start it up in the middle of the restaurant. It's one of those stories that help make Hard Rock a living, breathing thing and not just a stale museum: Billy Joel didn't just deliver the bike and forget he ever owned it, he came back and he touched it.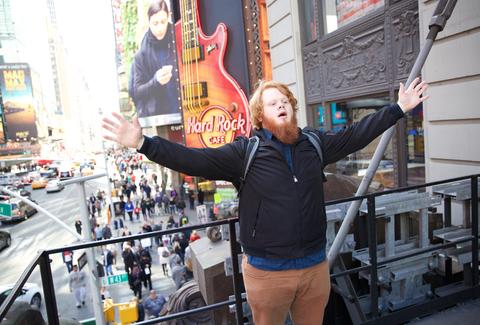 After we wipe the condiments off our faces, Daniel gives us a tour of the backstage green rooms. I imagine how, someday, he'll tell other groups about the fabulous burger-eating man who once primped in these A-list digs. Then we head up a rickety spiral staircase out on top of that marquee. He leaves us with a story about how we've already proven ourselves more strong-willed than Ozzy Osbourne, who a few years ago refused to climb those stairs and had to be lifted to the marquee via crane to play an acoustic set. Daniel doesn't mention if Ozzy also ate five burgers, but even if he didn't pull off my amazing feat, it's still incredibly cool to be (kind of) following in his footsteps.
 
This journey may be built around burgers, but clearly it's going to be fortified with rock history of both the legendary and recent varieties. Bring it on.
Back in the car, inching out of Manhattan, feeling the excitement of epic journey. Except I'm really going on six epic journeys, to funnel like 25 pounds of red meat into my belly. But I'm not in this alone. If I'm Captain Willard on this Heart of Beefness journey, then my photographer, Anthony, is Lance, because I'm not sure he realizes what's happening, and he's probably a good surfer, because he's from Miami and appears to be in good shape. 
As we roll up to Hard Rock Cafe Boston, I meet up with a bunch of old friends. I went to college here. I feel a bit like that same freshman hitting up the dining hall, ready to eat way too much without imagining the hefty consequences. Only in this case, the dining hall is fantabulous -- Hard Rock definitely doesn't serve "Sad Chicken in Inexplicable Sauce."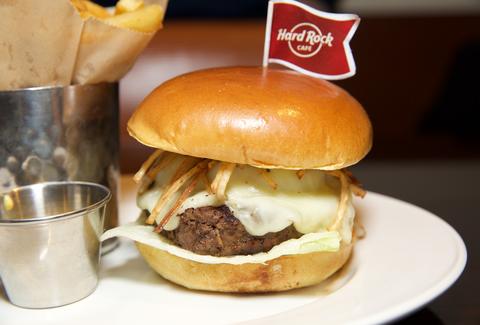 As our party of seven ambles in, Ron, the GM, seats us and brings out the next batch of worldly patties. Because we are dining before the WBT officially launches, the exec chef actually took a special trip to a farmer's market earlier in the day just to snag some key ingredients. Standup move, Hard Rock. Among the most exotic offerings is the Haggis Burger with the namesake sheep's organs and a rich glaze of whiskey and maple. I get to eat haggis on this trip? Sure do. Just in case downing delicious organ meat had me feeling like I was in Scotland and therefore homesick, they also ensured I got some Boston flavor via the lobster salad topping on the Local Legendary.
Afterwards, Ron pulls me aside to point at a Godsmack shirt. "See that?" he whispers. "We heard they were around the corner signing at a record shop a few years ago. So me and another guy grabbed it off the wall, ran it over for a signature, then brought it back." Technically you're not supposed to just take the memorabilia off the wall, but this was an audible Ron just had to call. Hard Rock obviously knows the value of a solid signature and a good story, because the piece is still hanging.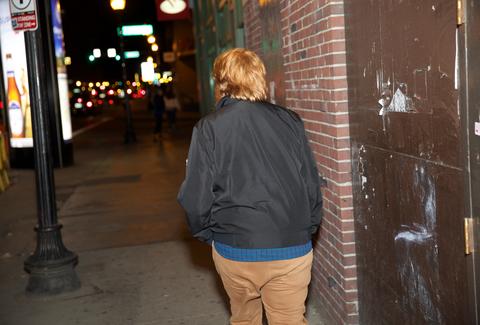 The cafe is located in Boston's downtown area (a cream pie's throw from Quincy Market). Leaving the restaurant, we pass by college youths shivering in a nightclub line. One of them, who I can only assume is named Tommy, swears that he could eat like 80 burgers in four days. I encourage him to give it a try. Oh, sweet child. When you stare into the burger-abyss, the burger-abyss stares back.
 
I bid my companions goodbye and Anthony and I head to the hotel to score a few quick hours of shuteye. I am so happy but so afraid of the many delicious pounds of happiness to come.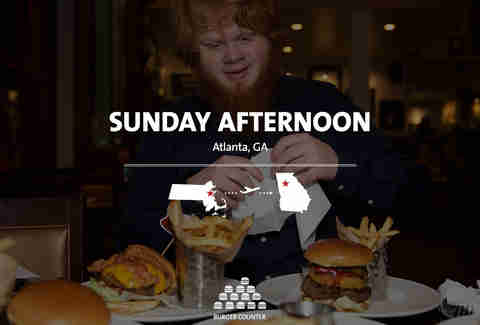 7:45am, up and ready to leave for Atlanta. We arrive at the airport with enough time to snag some coffee and chat with a groggy couple on their way to a conference. One says, "I'm sorry you have to eat 38 burgers." I want to say, "Why are you sorry? This is awesome. I'm sorry you were raised by barn animals and have the courtesy of a poltroon." Instead, I turn the other cheek, and explain to Anthony why "poltroon" is such a good word.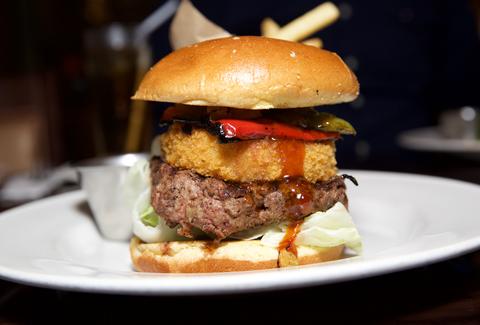 We land and hail a cab and head toward Hard Rock Cafe Atlanta in the central Peachtree shopping area. The chef brings us five more burgers like a proud papa bringing his kids to karate… I guess in this metaphor I am going to eat his kids? Whatever -- it's time for burgers 9-13. I got no time for fancy metaphors, people. The stars of this table are definitely the Sweet & Sour Burger from Hong Kong (piled high with pineapple and fried onion) and Atlanta's signature, a ridiculously thick patty topped with a fried egg, cheddar, and hot sauce. We don't have time to catch the weekly 6:00pm–8:00pm Monday act, though. I have promises to keep, and many burgers to eat, which means there're only minutes for a stroll around the area.
Turning the first corner we happen upon a 30-story Ferris wheel that overlooks 1996's Olympic Park. This wheel is no joke. In addition to the air-conditioned standard cars, there are a couple of VIP cars, which might just be the regular cars with tinted windows allowing for "balling out." As we're ushered into our lame, regular, un-tinted car, we're told to hit the alarm button if "anything goes wrong." Anthony doesn't seem to think laughing like a lunatic and shaking the car at the top of the wheel's arc is "anything wrong." Such a Lance move.
 
Looking down on the multinational flags, I give a stoic salute to the spread of countries that are sure to fill my belly with epic burger concoctions in the coming days. A tour of the country for my body, of the world for my taste buds. And to think at one point I wanted to be a doctor when I grew up.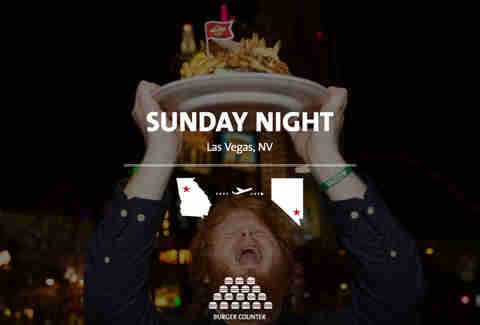 If Vegas gives you scale snapshots of world cultures through Eiffel Towers and Sphinxes, then Hard Rock Cafe is giving me bite-sized tastes of world cultures via burgers, and you bet your butt I'm taking advantage of both. After the flight from ATL, we nab a badass black convertible. I don't use that term lightly. My ass feels so bad in this car. It's the baddest my ass has ever felt. We zip down the Strip, park at the hotel, and immediately make moves to burgertown at Hard Rock Cafe on the Vegas Strip.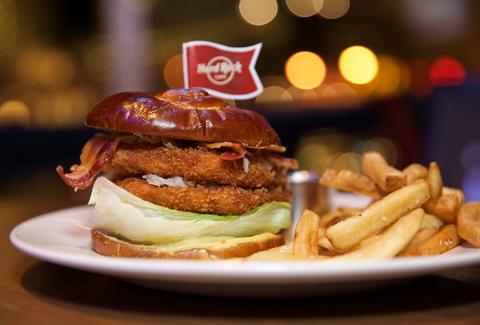 The Vegas cafe has an open-air balcony dining space that overlooks the Strip, which I am down to dominate. But first, I need the energy from Round Four. The Schnitzel Burger, with its substantial pretzel bun and tender-yet-crispy fried pork, gives me exactly the boost I need. Danke. Then there's the pineapple-topped, mouth-firing, Hawaiian-themed Local Legendary named the Ninth Island Burger. Why, exactly? Exec Chef Scott tells us that Vegas is colloquially referred to as Hawaii's ninth island due to its heavy Hawaiian population. I tell him, "Hey, pal, Vegas isn't even an island. Geography much?" but my mouth is full of meat so it just sounds like "Hrrrrrmmgh."
I do get to chew the (metaphorical) fat with Scott a bit more later, and it becomes apparent that, man, these guys love the hell out of what they do. Not only does he enthusiastically build from-scratch burger masterpieces for me, he gives me traffic recommendations for the next morning. That's Hospitality 101, folks.
Now that we're all hopped up on protein, I decide to take myself and the news of this glorious meat tour out to the Strip. We hit all the spots: the famous fountains, the shops at Caesar's, and a $150 heater at the blackjack table. At one point, a group of dudes stop us (no doubt beckoned by our giant camera) and ask if I'm Ed Sheeran. I say no, they say yes, this goes on for a while. I try to change the subject by offering that I'm doing a six-city, 38-burger tour of the U.S., and they're even more astounded that a pale British pop star would eat that much food. So Ed, if you're reading this, you're welcome for earning you at least four more fans due to a burger challenge you didn't have the honor of completing, and probably couldn't even complete if you wanted to.
We head back to the hotel to (remarkably) hit the sack before 3:00am. Three hours of sleep is enough for a road trip through the desert, right?
It's time to cross the Mojave. On the recommendation of Chef Scott, we make a pit stop at middle-of-effing-nowhere Baker, CA. Right off the highway, there's this outpost that serves up hundreds of different flavors of desert-made jerky ("You need to try the gator!" Scott said). We head down the road to the World's Largest Thermometer and I wonder if there's anything this little town doesn't have. There's something surreal about chomping on dried gator meat while staring up at a hundred foot desert talisman that doesn't even seem to be telling me the right temperature. 
Somehow the drive into LA (through 45-degree inclines and past precarious cliffs) greets us with none of this "infamous LA traffic" everyone keeps warning us about, and we arrive at Hard Rock Cafe on Hollywood Boulevard a shade early for our lunch appointment. Alison, Hard Rock Cafe's LA Sales & Marketing Manager, seats us and tells us they've prepared two each of the five WBT burgers we're to be served, you know, just in case five burgers doesn't satisfy our lust for meat. That's like, double the fun, so I get double pumped to sink in my teeth. Eyes. Head. Bigger. You know the saying.
In the hot LA atmosphere, the fresh cilantro-y punch of the Banh Mi Burger topped with traditional Vietnamese pickled vegetables is so refreshing I almost overlook the fact that, yo, they have a Banh Mi burger on the WBT menu! After yet another absurd layover-turned-heaping-lunch, I welcome a walk-through of LA's memorabilia, which includes one of Snoop's actual pimp cups and the held-together-by-threads leather pants that Jim Morrison wore for, like, a thousand Peyote trips.
Alison fills us in on the LA location's insane dedication to customer service: the only day each year that they're closed? Nope, none of those pesky national holidays. They only close when the city shuts down the street for that big movie award thing -- not all of the awards shows, and definitely not the one where everybody seems like they've had one too many martinis, just the biggest one. Otherwise, the Hard Rock is here to serve. Commitment.
So as not to tempt the traffic Gods, we duck out early, snap a few pics along Hollywood Blvd, shrug off a few passersby who think we're celebrities, probably because I'm being photographed (or maybe they think I'm Carrot Top this time?), and head to LAX. 
The flight from LA to SF is quick, and in the cab from the airport to Hard Rock Cafe San Francisco, a thick, tumbling wall of fog (that the driver told us had descended on the Bay Area mere hours prior) seems to be underscoring the epic nature of this glorious journey. Or perhaps it's just mirroring the meat daze I find myself in. These burgers are like full Thanksgiving feasts every time I eat them. That is if Thanksgiving was a holiday for international bon vivants and came with a side of fries and Sriracha mayo.
Hard Rock Cafe San Francisco brings a curveball , pairing each patty with a 21st Amendment beer. It's a pet project by another of the ever-striving Hard Rock GMs, who see their domains as part of the community. I'd pinch myself if my hand wasn't already stuffing a Seattle Java Lava Burger that has been rubbed in espresso, into my face.
 
Later, as we head out into the night, I ask locals where they'd go if they'd never seen San Francisco before, only have a couple hours, and are the most dominant burger eater in the known universe. They tell me that Pier 39, where Hard Rock is, and Union Square, where our hotel is, are good to hit. So we wander the pier past the shops and coffee spots and stumble on a musical staircase done up like a piano. Playing "chopsticks" with your feet is almost as hard for me as using real chopsticks with my hands. Also I feel like I'm really weighing down these keys.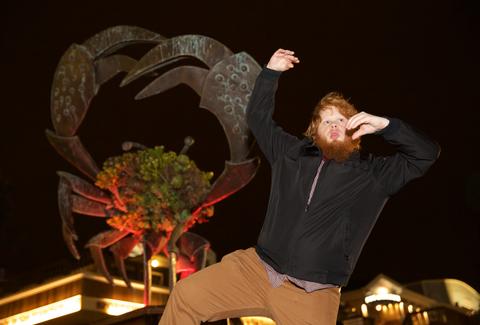 I see a six-foot crab sculpture and spend 30 minutes trying to mimic its pose. My lack of six legs will not stop me, a man who has eaten all the burgers that exist in the world. Then we head south to Union Square to check in. It's here that mother jetlag finally takes hold and I pass out. Good thing I set my alarm while we were at dinner earlier, because tomorrow is day four and I can't rightfully leave my burger total at 33 and say this mission was completed.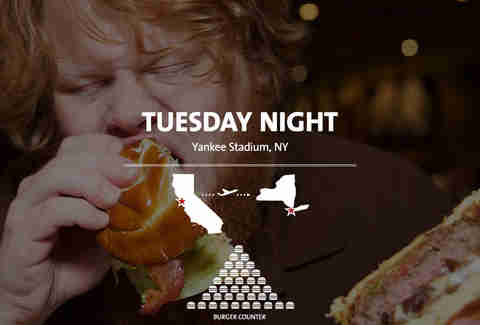 Somewhere around the flyover States, I start to realize how much I miss the attitude of NYC. I've had burgers that embody the Caribbean, Eastern Europe, and the Pacific Northwest, and I've visited the west coast and southern cities where the folks have been downright openly friendly and not just "friendly when you get to know them" friendly. But even though these meatwiches are giving me a taste of exotic lands I've never visited, I'm looking forward to bringing this baby home by eating a burger (or five) amongst a restaurant filled with patrons who are silently judging me as only New Yorkers can.
As we roll up to Yankee Stadium, we weave our way back to the Hard Rock to meet Melissa, our last host. The tastiness wafting from these last burgers smells like, you guessed it, victory. Ending with the egg-and-beet topped Aussie and the locally sourced Pastrami Burger on marble rye (Yankee Stadium's Legendary) is good by me. My taste buds have officially hit every continent except Antarctica. Thank god for that, because penguin meat does not sound nearly as awesome as haggis.
After that now-familiar five-burger jolt of energy, we snag some tickets to the game. The whitewash of lights, the dull thunder of the organ, and the crunch of discarded peanuts underfoot puts me in a state of disbelief that gator jerky, Ed Sheeran conversations, Ferris wheels, black convertibles, literal tons of rock history, and now baseball are all part of this same story. I've done it. I've conquered 38 burgers, and I'm alive to tell the tale.