World-renowned comedian Hari Kondabolu has a bit on his forthcoming stand-up album Mainstream American Comic about people coming up to him who want to talk about Indian food. As an icebreaker. As small talk. All the time. And apparently, this happens to people of color all the time in the US. Most people, however, aren't able to discuss the fundamental weirdness of it -- and potential offensiveness -- with such hilarious insight.
Kondabolu -- a rising star on the standup scene who you've probably caught on Conan, @midnight, or on many a podcast -- sat down to talk at length about this weird shared cultural experience, and why it's weird to immediately associate somebody's skin tone with something you shove in your mouth. Here's what he had to say.
"[India] is a complicated country with many different variations of cuisine and very clear differences from one part of the country to the next.
"It's like going up to a white person and saying, 'Hey man, I just had grits. Holy shit!'
"And [the white person's] like, 'I'm not from the South.'
"'I don't know what that means, but holy shit, grits!'
"'I'm from Boston.'
"'Well, I don't know, it's American, right? It's American stuff.'
"It doesn't even make any sense."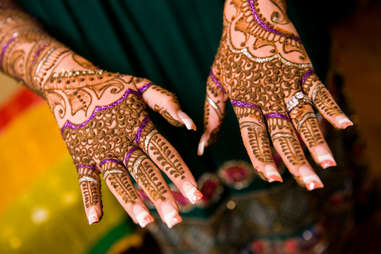 "I think a lot of [reason people talk to me about food] has to do with the awkwardness that people have talking to folks who have different ethnicities. I think they think [food] is a common area and it's well-intentioned. They're just trying to find a way to relate, as opposed to, 'Oh, we're both human beings. That makes us relatable.'
"You don't really need to try too hard! I'm a human being, and I feel like we have so much more in common. And if you ask other questions, you're going to get more commonalities. 'What do you do for work?' or 'Where did you grow up?' [Those] questions could lead to all sorts of other things as opposed to, 'I went to this Indian restaurant, holy shit.'
"And the well-intentioned folks are just awkward sometimes, which is sad. 'I don't know what to do with you not being white in this party. I'm trying.' It's still annoying, and it still makes me sad. Jesus though, you've never met people? I'm a person, just like everybody else.
"You're using a person as a prop for your experiences, for your conversation."
"The other part of it is not necessarily well-intentioned. It's selfish. You have an experience and you want to talk to somebody about it, and it doesn't have to do with the person you're talking to. You got a trigger because my skin's this color and it made you think of this experience that you had, and you think I might give a shit. And you want to talk to me about it.
"I've had people talking to me about yoga, about their trips to India, about their Indian friends, about a wedding they went to. They think it's somehow relatable and it makes them interesting. And it's something they want to talk about. But you're using a person as a prop for your experiences, for your conversation. Something [that person] is unwillingly being forced into. It also narrows their own identity into some generic Indian, and [it's] somehow connected to food.
"In an advertisement for [a college show at Skidmore], they compared me to food. [Editor's Note: The ad said, 'Rice, Laughs, and Curry Sauce: Hari's Coming to Spice it Up With His Own Special Blend of South Asian Flavor.'] I feel like, often, people of color are compared to food -- they're called spicy. People of color are chocolate. Sometimes it's something we do to ourselves, and that's one thing, but sometimes it's put on us.
"In addition to being compared to food, we also trigger people's thoughts about food. Because it seems like it's the only cultural thing people connect with or they feel like they're trying -- [like what you eat would be] something interesting to me.
"If you simplify them into something that's not living... [because] you like the taste of a thing, you kind of make it worse."
"We're talking about immigrants in such a bizarre way nationally. And it's something that's either good or bad for the economy, [as to] whether they should be sent back. We're separating families. There's hate violence. Yet the thing we seem to be OK with is the food. We like the food. And there's something that's so insulting about that.
"We have so many real things -- and because we're not seen as full human beings in a lot of ways -- our parents aren't seen as part of this country, or are seen as other. There are all these issues, and while that's happening, the food's still there. 'Just don't make the food go away, I like that Chinese restaurant!' And that's frustrating, because part of what [can] make people of color and people of other ethnicities human beings is asking them questions and getting to know who they are -- making a human connection. If you simplify them into something that's not living, into a very specific cultural thing that benefits you [because] you like the taste of a thing, you kind of make it worse. You just remind me that I'm something for you to learn about. I'm a subject versus a person you can get to know."
Sign up here for our daily Thrillist email, and get your fix of the best in food/drink/fun.
Lee Breslouer is a senior writer for Thrillist, and thinks you should buy Hari's album. Follow him to comedy nerdery: @LeeBreslouer.