Cole Saladino/Thrillist
Cole Saladino/Thrillist
Haribo is basically the LaCroix of the gummy world, and like that bubble water, it's having a moment. The German candy maker has seen a 127% increase in sales since 2011, and that likely has a lot to do with the vast catalog of weird and wonderful flavors that kids and adults enjoy in equal measure.
But which flavor in Haribo's weird, gelatin-filled wonderland of taste is the best? We got our hands on all 25 available varieties in the US (minus the maligned sugar-free flavor… we're not masochists) to find out. Vergnügen finden!
25. Pico-Balla
The exterior texture of these bizarre little nuggets is similar to that of chewed-up gum from a pack of Topps baseball cards, and the inside tastes like congealed Pixy Stix dust. No balla or shot-calla is going anywhere near these weird things.
24. Dinosaurs
This is the platonic ideal of chewing on gummy candy, minus all the fun and flavor that would encourage such an activity. The chewing is endless and the flavors are ambiguous, making this the perfect filler item for the Easter basket of an annoying child whose name you can't be bothered to remember. Just eat your dinosaurs and STFU, kiddo.
23. Frogs
This happens to be where Haribo is hiding its normal, non-sour peach flavor. If you were this bland and coated in a mysteriously flavorless white underbelly, you'd be hiding too.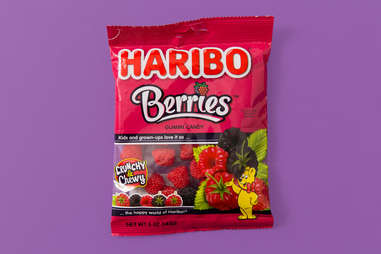 22. Berries
The effort of dabbling in alternative textures is admirable, but nothing about the 30 seconds spent processing this oddly crunchy gob of sugar is pleasant or logical. The blackberry flavor is far superior to the raspberry. But unless you plan on sharing these with the nail-biting weirdo you eat lunch with every day, half the bag is probably going in the garbage.
21. Sour S'ghetti
A noticeable trend in Haribo's flavor portfolio is the inability to improve upon pre-existing products that are totally fine as is. In this case the comparable (and better) product is Sour Punch Straws, which are thicker, softer, and packed in a much more manageable fashion. Sour S'ghetti might work in a movie theater, but you're probably better off with popcorn.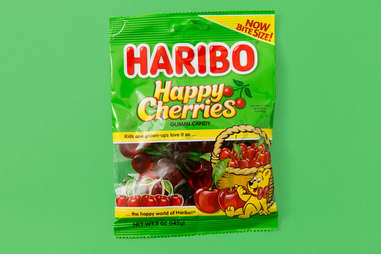 20. Happy Cherries
There's nothing offensive about Sour Cherries, and if you're looking for a good chew you won't be compelled to wolf down in one sitting, then this might be what you're looking for. That is not a compliment.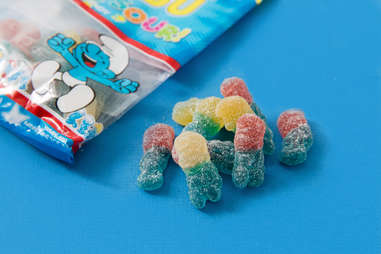 19. Sour Smurfs
The flavor is alright, but the mouthfeel and the chew of these little guys are all wrong. We sifted through several batches purchased from only the finest 24-hour convenience stores in the area, and all of them supported our theory that you're likely to lose a filling if you spend too much time in Smurfland.
18. Smurfs
There will always be that one jackass on the road trip who snatches the raspberry and blueberry flavors out of the bag and leaves everything else. Hand him this bag of slightly oversized, Smurf-shaped Gold-Bears and enjoy the silence as he gnaws his way through them. Keep any Chex Mix out of his reach as well, because you know he'll steal all the bagel chips while you're not looking.
17. Mini Rainbow Frogs
Unlike their peach-flavored brethren, Mini Rainbow Frogs have a light hint of marshmallow to their white underbelly. It's a bizarre left turn found nowhere else in the Haribo lineup, but we're digging it in small doses.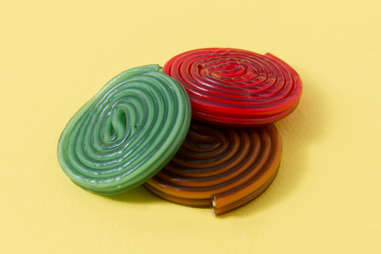 16. Schnecken
This bizarre facsimile of Sour Belts -- basically gummy-style, sour Fruit by the Foot -- varied a great deal from one flavor to the next, but it's worth suffering through the Bath & Body Works scented-spray aftertaste of the peach for that glorious, almost bubbly tang of the cola. Our bag did not contain any apple-flavored rolls as promised by the weird little kid on the bag, which is total bullshit. We want our money back.
15. Rattlesnakes
If Haribo were a one-trick pony and made nothing but Rattlesnakes, we'd be OK with it. But that's not why this list exists, which explains why they're almost squarely in the middle. They taste like regular gummy worms. If this excites you, you do not deserve Haribo.
14. Alphabet Letters
Like Rattlesnakes, but for people who like to argue about how one thing that's totally the same as another actually isn't because it's repurposed in some minuscule way. People who love Oasis but can't stand Jet probably love Alphabet Letters.
13. Fizzy Cola
The sour exterior and texture are on point, but that discernible cola flavor we love is diminished by the sugary exterior. The finish is strong, but this isn't where you want to be if cola is what you crave. This would, however, make a fine garnish for a cocktail that involved the latest incarnation of Jolt.
12. Kosher Clown Fish
The flavors of these oddly translucent fishies threw us for a loop, but the few we did enjoy were some of Haribo's best. If only we could pin down what the hell they were. One of them may have been strawberry, while the other tasted like fig with a faint aftertaste of a chicken bouillon cube. It's hard to eat these without considering that their kosher-ness is derived from the tilapia gelatin inside -- appropriate, we guess, given they're fish -- but once you get over that you're in for a treat.
11. Happy Cola
Some crazed genius decided the flavor of the very last, watered-down sip of Coke from the Burger King drive-thru would make an excellent gummy candy, and by God were they right! This is the perfect movie theater candy, and whoever invented it belongs in the Flavor Hall of Fame alongside the Snapple dudes who spearheaded the Great Kiwi Strawberry Boom of the '90s.
10. Fruit Salad
The homogenous nature of Happy Cherries is a real drag, but just about every flavor in this delicious mixture could hold up on its own. The orange could easily slay any other variety of orange slices on the shelf, the cherry is tasty like cough syrup (don't judge us!), and the lime is tasty in that "this isn't really what lime tastes like at all" kind of way. I might not smash an entire bag of whatever flavor the gray may be -- hose water? -- in one sitting, but the delicately sour finish and gooey interior of these could make up for even the weirdest flavors Haribo threw at us.
9. Color-Rado
This assorted grab bag of leftovers is about as bizarre as Haribo gets. A sample fistful included a black Twizzler-looking thing, a rad Mini Rainbow Frog, a pair of mutant Mike and Ike things, a weird little sandwich truffle that sort of tasted like coconut, and a couple crispy bits that tasted like cookie on the outside and Jagermeister in the middle. Like the first scene of Fury Road, it's a baffling shitstorm that never lets up, and you don't want it to. What's better is that no child would go anywhere near this after getting a whiff of the weird Jager cookies, making this the perfect assortment for the candy bowl in your retirement home.
8. Twin Snakes
Welding a pair of snakes together -- one sweet and one sour -- is a genius idea on multiple levels. The juxtaposition of flavors is heaven in your mouth, and it's just as easy to hand off whichever side you'd rather not eat to a friend. The non-sour half is kinda meh, but Twin Snakes go a long way in explaining the duality of human existence in a handy little package. There can't be sweetness without sour, man. That shit's deep.
7. Barchen-Parchen
If Twin Snakes had a pair of German teddy bear cousins, this would be them. One is sweet. One is sour. There is otherwise no difference between the species except for a weird translucent quality and the increased cuteness quotient (the bears are holding hands), but that alone is enough to gain a significant edge for Barchen-Parchen.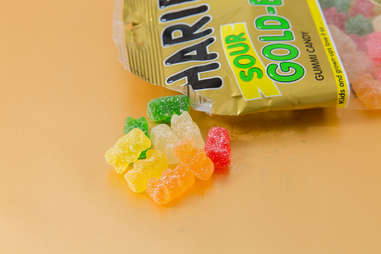 6. Sour Gold-Bears
The average candy connoisseur knows no better than to compare Sour Gold-Bears to Sour Patch Kids. This is objectively wrong. While the Kids have a mellow chew and a sugary finish, their Gold-Bear brethren bring all of Haribo's strong suits of sourness and mouthfeel to the table, rendering them a far superior candy in every way. This is a gummy fan's gummy, not some flaccid, incidentally vegan substitute that has a bizarre aftertaste of agave and almost no chewiness whatsoever. Eat Sour Patch Kids if you must, but know that an advanced alternative for folks in the know is available just a bag away.
5. Peaches
Peaches boast a massive, juicy flavor out of the gate and rarely let up until the entire bag is gone. This is a gourmet option for stoners who take their munchies seriously, offering a tangy finish and just enough of that abrasive sugary coating to keep your mouth watering for more. This is by far the boldest flavor on offer, which makes it a poor option for weaklings and Now and Later fans who like the idea of candy more so than the experience of consuming it. No other variety of peach rings -- whether they're the cheap kind in the little 2/$.99 bags or some variety made by a brand known more for gummy worms -- comes even remotely close to the fruity explosion that lies within.
4. Gold-Bears
Gold-Bears are the standard-issue champs of gummy supremacy for a reason. Several reasons, actually. The chew is firm yet pliable. The flavors -- raspberry, orange, lemon, strawberry, and pineapple -- are satisfying and discernible from one bear to the next. The sweetness is just right, and their ability to be left in a hot car for days and still taste good is almost otherworldly. Accept no substitute.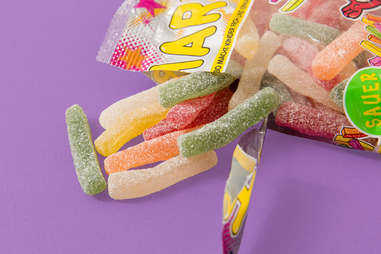 3. Saure Pommes
While Haribo's ambition is admirable, the candy maker's attempt at recreating the magic of Sour Straws with the Sour S'Ghetti flavor is a major whiff. Redemption for this transgression against unsuspecting convenience store shoppers can be found at your local World Market in the form Saure Pommes (aka Sour Fries, if you didn't figure that out). Not quite as long as a Sour Straw yet slightly thicker and just a tad sweeter, these are a prime example of Haribo's unparalleled ability to make each flavor taste vibrant enough to be recognized without referencing the bag for help. The pineapple and orange are the best, but grapefruit and sour apple were also great in their own rights. Sehr lecker!
2. Ginger-Lemon
With a sour start, a snappy exterior, and a soft chew, Ginger-Lemon scans as your average sour gummy on first taste. But that potent ginger finish is the zenith of all of Haribo's flavoring efforts. It's not for the weak of spirit, as those people may go running when memories of OD'ing on Ricola flood their memory banks in the final moments of this divine sensory overload. This flavor is not for children, which perfectly recapitulates the M.O. behind Haribo's finest work. Soaking these in vodka seemed like an effortless way to make bite-sized Moscow mules to-go, but the results of that experiment are yet to bear fruit. Check back in a week for the results, and enjoy the shit out of these until then.
1. Kosher Grapefruit
You'll have to sift through the kosher section of your local grocer to get your hands on these, but meyn har are they worth it! Every now and then baseball scouts find a prospect who seemingly has it all: the speed of Rickey Henderson, the textbook swing of Ted Williams, the arm of Bo Jackson. This is like that, only in a delicious, chewy, crystallized package that awaits among the Manischewitz and the matzos.
The exterior has that sugary crunch we love so much about the peaches, but it's the interior that really sells this flavor… in fact, despite uniform colors, we counted at least six different flavor variations. Kosher Grapefruit is both the Swiss Army knife and the crown jewel of Haribo's portfolio of flavors. You probably didn't know it existed, which means a bag of these will make you the most popular person at your next social engagement. Don't thank us, just haul ass to your nearest kosher grocer and stock up on as many bags of these as you can. Today is the first day of the rest of your life.
Sign up here for our daily Thrillist email and subscribe here for our YouTube channel to get your fix of the best in food/drink/fun.
Pete Cottell is a freelance journalist and the Pacific Northwest's foremost connoisseur of fine German gummies. Follow him to tasting notes @Vanifestdestiny.