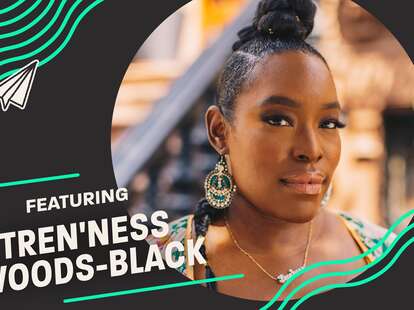 Photo by Cole Saladino for Thrillist; Design by Chineme Elobuike for Thrillist
Harlem definitely has its own soundtrack—there's so much rhythm in everything. There's rhythm in the way the trees are. We have great cherry blossoms, which are one of my favorites, that sway back and forth. We have artists that are always perfecting their gift. When I walk down the street, there's always somebody that I have to pay a compliment to. Their style is just so unique, and you have the latest trends, the latest designer accessories, automobiles. You'll hear the latest songs, whether it's the latest Afro beat or hip-hop. Just that mixture with the sound of traffic and the gentle rumble of the trains underground, and that juxtaposition between that and our wide sidewalks that are perfect for sidewalk cafes, it just all plays a part. When I go outside, I can feel the energy immediately. It just kind of engulfs you.
Harlem is a lot smaller than people would think, but it's so packed with so much culture, whether it's West African culture or southern culture through the Great Migration up north, to Harlemites that have been here for multiple generations. We have churches, multiple churches, on every block, and the architecture is just really spectacular. It's definitely, to me, one of the most beautiful parts of the city.
My grandmother came to Harlem in 1944. She set up shop here very early, and her apartment was on 131st in a tenement building. Her apartment quickly became a safe haven and first home to most South Carolinians, especially from our community. So many people stayed with my grandmother. She was always in hospitality. I guess she was running a bed and breakfast before she opened up her restaurant. That hospitality and that just southern warmth is what set the landscape up for Sylvia's Restaurant to become the home away from home for now six decades, as we're preparing for our road to 60.
It's about the Harlemites. It's about the people that come in every single day and notice everything about you. They know if you went up a pound or down a pound. They know if you're having a bad day and they want to cheer you up. They know what your favorite color is. It's about the people who would hold court in the morning and talk about all the topics in the news and life in Harlem.
"It's about the Harlemites. It's about the people that come in every single day and notice everything about you."
The community helped us keep our marquee lit and we knew that we had to keep that marquee lit for them. During the pandemic, the community came out—purchasing dinners, supporting. We had a pantry that we did on Sundays, so folks would be like, "Hey, do you need any volunteers packing bags? What can we help you do?" It was really, really amazing. We're so accustomed to being in the position to help the community, so it was so nice to have them offer assistance in that way.
And that's why Block Party is so important, because it's the ultimate community party with a purpose. It's put on by the community and it's for the community. It's creating new revenue for the business community that's really had a hard time, while also giving people so much fun. Block Party is my love letter to Harlem. We're giving out micro-grants and advertising support. And that just speaks to the culture. Harlem has always entertained and educated.
The one thing that I want to say to Harlem is that they are the reason why Sylvia's is positioned for another 60 years. We would not be there if we did not have the multi-generational Harlemites that eat with us on a consistent basis.
My grandmother loved Harlem. She loved the fact that it was a lot of people from home—people from South Carolina and people from the south in general. And I really love Harlem. It's a village, and in a village, everyone knows everyone. It feels like family, and that's what I love about it.