The 10 best healthy(-ish) fast-food items
Fast food can get a bum rap, especially when we're all doing what we can to get healthy (to get our bods ready for Spring Break Cancun 2014 WOOOOOOOOO!!!!!!!).
But sometimes there are solid menu items that aren't nearly as bad for you as your taste buds might indicate. So we sought out 10 different tasty, healthy-ish items that clock in at under 400 calories and 20g of fat... roughly 1/4 of the recommended daily intake for an average height, slightly lazy dude. We were pleased to discover cheese sauce.
Burger King Whopper Jr.
Calories: 300
Grams of Fat: 18
The Whopper's little brother is still pretty big -- in terms of fast food burgers, the Junior is Kim Kardashian and the Whopper is pregnant Kim Kardashian -- so you can totally get a decent fill-up without making your weight go North.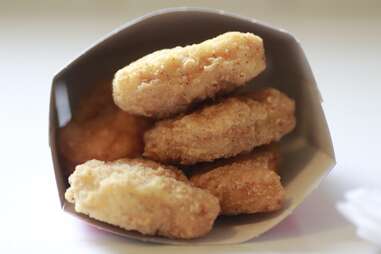 Andy Kryza
Wendy's 6-Piece Nuggets
Calories: 170
Grams of Fat: 18
Wendy's does you the courtesy of allowing you to order your nuggets regular or spicy, and you can cram a six piece into your gullet with relatively low consequences. We're not sure if they'd be healthier if they were dinosaur shaped. But they might be. So they should do that.
Andy Kryza
Subway's 6in Black Forest Ham
Calories: 290
Grams of Fat: 4.5
A star of the $5 Footlong craze, the Black Forest Ham sub packs considerable flavor. And while a full footlong goes a little past this article's calorie limit, it does make a case for a $5 almost-a-footlong.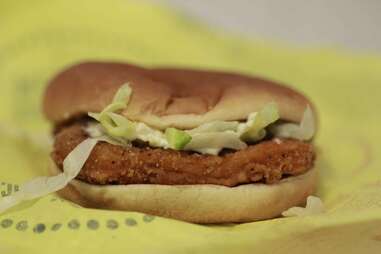 Andy Kryza
McDonald's McChicken
Calories: 360
Grams of Fat: 16
A survivor of the Dollar Menu shakeup, the gigantic McNugget on a bun swimming in mayo has a surprisingly low calorie/fat count. Weirdly, its more decadent-seeming cousin the Buffalo Ranch McChicken has fewer calories and less fat (350 cals, 15g fat), meaning ranch is healthier than mayonnaise. Or you can be boring and get the Premium Grilled Chicken, which has 350 calories and 9g fat, plus vegetables but minus fun.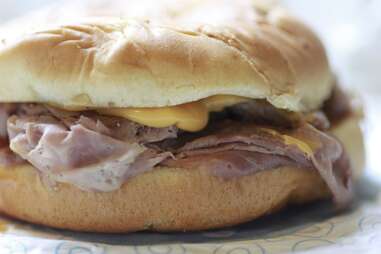 Arby's Beef 'n Cheddar (No Sauce)
Calories: 400
Grams of Fat: 20
With all due respect to the Classic Roast Beef, the Arby's Beef 'n Cheddar is the chain's masterpiece, upping the ante on its flagship sandwich in every way: the onion bun's better, and nothing makes that gray roast beef taste better like bright-yellow cheddar. It's only outpacing the original's nutritional values by a margin... a margin that's way better because it's filled with fake cheese.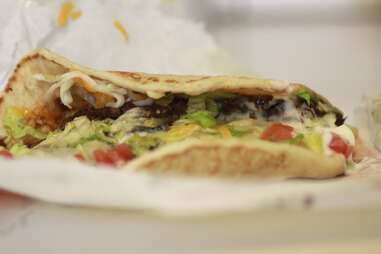 Andy Kryza
Taco Bell's Gordita Steak Supreme
Calories: 280
Grams of Fat: 11
For a snack that translates to "chubby", the Gordita clocks in at a relatively slim fat-making ratio... not bad for what is essentially Mexican fast-food's answer to the gyro, especially when you factor in the marinated meat and sour cream.
A&W's Coney Dog
Calories: 340
Grams of Fat: 20
Nevermind the bacon cheeseburgers and root beer floats -- which aren't nearly as healthy as they sound -- the best bang for your guts' buck at A&W is the classic Coney, covered in sauce and onions. But hold the cheese. This is, after all, super healthy food.

Quizno's Small Peppercorn Prime Rib with Cheese
Calories: 400
Grams of Fat: 14
Sure, if you get dressing on this bad boy it's gonna knock it out of contention, but who needs that when you can chow down on juicy, rich prime rib covered in mozzarella. And it's probably just as good as the prime rib special you get at the diner on the corner every Friday.
Sonic's All-American Dog
Calories: 380
Grams of Fat: 18
Another popular classic drive-thru, another solid hot dog... this time in the form of the condiment-covered All-American Dog, which comes with onions, relish, and enough patriotism to choke Ted Nugent.
Andy Kryza
White Castle Sliders
Calories: 140
Grams of Fat: 6
White Castle burgers are like Pringles -- if you can eat just one, you're not human. Luckily, you're still lookin' good if you eat two and a chicken ring. But unless you're a master of self-control, you're not gonna do that, because you're at White Castle. Which means you're certainly not a master of self-control.