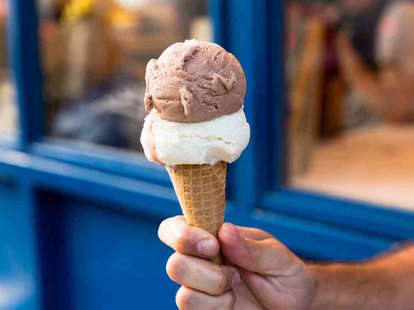 Healthy junk food? Dreams do come true.
Valerio Sanguigni, a researcher out of the University of Rome Tor Vergata, just patented a groundbreaking gelato recipe that's been proven to enhance athletic performance. Sanguigni announced his antioxidant-rich creation in a scientific journal called Nutrition last July, conducting a study to test its effects on upping vascular function and staving off cardiovascular diseases. Lucky for us, gelato came up strong in every category.
The magical treat is actually based on some pretty sweet science. The research highlighted in that earlier study showed that more than a few of those "superfoods" we're so fond of actually lose their antioxidant properties during the cooking process, never truly delivering on their cancer-curing promises. Antioxidants in food, he found, do better at low temperatures, so it only made sense that ice cream would make the ideal vehicle for getting your daily dose of disease killers.
Sanguigni worked with a Rome gelateria to develop chocolate, hazelnut, and green tea versions of this top-secret recipe. There's no official commercial release date yet, but trust us, if and when it hits the American market, it could completely transform the juice bar at the gym.
"Who says health foods have to taste bad?" Sanguigni told Italian media outlet la Repubblica. Amen, doc. Now if only someone would figure out how to make Brussels sprouts taste like pizza...
Sign up here for our daily Thrillist email, and get your fix of the best in food/drink/fun.
Meredith Heil is a staff writer for Thrillist. Every summer she returns like the ice cream man. Drop what you doin,' get-it get-it while you can. Follow her @mereditto.