Courtesy of Taco Bell
Courtesy of Taco Bell
Taco Bell has always been a champion fast food spot for vegetarians and vegans alike due to its highly customizable menu that can adapt to any diet, whether it be low carb or plant-based. There is a taco for everyone.
We get it. You want to make healthier decisions—but you can't imagine a life without Taco Bell. Don't worry, your health goals and Taco Bell can coexist. "Literally anything on the menu can be customized according to one's lifestyle," Missy Schaaphok RDN, Taco Bell's in-house registered dietitian, says. "Using our Nutrition Calculator can help achieve the desired outcome. We cater to consumers' lifestyle of choice—like items high in protein, vegetarian, or low cal and low fat."
In fact, as stated by Taco Bell itself, 75% of the menu is under 500 calories. Your favorites can also be made healthier by ordering them "fresco style," which substitutes fresh pico de gallo in place of cheese, sour cream, mayo-based sauces, and guac. This can cut the fat down in your meal significantly. Taco Bell even has a menu specifically catered to vegetarians, so if reducing your meat consumption is one of your goals, it'll be easy at your local T-Bell.
Here are seven of the healthiest options you can order at Taco Bell the next time you want to live más.
Burrito Supreme Fresco Style
340 calories, 14 grams of fat, 9 grams of fiber, 16 grams of protein
Honestly, any menu item from Taco Bell can be made more nutritious by making it fresco style. It's like a not-so-secret life hack to having Taco Bell that's still delicious but with a lot less fat. The same applies to their burrito supreme; when made fresco style, the entire thing comes out to 340 calories with 9 grams of fiber and 16 grams of protein. Yes, there's quite a bit of fat, too, but it's much better than if you included the sour cream and cheese.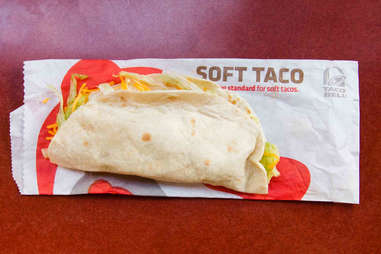 Chicken Soft Taco Fresco Style
150 calories, 6 grams of fat, 2 grams of fiber, 9 grams of protein
Chicken soft tacos are like the chicken noodle soup of the fast food world: reliable, comforting, and always tasty. Taco Bell's, when created fresco style, rings in at a mere 150 calories with 9 grams of protein. Slather on some hot sauce and make your soft taco dreams come true.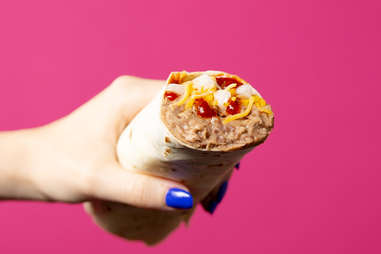 Bean Burrito
380 calories, 11 grams of fat, 9 grams of fiber, 14 grams of protein
Beans, beans, they're good for your heart. That's why you shouldn't hesitate to order Taco Bell's bean burrito. It clocks in at 380 calories with 9 grams of fiber and 14 grams of protein. Replace the added red sauce with pico de gallo to further reduce your sodium intake and up your vegetable consumption.
Veggie Power Menu Bowl
430 calories, 17 grams of fat, 10 grams of fiber, 12 grams of protein
Veggies! Power! The goodness in this bowl is already in the name. As Taco Bell likes to describe it, "the power-up boost you get from the bowl is so similar to a power-up in a video game." The Veggie Power Menu Bowl contains rice, black beans, cheese, romaine lettuce (see, vegetables), guacamole, pico de gallo, and creamy avocado ranch sauce. Skip the sour cream if you want to reduce fat and add a scoop of steak or chicken if you're in need of some extra protein.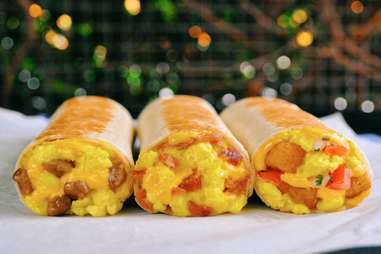 Cheesy Toasted Breakfast Burrito
340 calories, 17 grams of fat, 2 grams of fiber, 11 grams of protein
Breakfast on the go doesn't have to be complicated, expensive, or filled with greasy hash browns. Taco Bell's grilled breakfast burrito is under 350 calories and boasts 10 grams of protein, making it a satisfying, fulfilling start to your day. And at just over a dollar off of Taco Bell's cravings value menu, this burrito definitely gives you serious nutritional bang for your buck. Who would've thought Taco Bell's breakfast could be so satisfying?
Black Bean Crunchwrap Supreme Fresco Style
440 calories, 12 grams of fat, 8 grams of fiber, 12 grams of protein
Not only is the Black Bean Crunchwrap Supreme—served fresco style—an incredibly fresh and hearty main course, this menu item also happens to be vegan. Once you swap out the sour cream and cheese for diced tomatoes, you're left with a completely plant-based option that has a healthy amount of both fiber and protein. Bonus: the hot sauces at Taco Bell are also vegan. Feel free to add a dollop of guacamole for extra healthy fats and to make this meal a little bit more filling.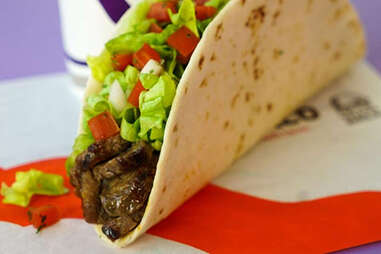 Grilled Steak Soft Taco Fresco Style
150 calories, 4 grams of fat, 2 grams of fiber, 10 grams of protein

You don't have to live off of unseasoned chicken, brown rice, and broccoli to be healthy. Taco Bell's Grilled Steak Soft Taco, which boasts 10g of protein and only 150 calories, will give you the beefy flavor you crave without filling you up with too much fat. Though ordering the steak taco fresco style eliminates the creamy avocado ranch sauce and cheese, you can still have bold flavor in your taco by requesting the addition of jalapenos. And if you're looking to make your taco a bit heftier, adding a dollop of refried beans will up the fiber and protein.
Black Beans and Rice
170 calories, 3.5 grams of fat, 4 grams of fiber, 4 grams of protein
Taco Bell has a bunch of great sides—gooey Fiesta Potatoes, platters of nachos, and more—that may be delicious but won't necessarily help reduce calorie intake if that's something you're aiming for. If you're trying to round out your meal, but still want food that can be nourishing, opt for a simple side of black beans and rice. This side is less than 200 calories and will provide some fiber and protein without being ladened with too much fat from cheese and sour cream. Black beans and rice, paired with a simple fresco style burrito or taco, makes for a solid meal.