These Ebony Leaf Smoking Papers Are a Smooth Model for Modern Cannabis
The Canadian pre-roll company introducing a new, old smoking paper and a new way of partnering with foreign suppliers.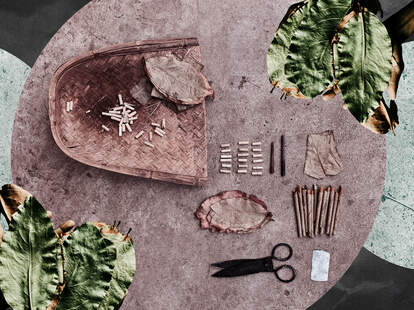 Photo courtesy of Herbal Goods Co.
There comes a point in every smoking journey where one looks into alternative smoking papers. Some have a flavored paper phase while others explore the variety of shapes and lengths beyond Zig Zags in that classic, tobacco-rolling realm. RAW 'unbleached' papers were becoming a thing as I entered the stoner community, and remain a standard in most smoke shops. I was into Elements rice papers for a while, because of its lack of fibrous, paper flavor, but Elements were notorious for burning unevenly and the slippery texture made them tricky on a windy day. Most forays into better papers end there, leading us back to whatever pack is lying nearby the next sesh.
Herbal Goods Co., however, took things a step further with their ebony leaf papers. In fact, they took several.
The day cannabis was federally legalized in Canada, Vancouver-based founders and life partners Oscar Bonilla, Jr. and Jess Freeman knew they wanted to be a part of it. But the seed of Herbal Goods Co. was planted five years prior, during a trip to India to learn Hindi in 2013.
"Over our three months there, we noticed all the locals smoking tobacco in what looked like tiny little cigarettes," recalls Freeman. "We were intrigued and had to try them for ourselves. We couldn't believe how smooth they pulled, and so began the brainchild of HGC."
That brainchild grew into the Herbal Goods Co. pre-roll: a cone made of ebony leaf and assembled with a cotton string tie and a corn husk crutch. No glue to hold the paper together. No processed materials. Just sundried leaves grown and harvested in a particular region in India, by local partners who've done this for generations.
"Oscar's family has been in the cannabis world for a number of years, growing coffee and cannabis in the jungles of El Salvador on the Finca where his mother was raised," says Freeman. "My other business (Naked Sage Jewellery) has taken me to India for a number of years, so between my experience working in India, along with Oscar's international supply chain knowledge, we knew we would be able to directly partner with a manufacturer of traditional Indian cigarettes."
The couple knew they wanted to produce some kind of special, all-natural, luxury pre-roll, "akin to an aged bottle of Scotch you'd share with family and friends." They explored a few other leaf varieties, but nothing compared to the smooth, even burn of the ebony leaf they'd tried in 2013. If you've ever smoked a joint in your life, you know the benefit of a slow burn. It gives you time to catch your breath and enjoy the high without wasting half the joint between inhales, and less flower is burned into thin air as it's passed around a smoking circle. Ebony leaves have a consistency somewhere between traditional rolling papers and a traditional blunt wrap, with more thickness but none of the tobacco or newspaper-flavored harshness. They don't even need a sales pitch—these are very popular rolling materials in other countries. The Canadian/US markets are just late to the party.
"We actually have a team of dedicated cigarette rollers in India that work exclusively for HGC. It's something we're very proud of," details Freeman. "Through working with our Indian partner we've been able to set up a local cottage industry in a rural part of India where there are very few opportunities, especially for women. By doing this, our 85% female team of master rollers are able to stay in their villages, have families, and make a living."
Although inspired by rolling customs from abroad, HGC's pre-rolls serve as an exciting, new twist on the classic method of smoking as Westerners know it. As much as the vape and edible markets grow—and despite the attention to those spaces—flower remains the dominant category in the cannabis business, and there remains a lot of space for brands to get creative with flower-centric smoking rituals. Glass and vaping devices can get as intricately complex and impressive as they like—there's still a special place for rolling one up, solo or with friends. This flower girl hopes there always will be.
Sign up here for our daily Thrillist email and subscribe here for our YouTube channel to get your fix of the best in food/drink/fun.
Lauren Yoshiko is a Portland-based writer and co-host of
Broccoli Magazine
's podcast,
Broccoli Talk
. She was among the first journalists to cover the commerce and culture of cannabis starting in 2014 and her work has since appeared in
Willamette Week
,
Forbes
,
Rolling Stone
, and
Broccoli Magazine
, among others. Follow her on Instagram at @laurenyoshiko for Portland breakfast sandwich recs, stoned nail art, and moderate cat content.