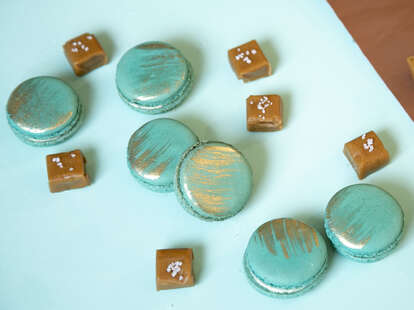 Everyone can recall their first edible experience—usually with a tiny bit of horror. For me, it was a corner of a musty-tasting rice crispy treat that sent me into a paranoid spiral and led me to bed at 7 pm.
Others indulged in stale gummies that tasted mostly like bong water, brownies made by a friend who really didn't know correct cannabutter ratios, and unappealing squares of chocolate that weren't pleasant on the palate but worked in a pinch.
But the market isn't like that anymore—edibles have come a long way. You can enjoy getting high by drinking tea, snacking on a bag of spicy shrimp chips, and even delighting in the luxuries of French patisserie through macarons.
It's the exact premise that spurred the creation of Hervé, a cannabis-infused dessert brand, that launched in 2020. "Our founder, Sebastien Centner, has a long history in luxury entertainment catering," explains Sam Rose, the director of operations for Hervé. "He had a lot of clientele asking for cannabis products at their events, but there were only chocolate and gummies at the time—nothing really out there for his clientele that you would be proud of delivering at an event."
So Centner decided to make something he was sure would wow: delicate, gold-dusted macaron shells that sandwich a cannabis-infused filling.
But anyone who has ever tasted macarons—or attempted to bake them—knows how delicate the flavors are and how finicky the almond flour batter can be. It requires a lot of know-how and the addition of cannabis, a flavor that is grassy and abrasive, could disrupt the recipes.
Centner then decided to partner with professionals and collaborated with Delysées, a Toronto-based French patisserie. Instead of adding cannabis to the shells, which could agitate an already particular recipe, only the filling would be medicated.
While the macaron shells were baked in Toronto, the cannabis-infused ganaches and frostings were formulated in California. "When you're talking about French patisserie, you're often talking about freshness," Rose says. "So we've put a lot of care into having a frozen supply chain from Toronto to California, as well as including freezers at the dispensary level."
When the shells arrive in California, they are filled with a vegan coconut cream imbued with 10 milligrams of a sativa hybrid distillate (it should be noted that the shells, made with egg whites, are not vegan). Each package of macarons includes three cookies for a total of 30 milligrams of THC. Coconut cream, an ingredient rich in fats, was an intentional choice for the filling.
"If you are just using a pectin or have a gummy, your bioavailability based on the fat is much less than when you're having a chocolate or fatty coconut cream," Rose explains. "[Fat] is what helps deliver more of that bioavailability so although our product is anecdotally 10 milligrams, we get a lot of people who feel higher than that—and that's because of that."
With Hervé, which also creates THC-infused hard candies, part of the goal of the product is to get high. But flavor is a priority, too. "We hang our hats on that as a brand," Rose says, who boldly claims that Hervé macarons could stand up to Laudurée and Los Angeles's Bottega Louie, with or without cannabis in them. "We put effort into higher quality ingredients so that you don't have a mouth coated in sugar when you're done—you'll definitely want a second one," (which, Rose advises, you probably shouldn't eat lest you get too high).
The brand name, Hervé, is actually a tribute to Hervé This, the French chemist who has been lauded as the father of molecular gastronomy. Baking, whether it's the kind where you get medicated or the sort where you pull a cake out of the oven, is all science. "The science of cannabis and food—and infusing something like a macaron with cannabis—just follows that spirit [of Hervé This]," Rose says.
As of now, Hervé currently has four different macaron flavors to choose from—Birthday Cake, Salted Caramel, Chocolate, and Raspberry. Rose wants to explore new iterations that will be both delicious and help consumers get properly stoned. (Yuzu, the Japanese citrus, is being discussed.)
"We really want our macarons to be a luxury, and not just within cannabis," he says. "But anyone who ate our product would be satisfied—their taste buds would be happy then they would get high."
Kat Thompson is a senior staff writer of food & drink at Thrillist. Follow her on Twitter @katthompsonn.