Every Flavor of Hi-Chew, Ranked
The irresistibly juicy candy has a dragon fruit, kiwi, and açaí flavor.

Hi-Chew is not joking around when it describes its candy as "immensely fruity" and "intensely chewy." The candy brand should add "intensely juicy" to their tagline as well, because these candies release a wave of fruit flavor with every bite. The Japanese candy -- which feels like a Starbursts competitor -- comes in several fun flavors like kiwi, dragon fruit, and açaí as well as classic variations like apple, grape, and strawberry in the United States. In Japan, flavors are even more experimental: There's a ramune flavor, a cola one, and even a Hokkaido yogurt Hi-Chew. The candy is starting to gain a ton of popularity in the US and can now be found in stores like Target. 
But which flavor is best? We put all 12 flavors available here to the test. This ranking is based on overall flavor and texture, though I included notes about the smell of each cube of candy, too. Here's how all our fruity candy friends stacked up from worst to best:
12. Açaí
The açaí Hi-Chew smelled like an aggressively sweet grape candy and tasted even worse. It's far too sugary and doesn't contain any of the brightness I've come to expect from an açaí bowl. To make matters worse, the candy was filled with tiny black seeds that bring nothing to the table. The texture, to me, is reminiscent of chewing on gum for far too long, to the point that the candy breaks apart and becomes brittle. In a grocery store checkout line, I would not reach for this Hi-Chew. 
11. Watermelon
I love fresh watermelon, but I've never liked the taste of watermelon-flavored candy. The only truly acceptable version, to me, are watermelon Sour Patch Kids -- and even then I have to be in a certain mood to tear into a bag of those. These Hi-Chews kind of remind me of the Sour Patch Kids; they're acceptable, wavering between sweet and sour, but still taste entirely artificial and syrupy. I've yet to taste a candy that actually captures the refreshing taste of watermelon, and until then, I'll keep opting for other, better flavors.
10. Kiwi
The kiwi Hi-Chew smells so good -- like being in 7th grade and slathering Bath and Body Works' shimmery lotion on your arms. I would buy candles in this light and sweet scent that loosely smells like apples. The taste, however, doesn't quite capture the flavor of kiwis. It tastes like a cloyingly sweet smoothie blend of bananas and berries? To make matters worse, like the açaí version, this Hi-Chew is studded with little "seeds" which, sure, makes the chewy candy really cute because it mimics a kiwi. Unfortunately, the taste is not as cute. It reminds me of eating snacks at the beach and accidentally gritting your teeth on sand.
9. Banana
I really appreciate banana-flavored candy and I think it's because it's a bit of a rarity. Sure, there's banana Laffy Taffy, and those little banana-shaped hard candies. But for the most part, people avoid making banana candy, which is why this Hi-Chew feels like a special treat. Banana candy almost always tastes entirely artificial, and that's the case here, too, but it's still simple and good and sweet. It's not my favorite Hi-Chew, but I would easily crush a pack of these.
8. Mango
Even though I don't tend to love mangoes, I actually enjoyed this Hi-Chew. It wasn't as sickeningly sweet as I often find mangoes to be, which is ironic because this is a piece of candy. It also doesn't have the slippery, slimy texture of the fresh fruit. I wouldn't pick this as my top flavor, but I can recognize a great, fruity piece of candy when I taste one.
7. Dragon Fruit
The flavor is inoffensive, but doesn't necessarily taste like dragon fruit. And maybe that's a good thing, because dragon fruit doesn't really taste like anything. Hi-Chew's interpretation of the cactus fruit is sweet and vaguely tropical -- like a mix of kiwi and peaches. It had the tiniest amount of gritty seeds, which wasn't great to chew on because, as we established early on in this piece, those seeds are weird as hell.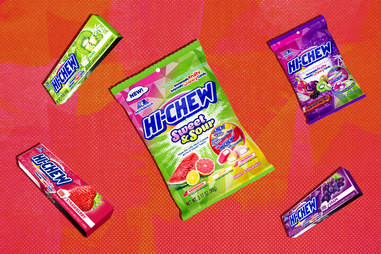 Hi-Chew is a Japanese candy.

| Frannie Jiranek
6. Lemon
For a candy that's advertised as sour, I wish it made my lips pucker a little bit more. The smell of this Hi-Chew is like a salty lemon. I don't usually opt for lemon candy, but this one is pretty good because it tastes pretty intensely of the citrus fruit, except maybe a bit sweeter than normal.
5. Grape
Grape is a divisive candy flavor. People always say it tastes medicinal, but to me it tastes like childhood. This grape Hi-Chew reminds me of Marukawa fruit gums I also used to enjoy as a kid, meaning they don't necessarily taste exactly like grape, but are fruity and sweet and enjoyable. If you've had a grape Jolly Rancher before, this Hi-Chew tastes like that, but juicier, chewier, and less artificial. I've always loved grape candy, and this is a classic rendition of grape that satisfies.
4. Pineapple
Smelling this Hi-Chew is like downing a giant, refreshing glass of pineapple juice. The scent is intoxicating. Eating it is even better; it's so juicy, like diving into a Dole whip float from Disneyland. Escape to a tropical paradise by closing your eyes, turning on ambient background beach sounds, and eating this Hi-Chew.  
3. Grapefruit
If all grapefruits tasted as good as this Hi-Chew does, maybe I'd be more inclined to add the citrus fruit to my regular fruit rotation! Though this Hi-Chew didn't smell delectable, the flavor is so juicy and balanced. I liked the tartness mingling with the sweet; I never got sick of the flavor as I was chewing it, which happens often when the candy is too sweet. This is a winner.
2. Green Apple
Green apple is such a classic candy flavor that never disappoints. The green apple caramel pops were my favorite as a kid, and I've always loved green apple rings, Jolly Ranchers, and Sour Punch Straws, too. Hi-Chew is no different; it tastes like that classic artificial green apple flavor you've devoured since childhood, which does no wrong. It's sweet and juicy and definitely reminds me of biting into a crisp Granny Smith apple.
1. Strawberry
It's no secret that pink candy is the best candy, and the same is true here. I've yet to find a Hi-Chew flavor that tastes better than classic strawberry. It is the pinnacle of all things good about Hi-Chew as a candy: flavorful, but not overly sweet; juicy and closely reminiscent of the fruit it takes after; and satisfying. Bury me in all strawberry candies, but especially Hi-Chews.
Sign up here for our daily Thrillist email, get Eatmail for more food coverage, and subscribe here for our YouTube channel to get your fix of the best in food/drink/fun.
Kat Thompson is a staff food writer at Thrillist who consumed roughly 36 grams of sugar for this ranking. She has no regrets. Tweet her your favorite flavor @katthompsonn.