The Most Heartfelt, Weed-Friendly Supper Club in New York
Meet the sisters infusing their Dominican heritage and New York community into every bite.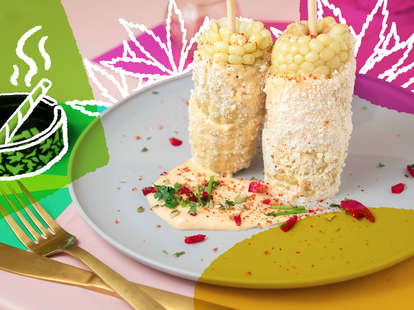 Photo: Rosanna Anil; Illustration: Emily Carpenter/Thrillist
"Cannabis and food are two of the most communal things in the world. Both bring strangers and friends together. Together -- it's magic."
Raised in an entrepreneurial Latina household in Harlem where food means much more than just sustenance, Roshelly and Shanelly Pena were nearly destined to make said magic. The pair of sisters are co-founders of Higher Dining, a New York-based event series of dinners, yoga sessions, and cooking courses curated with a gourmet and cannabis-friendly approach. And while their sophisticated tablescapes and five-star menus indeed elevate anyone's notion of edible cannabis, there's something else going on at Higher Dining's table. It's how the Pena sisters' love for food, cannabis, heritage, and community comes through in every bite.
Though raised by their Dominican mother and grandmother, it was their father who got them experimenting in the kitchen early on. It was also through their father, who smoked and studied cannabis all his life, that they were introduced to cannabis-friendly lifestyles -- though not to identical reception.
While Shanelly, 29, was an avid enjoyer of cannabis, Roshelly, 27, was actually pretty not cool with her dad's habit until she reached college. "I was taught that it wasn't good for you, and judged my dad for smoking," laughs Roshelly. "But by my second year of college, I loved getting high and playing with it in the kitchen."
Their mother? Not so much. The sisters had to hide their new habit from her as they got to know cannabis. Their mother did however serve as their entrepreneurial role model, running her own business since they were children.
As they gained experience working in Manhattan restaurants and the gourmet scene, their love for hosting took over, and their inaugural infused dinner party almost manifested on its own during 4th of July weekend in 2017.
"It was planned within two weeks," says Roshelly. "We paid attention to every detail. Maybe a little too much. But we wanted to deliver an elevated experience."
"An experience that we would love to attend," adds Shanelly.
This wouldn't just be the birth of Higher Dining: this would also be their "coming out" to their mom about their cannabis use. But they were ready. Frankly, they valued her business savvy too much not to have her involved.
So they rolled up their sleeves to craft the perfect, stereotype-breaking evening. They blasted flyers across social platforms and sidewalks, even mentioning it to neighboring diners when they went out to eat. The event sold out, with 60 people filling their mom's back yard that summer night. Guests enjoyed a beet mousse on a wafer with prosciutto, jalapeño corn bread, lamb chops and mashed potatoes, a traditional Dominican tres leche cake, and more quality bud than the group could smoke in a night. Not a single fork was out of place, not a single guest wasn't smiling the entire time, and yes, it got their mom on board with Higher Dining.
"To this day we use both our parents as tasters and call them for tips on family recipes and ancestral ingredients," says Shanelly.
For the next year and a half, they threw a range of dinners and events, building a customer base one Instagram RSVP at a time. From infused ice cream socials to four-course Valentine's Day dinners or themed spreads like this Eastern-influenced menu for a 2018 spring dinner: Blazed Shrimp with Spicy Chili, Pot Slaw, Trippy Brussels, High Short Rib, Smacked Coconut Rice, and Filipino Halo-Halo with Asian Pear Fritters for dessert.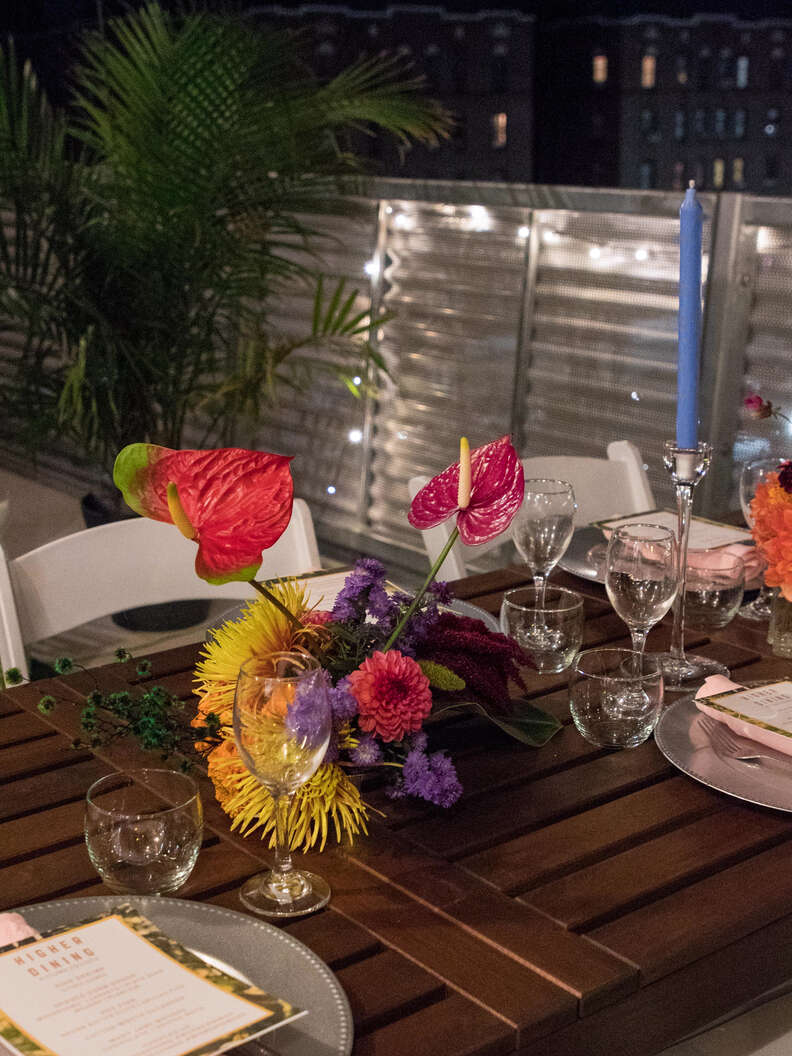 "During our dinners, the main focus is not the joint you're smoking," says Shanelly. "It's about the entire experience: the food, the flower, and the genuine conversations."
Then, COVID-19 happened. Higher Dining suddenly couldn't exist as is. But people still need to eat. And the Pena sisters still need to cook, create, and connect. It didn't take long for the two to start talking about delivery.
In late March, Higher Dining launched a weekly infused-dinner delivery service with a simple menu of steak or salmon, dessert, and a pre-roll. By the end of June, orders increased so fast they started allowing two days a week for takeout pick up orders. You can't underestimate the gift of culinary exploration after being cooped up for a couple months.
They're making 50-60 deliveries a week to the Bronx and Manhattan, to people all across the spectrum of newbie to connoisseur. They go light on the infusions so that there's no risk of anyone getting uncomfortably stoned, and include blunts in your order for those who want to amp up the THC. And in true Pena form, the dishes grow more elaborate each week, like a full-on Seafood Fry of Lobster, Shrimp and Chips with Higher Dining Tartar Sauce and Cilantro Lime Cream.
"It's amazing to be building something here, and to share it with fellow New Yorkers," says Roshelly. "Pre-lockdown, we never thought about doing takeout orders. But once COVID-19 hit, our minds opened up to new possibilities. Now, our customers are becoming a community."
Most contemporary cannabis-centric chefs lean more laboratorial than ceremonial, touting high tech infusions and terpene extractions. The Pena sisters don't care about cutting-edge cannabis experiences. They care about good food, good weed, and good times.
"Our mom always taught us to do things with the best intentions," Roshelly continues. "Especially when doing things with our hands, because energy transfers. So when we create, we do it from the heart."
Dine higher on your own with this Blackened Salmon recipe, perfect for topping a summer salad with blue cheese.
Blackened Salmon
Serves 3-5 guests.
2 lbs of salmon tail
1 tablespoon of kosher salt
1/2 teaspoon ground mustard
1/2 teaspoon ground garlic
1/2 teaspoon chili powder
1/2 teaspoon paprika powder
1/2 teaspoon cumin
1/2 teaspoon dried oregano
Vinaigrette of your choice
1/4 cup of cannabis-infused grapeseed oil (or any infused oil / 3 tbsp cannabutter works too)
1 teaspoon of smoked paprika
Juice from 2 limes
Directions:
In a saucer or small bowl, combine all of the ingredients for dry rub.
Rub salmon with seasoning all around.
Heat 4 tablespoons of grape-seed oil into a skillet and add salmon. On medium to high heat, cook each side for 4 minutes.
Once salmon has rested off the heat for 2 minutes, drizzle with vinaigrette.
Sign up here for our daily Thrillist email, get Eatmail for more food coverage, and subscribe here for our YouTube channel to get your fix of the best in food/drink/fun.
Lauren Yoshiko is as close to a cannabis culture critic as the hazy concept allows. She opened a dispensary, managed a dispensary, and managed a farm in Southern Oregon for two years, all the while reporting on every facet of the industry for various publications. Follow her on Instagram at @laurenyoshiko for aesthetically-pleasing smoking tables, mild cat content, and nail art.