Moody Harney, chargrilled oysters from The Urban Oyster, and Zella Palmer.

| Design by Grace Han for Thrillist
Moody Harney, chargrilled oysters from The Urban Oyster, and Zella Palmer.

| Design by Grace Han for Thrillist
When a fresh tray of oysters arrives, chilled on a bed of ice, many thoughts swirl through your mind. Should I douse these in hot sauce or mignonette? Should I slurp them down whole or chew them if they're chargrilled? Or, maybe, should we put in another order while the oysters are still $1 at happy hour?
Rarely have we ever thought about the history, all the moments leading up to this one when people realized oysters were a delicious snack, a social experience, or had a culturally diverse lineage. Not often does it cross our minds that Black people have been harvesting, cultivating, and selling these bivalves since at least the 18th century.
In the third episode of High on the Hog—a Netflix docu-series that examines how African-American cuisine transformed America—host Stephen Satterfield takes viewers on a journey to states along the east coast to explore the lives of founding chefs of the African American community and their impact on food culture.
One of the chefs highlighted in the episode is Thomas Downing, who went from being the son of slaves to the oyster king of New York City in the late 1800s. During that time, oysters were cheap, plentiful, and associated with brothels and working class bars. But Downing changed that. He opened an oyster cellar in the heart of the Financial District and, essentially, helped elevated oyster consumption.
In the same way that Downing carved a career path for himself in oyster selling, many Black oystermen down in New Orleans did the same. Zella Palmer, culinary historian and Dillard University's director of the Ray Charles Program in African-American Material Culture, says that Black men created this bustling community of oystermen, shrimpers, and fishermen.
"Traditionally, it was always Black folks who were predominantly in the seafood business and that gets written out of history today," Palmer says. "Right now in New Orleans, it's a mix. It's Vietnamese and African American and white [people], but back then, enslavers were making a killing off of slaves and poor labor."
Just as Downing and other Black oystermen were shucking and selling oysters in New York City, Black oystermen were making a living as part of New Orleans' bustling street food community in the 18th and 19th centuries. But for those who were enslaved, the profits went to their owners.
"When Black folks were enslaved, a lot of these enslavers, like John McDonogh or Jean Étienne de Boré, would use their slaves to go out to sell for them," Palmer explains. "They would get the majority of the profit and if they felt compelled, they would give something to the enslaved person, which wasn't always the case."
Even after the Civil War ended and slavery was abolished, Black oystermen continued to dominate the industry. In the New Orleans area particularly, there was a massive migration of the formerly enslaved who moved to the region because of the abundance of seafood. Others settled in nearby parishes like St. Bernard and Plaquemines because they saw opportunity there, too.
There are modern oyster shuckers working to hold on to those traditions and attach an African-American face to oyster shucking and ownership just as it was in Thomas Downing's day.
In places like New Orleans, Palmer says, you're more likely to see a Black person shucking oysters behind the bar or in the kitchen. But she admits that she was hesitant to try oysters when she was a young girl, a memory shared by shucker Benjamin "Moody" Harney, who runs an oyster cart in Brooklyn, New York.
He says that is why it helps for Black people to see a person behind the counter who looks like them. "A lot of it is just energy," Harney says. "Many people have never seen someone who looks like me offering oysters to them," which makes them more comfortable with the idea of eating oysters.
Inspired by Downing's entrepreneurial endeavors in the oyster business, Harney started his own company, The Real Mother Shuckers. As the only oyster cart in Brooklyn, it serves raw oysters with interesting toppings like parsley, shallots, horseradish, and wasabi.
While Harney loves eating and selling oysters these days, that wasn't always true. When he got his start oyster shucking in chain restaurants in Louisiana and Florida, he hated the seemingly slimy creatures. It wasn't until he moved back to his native New York City that his opinion of oysters started to change.
"I thought they were the most disgusting thing on earth," he says candidly. "I went to a legit oyster bar for the first time where they had 30 different oysters for sale. And that's when I fully understood why people are losing their minds over oysters."
And now that he has his own oyster cart, he simply wants to make oysters accessible. Chef Jasmine Norton wants to do the same thing with her Baltimore-based company, The Urban Oyster.
"Our mission was for people to come in as they are, us meeting them as they are, and introducing them to something they might not be familiar with," Norton says. "When you bridge that gap, they're more inclined to try something they're not accustomed to."
Unlike Harney, Norton has loved oysters ever since her father introduced her to them as a kid. But she realizes that many of her customers are being introduced to oysters for the first time. For Black people in particular, Norton recalls deterrents like dress codes and high price points as reasons why they probably never indulged.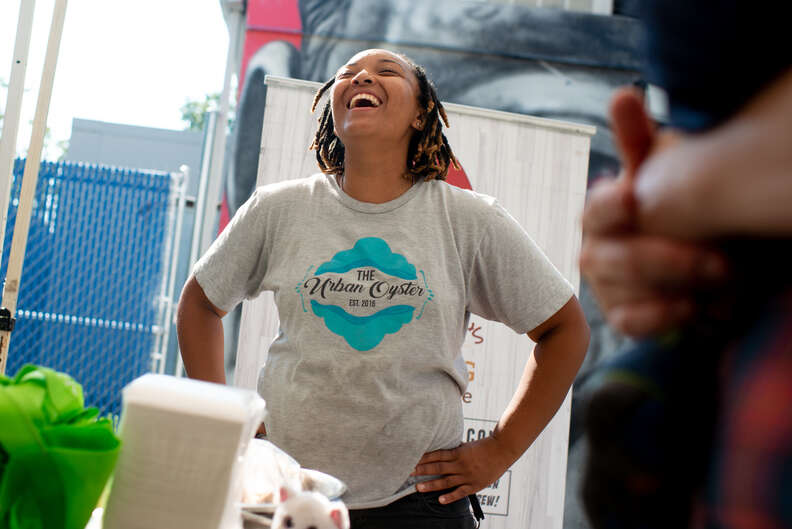 "Especially when I was younger, as far as the dining scene was concerned, fine dining restaurants where you even had to have a certain attire to go in, that's not something that we all had on reserve or in our closets," she says.
In fact, Palmer notes, seafood culture in the Black community has evolved over the 20th century and the rise in prominence of young Black chefs and advent of social media all played contributing factors into getting younger people to appreciate oysters again.
"If you look at African American culture in other states, there was a time when everybody loved to go to Red Lobster, knowing that seafood isn't locally sourced," Palmer says. "Fast-forward to the 2000s, especially after Hurricane Katrina, people started coming to New Orleans. Then Black chefs were posting seafood on Instagram and, all of a sudden, the rest of the country got interested."
Norton, who was inspired by her time in New Orleans, says that The Urban Oyster reflects this more modern evolution. "Everything about our restaurant was this hip but refined atmosphere," she says. "I'm only 33, so I'm not stuffy. I like to have fun. And there's enough oyster bars that give off the sort of stuffy vibes."
The Urban Oyster's physical location closed at the end of July 2020 due to the pandemic, but her team is currently running a mobile oyster bar at farmers' markets and festivals. One of Norton's most popular dishes is the chargrilled oyster, which has deep roots in New Orleans. Palmer notes that this dish, specifically, symbolizes the innovation of the Black community.
"The recipes that we have now of grilled oysters with parmesan cheese and butter, somebody in the back of the house created that," she says. "It's uniquely New Orleans and it comes out of the Black community because they had the idea to use the oyster for so many things. They made oysters part of the community—just pop up your grill outside and sell your plate of oysters."
Despite the interwoven path that oysters and Black culture have been on all these years, not surprisingly, very little credit is given where it belongs. But Palmer hopes that young entrepreneurs like Harney and Norton can help to change that.
"I teach Black food culture because we always get written out of history," Palmer says. "Who was doing the labor during slavery? It was us. It was us, period. And it really still is us."
Kevinisha Walker is a content creator and social media strategist from New Orleans with a passion for telling stories about people in underserved communities. She's also a social media editor at The Daily Beast, and currently based in Los Angeles. Follow her @kevinishawalker.