In early 2009, B.J. Lofback lay sprawled out on his couch hungrily trolling the Internet at 6am for anything he could find about Asian food. A Nashville-based closet cook who'd ditched the food world to make a living in manufacturing -- which he ditched to make a better living in Internet marketing -- Lofback's respite was "always cooking. I got into Asian cooking, and the Internet brought me worlds of food I never knew." That particular morning, he stumbled upon a story about Kogi Korean BBQ, chef Roy Choi's LA food truck. "I'm reading about this Korean barbecue taco -- this fusion idea of taking a taco truck and introducing another cuisine to it. I thought, that's it, I'm totally doing this. I'm opening a food truck," he says. Back then, Nashville didn't have any and Lofback wanted to be the first. Two years later, he brought his truck Riffs Fine Street Food to life.
In that timespan, his muse Choi skyrocketed into rock stardom. The wayward LA chef had bounced around fine dining and hotel kitchens before being tapped to open Kogi in November 2008 -- a launch that happily coincided with the rise of Twitter. The unplanned partnership of food trucks and all modes of social media made overnight sensations of Choi and his taco mash-up. Time magazine and Bon Appetit called. Kogi had redefined street food and instantly paved the way for countless budding entrepreneurs, like Lofback, to trick-out old trucks, pick a concept, and take this rogue, Twitter-fueled dinner party to the streets of their own hometowns.
Fast forward to 2014. Food trucks are an established industry in dozens of cities and have become a tried-and-true pathway for aspiring chefs to open brick-and-mortar restaurants. They're rolling test kitchens and branding devices; or better yet, a new form of EP, one that chefs can use to shop around for potential investors. Reality TV shows have sprung up (and fizzled), and the recent release of Chef, a film directed by and starring Jon Favreau, captures the "chef at a turning point" road to redemption that trucks can offer.
Meanwhile, Crain's published a piece last month putting the trend at its midlife crisis -- truck owners have come up against the harsh reality of a weather-dependent business model and built-in kitchens that often break. After battling their respective cities to earn parking and operation permits and proving to local restaurant owners and customers that they were there to help elevate the dining scene (ie: drop the roach-coach stereotype), the industry's founding fathers have moved on, opening, in some cases, multiple new ventures.
"Our fries were the greatest idea and then the worst idea ever," says Rick Gencarelli. "And I was producing porchetta in a 7-by-10 kitchen. It was insane."

And yet, the energy of the industry hasn't waned. Demand for street food remains in every town that's embraced it, despite the dozens of new trucks that come online each season. And trucks are still a cheap way to test a concept and create brand awareness. Even established restaurants are opening trucks in order to draw people back to a space. Midlife crisis? Maybe. But there's still plenty of road ahead for the food truck evolution.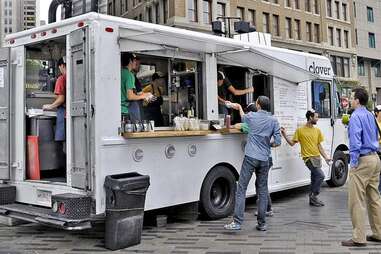 Started from the bottom now we're...?
But let's back up to 2008. The economy was straight crushing businesses of every ilk, especially aspiring restaurateurs. Though food trucks and carts already existed (the industry was dominated by immigrant owners offering Middle Eastern options on the East Coast and taco trucks on the West), few cities were making new licenses available. But trucks were -- and still are -- a far cheaper alternative to opening a restaurant, costing anywhere from $40,000 to $100,000 versus $500,000 for a physical space.
Right before Kogi hit the streets of LA, around October 2008, Harvard MBA Ayr Muir found himself a grandfathered food truck license in Cambridge, Massachusetts and set up a small lunch-truck operation on the MIT campus. His goal was to test-out menus for a healthy fast-food concept before landing in a physical space. Dubbing it the Clover Food Lab, Muir ran the truck for about eight weeks, collecting feedback and followers with his meatless soups, salads, and sandwiches, but shut it down in order to search for a permanent location -- only to realize he had a long road ahead of him. "For us, it was a landlord thing," he says. "Being a little startup company, it was really hard to get into a space. You're fighting to get their attention, not even returning calls if they haven't heard of you. It might have been indirectly due to the economy in that [landlords] were being more conservative. If the economy had been better, this would have been different. But we just couldn't get space." Meanwhile, the customers he'd gained through the truck clamored for it to return. He reopened and ran it for two more years before finally landing an actual restaurant.

Speed bumps
The last third of the film Chef shows a music-fueled montage wherein Favreau and his cohorts cruise through cities from Miami to LA, using social media to guide legions of customers to their window while making fistfuls of cash. Sounds fun, right? Reality check: "Every day was a lesson in humility," says Rick Gencarelli of the Lardo sandwich truck-turned-café in Portland, Oregon. "Putting on a happy face when you feel like sh*t isn't easy. In the back of the house, you're insulated. But [on the truck] no matter what -- if you're dealing with a flood or your fry-o-later's overflowing -- you try not to convey that to customers." The CIA grad had cut his teeth working for Todd English before running a farm-to-table, whole animal restaurant in Vermont. He moved to Portland to help a restaurant brand expand its concept, but the deal fell through. With no connections or established local street cred, he went mobile, opening Lardo in 2010. Portland was fortunate to have a number of established pods, or dedicated food truck parking lots, but Gencarelli was one of just a few classically trained chefs behind the wheel and he was determined to keep his knife skills sharp.
"Our fries were the greatest idea and then the worst idea ever," he says. "I wasn't going to buy bags of frozen fries, so I punched potatoes and blanched them in pork scraps. And I was producing porchetta in a 7-by-10 kitchen. It was insane." But that dedication paid off with an instant following.
In Nashville, chefs Karl and Sarah Worley, who opened their Biscuit Love truck in 2012, quickly found the concept itself to be a restriction. The culinary school grads chose biscuits as a way to celebrate one specific element of Southern cuisine that could be interpreted in dozens of ways. "When we opened, we fought really hard against 'they're a breakfast truck' because we wanted to be at the beer festivals, and the hot chicken festivals," says Sarah. Their menu includes burgers and fried chicken, but by this past Winter, she says, "We had sort of gotten boxed in by the biscuit thing. I think our menu got stale because Karl was bored. We felt like we'd stretched our wings as far was we could."
Cruise Control
By 2010, Choi's Kogi, and other chef-driven trucks, realized that their vehicles could land them that coveted physical space. Kogi offshoot Chego became one of the first truck-turned-brick-and-mortar concepts that year, with Clover in Boston following close behind. Choi has since gone on to open or consult on four others. Clover's first location has multiplied into five, with an expansion to Washington, DC on the horizon. (Muir says they're the fastest-growing and highest-performing restaurant group in New England.) In Portland, Gencarelli and his truck Lardo quickly caught the eye of restaurateur Kurt Huffman; he now has three locations of Lardo as well as a pasta concept called Grassa.
After BJ Lofback launched his truck in 2011 with partner Carlos Davis, the two got through a busy Spring and Fall before hitting the dead calm of Winter. "There's this allure of food truck life [before you open] where you go, I only have to work for three hours a day! And, I can open it whenever I want! The freedom is very intoxicating. And then the reality comes -- it's not that at all," he says. For him and Davis (and numerous other truck owners), the solution was to get into catering, which Lofback calls "easy money" compared to the truck. By late 2012, the business had two distinct arms, which meant they were also in need of a bigger kitchen. They were approached a number of times about taking over a physical space and found the right fit in a corporate office park just East of downtown. "It's been this weird progression of the business. The food truck spawned a catering company; those two spawned a café," he says. Next up, he's taking over a restaurant/bar at a nearby hotel.
For Lofback -- and all truck-turned-restaurant owners -- the key takeaway from the trucks has been customer interaction. Not only does the window offer immediate feedback and adaptability, it breaks down the barrier between chef and customer. "There's a crowd of people there to see you play, only instead of listening, they're tasting. That's the addiction," says Lofback. For Muir, it's shaped his business model. "Face-to-face is a really important part of who we are now but I didn't design it that way. People started getting much more emotionally involved than I ever expected." As Sarah and Karl Worley begin to look into their own brick-and-mortar space, Sarah says, "It's going to be really important for us to incorporate that visibility with our customers and keep that one-on-one interaction alive."

Nothing but Wide Open Road
So what's next for food trucks? Owners coming onto the scene today face a very different set of obstacles than their forefathers -- no more permitting battles, an established customer base. Many cities now boast their own food truck associations. But new owners face their own set of struggles -- seasonal business trends, tight margins, breakdowns, stiffer competition for real estate. And most food truck owners will tell you the same thing: Don't do it if all you want to do is make a living off a food truck. "The business model sucks unless you look at it like, this will help me launch something with real revenue," says Gencarelli.
For example, a number of established restaurants have launched trucks to test the waters in new markets, like Cambridge restaurant Area Four, an all-day café and wood-fired pizza concept that launched a truck last year, pedaling pastries and piadina sandwiches. "For us it was a way to increase our brand outside of Cambridge and into Boston. It's a means to drive additional people to the restaurant," says co-owner Michael Krupp. Last year, it just broke even, he admits. "But it's mobile advertising. There's evidence to support that it does drive business back." This year, he's sending the truck to Nashville where he'll collaborate with a couple of guys who are testing out their own restaurant concept. Portland, Oregon ice cream cart-turned-scoop shop, Salt & Straw, is about to expand into LA. They have a physical space but they're also building out a 14ft truck, which will hit the streets right after the space opens. "We started with this vision, 'what if we could export happiness?' It was this idea of being able to bring something cool to a community. The truck is a great opportunity to do that and tell people, using our own voice, about who we are," says co-founder Tyler Malek.
And just because a restaurant comes along doesn't mean the trucks go away, in some cases. As Clover Food Lab expands, Muir says, "Now we're using [the trucks] to figure out real estate and to see where we'll open new restaurants." And while Riffs works on expansion plans, Lofback says, "The truck is probably the most profitable thing we have now. [Plus], I think about it as an intelligent business decision: it's constant advertising."
Mostly, though, the life of a truck lives well-beyond its owners. After you add a fully functioning kitchen and put a system for cooking in place, the trucks can be passed along. Biscuit Love, which got its start thanks to the generous loan of a truck from a fellow local chef and restaurateur, eventually moved into its own retrofitted Airstream trailer. When they eventually open a restaurant, Sarah says they want to pay it forward. They recently collaborated with an area high school student who wanted to test out an Indian-Southern truck concept. They worked alongside him for the day, temporarily transforming the truck into the Namaste, Y'all concept. Perhaps the truck would go to someone like him, or another business owner looking to get out of the gate. "We've had a whole bunch of people who have loved us in the right ways and we made the right relationships," says Sarah. "So what's the point if we can't help to breathe life into something else?"
Erin Byers Murray lives, writes, and eats in Nashville where she's currently the managing editor of Nashville Lifestyles. Follow her at @erinbmurray.