Throughout Red Lobster's 46-year history, one menu item has stood out as the indisputable favorite. It inspires weird YouTube videos. It spawns hundreds of DIY recipes from amateur chefs. It's so popular, Red Lobster serves 1.1mill of these things every single day. We're speaking, obviously, about the Rock Island Stuffed Tilapia. Okay, fine, the Cheddar Bay Biscuit.
When word broke that Darden Restaurants was selling off Red Lobster in a $2.1bill deal, people immediately feared the worst for their beloved biscuits. It's still unclear where they'll land, but while the higher Cheddar Bay authorities sort out their fate, we decided to look back on the folklore surrounding this pride of the breadbasket. Disappointingly, there were no pirates involved.
Though they're Red Lobster's literal and figurative bread and butter, Cheddar Bay Biscuits didn't come along until the restaurant had been in the biz for about two decades. The company was looking for something to replace their hushpuppies, which weren't selling so hot, and so their main man in culinary development, Kurt Hankins, began experimenting with Texas toast-esque French bread. He eventually decided to shake up traditional biscuit recipes by subbing the sugar with garlic and adding in cheese, and thus a classic was born.
At their inception, CCBs had a considerably less cool name. During the initial early '90s run, they were called "freshly baked, hot cheese garlic bread", apparently named by the worst marketing person ever. A couple years later, they replaced that mouthful with Cheddar Bay Biscuits, in a nod to the sadly fictional sea of cheese. As you can see in the above commercial, by '96 the newly christened biscuits were gospel.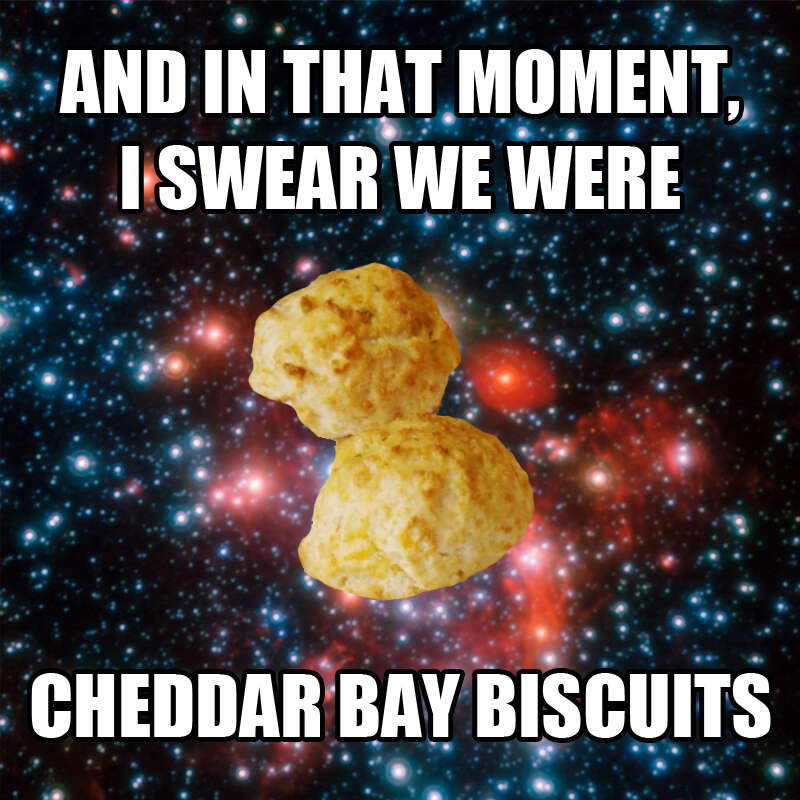 Ever since Hankins' stroke of genius, a sizeable cult has grown around the biscuits. They of course exist in a million memes, including First World Problems, Someecards, and this choice submission from Stephen Chbosky.
They've even crossed into
comedy clubs
. Noted Pace Salsa prank victim Kyle Kinane crafted some great stand-up around the Red Lobster starter and its odd synergy with pop stars' deaths on John Oliver's show years back, proving you should always be careful what you post on Red Lobster Facebook fan groups.
The future may be uncertain for this beautiful biscuit, but if it should fall, at least we have the memories. And all those copycat recipes.
Kristin Hunt is a food/drink staff writer for Thrillist. Her parents never took her to Red Lobster as a kid, but she did have a serious love affair with the Olive Garden breadsticks. Follow her at @kristin_hunt.