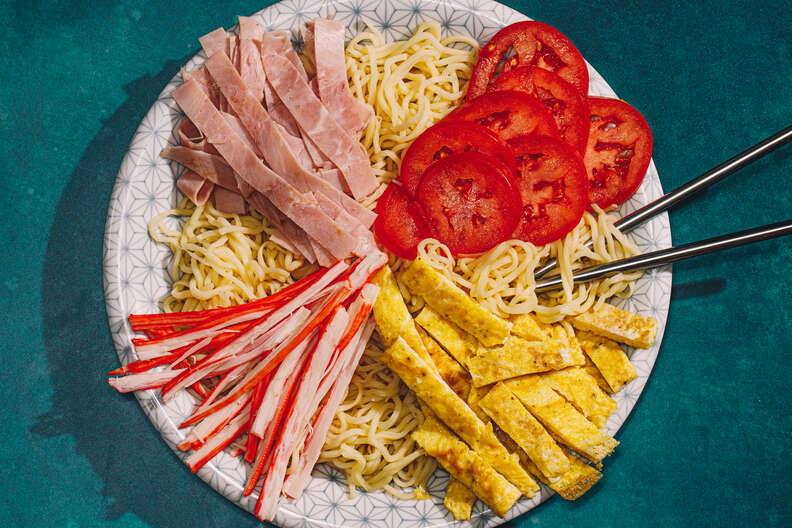 Photo by Cole Saladino for Thrillist
Photo by Cole Saladino for Thrillist
Keizo Shimamoto marks the seasons with noodles. For the ramen chef behind New York's now-mythical Ramen Shack and the ramen burger, a sure sign that summer has arrived is not just the heat or humidity, but the sudden presence of hiyashi chuka.
This Japanese-Chinese cold noodle dish is served with a variety of toppings, from shredded egg crepe to tomato wedges, and doused in a vinegary, sweet shoyu dressing sauce.
"In the summertime, my mom always made it," he says. "That is kind of the thing. When summer rolls around, a lot of old-school ramen shops in Japan start serving hiyashi chuka."
A second-generation Japanese-American, Shimamoto grew up eating Tokyo-style shoyu ramen on countless family trips to Japan. After losing his job during the 2008 recession, he started a ramen blog, Go Ramen!, where he documented his lunch excursions to ramen shops across southern California.
In 2009, he left on a month-long ramen pilgrimage to Japan, eating 55 bowls in 21 cities over 28 days, from the northernmost Hokkaido prefecture to the southernmost Kyushu prefecture. His trip, he says, was akin to a religious experience. So much so that the following fall, Shimamoto quit his job and moved to Tokyo to study ramen.
"I felt like I had a calling," he remembers. "After losing everything in the subprime mortgage crisis, I just decided to go for it. It was really on a whim—I had no culinary training, but I felt like I had to take the jump. I ended up spending four years in Tokyo studying at different ramen shops."
In 2013, Shimamoto made his way to New York City, where he garnered viral fame after serving his now-famous ramen burger at Brooklyn's Smorgasburg food market. Things only escalated from there: he leveraged his newfound ramen burger fame to open Ramen Shack in New York in 2015, which developed a cult following among ramen heads across the country for its diverse and ever-changing menu.
"When summer rolls around, a lot of old-school ramen shops in Japan start serving hiyashi chuka."
Shimamoto had to close the restaurant in 2019 after a rent increase, but he has fond memories of the shop, which he says was a distillation of his obsession with ramen and Japanese-style Chinese cooking, also known as chuka ryouri. "At one point, I had 35 different ramen bowls on the menu," he laughs. "I tend to go crazy. I just can't stick to one style. I'm a ramen geek first."
Shimamoto walked me through his recipe for a basic shoyu-style hiyashi chuka, which he makes from scratch, from the noodles to the sauce. According to Shimamoto, hiyashi chuka—which literally translates to "chilled Chinese"—is another staple of old-school chuka restaurants in Japan.
"Because it's a summer dish, it has to have that element of sweet and sour to refresh your body," he says. "The recipe is kind of arbitrary, so if it's too sweet or sour to you, you can adjust it to taste."
How to make hiyashi chuka
Hiyashi chuka, as its name suggests, is a dish best served cold—that not only includes the noodles, sauce, and toppings, but the plate or bowl you're serving it in as well. "A lot of restaurants chill their bowls in the fridge, so you'll want to take time to chill everything in the fridge before eating," he says. Shimamoto also recommends overcooking the noodles "a little bit" and shocking them in ice-cold water for a few seconds to make them nice and chewy.
For the most part, hiyashi chuka is a straightforward, low-effort dish: put your ice-water shocked noodles in a chilled bowl, top it with sliced vegetables and shredded egg, and douse everything with prepped, chilled sauce. "Kind of like a salad," says Shimamoto. If you can't find shoyu tare—the concentrated soup base for shoyu ramen—I used a wonton soup mix as a substitute and it worked out fine.
If you want to try a sesame-style sauce on your hiyashi chuka, Shimamoto recommended mixing in store-bought goma dare with Shimamoto's base sauce to taste. And, of course, at the end, you can top it with green onions and toasted white sesame seeds as a last touch.
Keizo Shimamoto's Hiyashi Chuka Recipe
Ingredients:
Sauce:
5 tablespoons of chicken broth or dashi
2 tablespoons of shoyu tare
1 tablespoons of ginger juice
3 tablespoons of rice vinegar
2 tablespoons sugar
1 tablespoons sesame oil

Noodles:
Dried chuka soba noodles
Toppings:
1-2 eggs (for the shredded egg crepe)
Ham
Cucumber
Tomato
Kani kama (imitation crab meat)

Directions:
1. Mix the ingredients for the sauce in a bowl. If shoyu tare is inaccessible for you, use wonton soup mix as a substitute. Put it in the refrigerator to chill.
2. Make the shredded egg crepe: Beat 1-2 eggs in a bowl. Heat up a non-stick fry pan at medium heat greased with an oil of your choosing. Pour a thin layer in the pan. It should cook quickly; take out as soon as it solidifies. Cut into thin slices.
3. Cut your ham, kani kama and cucumber into thin slices. Slice your tomatoes into wedges.
4. Bring water in a pot to a roiling boil. Cook your chuka soba noodles a little longer than what it says on the package—you'll want to overcook it a little bit. After it's done, drain your noodles in a strainer.
5. Prepare a bowl of ice water and plunge the noodles in it to shock it. Take out the noodles when they're firm and cold; strain it. Make sure to strain your noodles well. Serve it in a chilled bowl or plate.
6. Place your toppings on the noodles and douse your noodles with the refrigerated sauce. Sprinkle some green onions and toasted white sesame seeds on top. Enjoy!