Paid Content For

Hogs for the Cause: Fighting Brain Cancer With BBQ In New Orleans
Paid Content For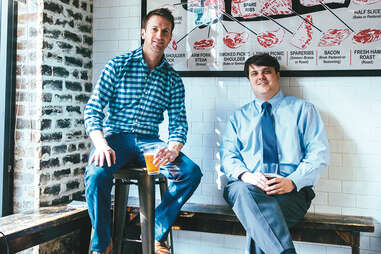 Thrillist and Chobani have launched a content series devoted to our shared belief that food can unite us, inspire us, and even occasionally change the world. Nowhere is that more apparent than in this story about how a local BBQ festival has grown to become one of the country's most influential forces in the fight against cancer.
Rene Louapre and Becker Hall had no idea what they were getting into when they decided to barbeque a whole pig at a keg party back in 2009. The amateur grillers didn't start smoking the meat until well into the morning, after several hours of wrestling the deboned hog onto a spit. The wind wasn't helping, either -- they eventually resorted to starting the fire inside a rented van. There was screaming, cursing, and multiple trips to the hardware store. Their friends were getting restless. And hungry.
But through it all, Louapre and Hall remained determined. The pig, donated by local meatery Cochon Butcher, wasn't just the centerpiece of that evening's meal; it was the driving force behind a project to help the family of a six-year-old boy in the community, Ben Sarrat, Jr., who had been diagnosed with pediatric brain cancer. Even though the meal took forever to cook (the duo was hacking off chunks of meat as they crossed into the safe temperature zone), Louapre, Hall, and more than 200 of their neighborhood friends assembled to help a family going through the crisis of a terminally ill child.
They drank beers, ate questionable pork, and raised about $7,000. And that's how the first Hogs for the Cause went down.
From kegger to fundraiser
There was no hesitation in trying again the next year to raise more money for the Sarrats and families like them. They just needed a new plan. Since cooking the whole hog the first time around was basically a total disaster, Louapre and Hall reached out to the local community for help. They found friends in the New Orleans culinary world and weekend BBQ enthusiasts to take on the bulk of the cooking.
Unfortunately, Ben passed away before the second fundraiser. Originally, the "Cause" in Hogs for the Cause would change annually. Instead, Louapre and Hall decided to focus on the specific mission of helping and supporting families -- financially and emotionally -- dealing with caring for a child with brain cancer.
In 2010, the group returned to the scene of the previous year's hog debacle, a waterfront spot behind the Audubon Zoo across the Mississippi River levee known locally as The Fly. This time around, 27 teams participated -- almost all of whom still compete today -- and local restaurant Lucy's Retired Surfer's Grill won first place for raising the most money.
2011 was the event's first bona fide "festival year" at City Park, with live bands and a liquor license. The New Orleans community continued to play a huge role in expanding the reach and impact of Hogs, as local brewery NOLA Brewing was one of the event's first major sponsors. (To this day, Hogs is the brewery's largest investment in fundraising.)
Over the years, the infrastructure of Hogs for the Cause has evolved. The 2017 festival was organized by a dedicated staff and a rotating team of interns. The current contest has four main judged food categories: Pork Ribs, Boston Butt/Pork Shoulder, Whole Hog, and Porkpourri. In order to be considered for the "Grand Champion" title, a team must enter at least three of the four above food categories and reach a minimum of $4,000.00 in fundraising. Best Booth and Best Friday Night Party are also up for grabs annually.
It's come a long way from two drinking buddies wrestling over a spit in the wind.
There's no "i" in "team" -- or "BBQ"
The evolution and growth of Hogs for the Cause is dictated by what Louapre and Hall call the event's number one asset: the teams. 80% of these teams are from the local Southeast Louisiana area. Together, they try out new approaches every year and collaborate with Hogs leadership to implement what works best. The motley crew of teams continues to expand, from 27 in 2010 to 92 competitors this year.
Hog Dat Nation is the team that Ben Sarrat Sr. founded and exemplifies the strength of the communal bond at the center of Hogs. Other members include New Orleans BBQ pitmaster Neil McClure, owner of McClure's BBQ, and BBQ enthusiast and community member Trey Nobles, who took over as captain in 2017.
In addition to working alongside Sarrat Sr. in the competition, Nobles attended the funeral of Ben Sarrat Jr., the son of his friend and teammate, and the original inspiration for Hogs for the Cause. That community support forged over a smoky pit came full circle when Nobles' daughter, Margaux, was diagnosed with neuroblastoma, which manifested as a cancerous mass in her head.
Nobles, based on witnessing the kids and families who'd received grants during the time he'd been involved with Hogs for the Cause as a team member, declined to apply for a grant himself -- all he could see was other families that needed the support more. However, Sarrat filled out an application form for the Nobles family himself: it was time for Hogs to return the support to Nobles that he'd given for years.
After a year of treatment for Margaux's neuroblastoma, doctors were stunned to find that her tumor had disappeared completely. Now, Nobles continues the work to help those who aren't as fortunate.
"We got so lucky," he says. "I don't know why it was us and not another family. But now it's only fair to help as many people get as lucky as we were. I got to keep my daughter - I want to work so that everyone else get to keep theirs."
Margaux and the celebration of her life is closely connected to the event in another way. She was actually born the day after Hogs for the Cause in 2011 (which Nobles participated in, keeping his cell phone close by). Since her birthday falls on or near Hogs weekend every year, she now likes to think of the event as a giant birthday party just for her.
Everybody wins
McClure jokes that everyone wants to beat Team Fleur de Que, the top fundraising team for five years running. In 2017, they won easily with a total of $225,000. Team captain Andrew Herrington says that they'd love it if someone would beat them, "because that means someone else raised a ton of money for this cause." Fleur de Que has created its own 501(c)3 and raises money for Hogs and other causes they believe in all year round.
"It's a competition with a singular goal among all the teams," Herrington says.
Chris Puckett, the captain of The Boar's Nest, received a place in the Hogs Hall of Fame for his team's consistent fundraising and says more than 35 teammates work all year planning for Hogs weekend. Everyone's divided into committees and the work is delegated with military precision. Not only did their efforts net more than $160,000 for the cause, they must've had a good time doing it because they took home Best Friday Night Party this year.
Puerco Rico is a team of doctors of Puerto Rican descent, inspired by the kids they work with every day. They've been participating and growing along with Hogs from the very beginning. Since many of the members are from Puerto Rico, they've been especially honored to present checks to Latino families in need.
For its third year, team House of Hogs went all out. Las Vegas native and general manager of expo and event marketing company Czarnowski, Samuel Panice, used the materials and labor available through his work to create a literal fairy tale. The brightly painted Three Little Pigs motif had three entrances -- one of straw, one of wood, and one of brick. The kitchen inside was sealed off completely for the safety of kids running around, as well as for the chefs' focus.
Panice added the "Oinkery Bake Shop" next door, where donated sweet treats from area bakeries were sold for the cause. Next to that, a champagne bar. House of Hogs won for Best Booth, but all Panice cared about was delighting attendees into spending more money for fundraising. "We're raising the bar," Panice says, "and we hope that other teams do, too."
Two-time winner of the Grand Champion award for best food across all categories, team Aporkalypse Now has been competing from the beginning and is truly committed to the cause. Although team captain Larry Canada is quick to point out, "We like to win, too." Canada is a four-time cancer survivor, dating back to his first battle when he was twelve years old. "I know what it's like to be a kid and told you don't have a chance."
For him and his team, Hogs for the Cause is crucial to these kids' and parents' lives because that kind of support conveys, even more than the money, that "they aren't fighting this alone."
Building housing and hope
The unwavering emotional support for the families benefiting from Hogs is what brings these teams back, year after year. Chris Puckett from team Boar's Nest lost his mother to brain cancer when he was a teenager; years later, his wife thought that helping others would give him peace and closure. He discovered the support goes both ways. "I'm amazed at the strength of these kids," he says. "You just can't imagine."
One of the biggest community contributions to come out of the festival is the Hogs House, a dedicated residential building on the New Orleans Children's Hospital campus for families of kids undergoing treatment at the hospital. It's available free of charge and fully funded by money raised by the Hogs for the Cause foundation. Basically, as the guys said, "We're still trying to build things bigger and bigger."
The Hogs House, or as it's also known, the House that Hogs Built, is the result of a community-building relationship between Children's Hospital New Orleans and the Hogs for the Cause leadership. Becker and Rene got to know the people working at Children's Hospital, as well as many patients, through fulfilling multiple grant applications. As that partnership developed, the organization established the Hogs Fund at Children's Hospital, and in 2015, Children's became a sponsor of Hogs for the Cause.
In 2016, the work between the two entities culminated in a $2 million donation from the Hogs for the Cause foundation to build on-campus housing for kids undergoing treatment at the hospital so they can be with their families as well as other kids facing the same situation. It's a significant part of emotional wellness that is desperately needed by all family members during an unimaginably stressful time. The renovation and development of the facility is entirely funded by Hogs for the Cause.
Mary Perrin, President and CEO of Children's Hospital, points out how important community involvement is to succeed in the mission of healing children. "We need the elected officials, community leaders, parents and caregivers throughout our community to rally around the cause of promoting what is in the best interest of improving pediatric health in our community," she told SmallWorld, the hospital's quarterly magazine, in the spring of 2017. "Together, we are investing in the future by investing in children and giving them the best possible chance to have a healthy life and reach their full potential."
"In the big picture? We don't do anything compared to those kids, those families," Louapre reflects. "That feeling is what drives us, drives our team, drives all the teams."
"This started with: let's go and get drunk," laughs Hall. "But now we have this responsibility to keep driving this."
Local businesses have lined up to participate, like NOLA Brewing, the Link Restaurant Group, and Donner-Peltier Spirits. The food and drink culture of the city has populated teams the same way Hogs for the Cause has inspired many new BBQ restaurants to pop up throughout the city over the past eight years.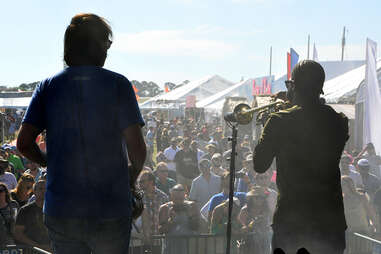 You can't spell "feast" without "fest"
Of course, New Orleans' festival culture lends itself to the success of Hogs. Strategically planned to take place before the popular French Quarter Fest and Jazz Fest, Hogs is now considered the kickoff to "festival season," which takes advantage of the sunny, relatively cool air of the spring. However, rain is a significant factor, which after several flooded and muddy years at City Park, prompted the move to higher ground by Lake Pontchartrain.
"If there's one thing we've learned over the past few years," Hall says, "it's that Mother Nature is a vegan, for sure."
The prevalence of festing meant that music was an important component from the get-go. Thanks to free events like French Quarter Fest or Wednesdays at the Square, New Orleanians are used to live music. In order to justify charging a live music-savvy population to get into a place where you need to pay for food, too, Hall has carefully crafted the the band lineups since 2010.
The plan is to use the music to bring in a larger crowd from outside the local area. Spending $25 to see bands like The Chris Robinson Brotherhood, George Porter Jr., Shovels & Rope, and Railroad Earth is a bargain for anyone. "It's like, come and take advantage of our terrible business acumen!" according to Louapre.
On the big day, optimistic in flip flops or cautious in knee high rain boots, attendees wander from booth to booth, trying everything from cracklins topped with pimento cheese, to standard BBQ fare, to an ice cream sandwich made with pork belly ice cream. People compare notes because it's impossible to try everything. Cans of beer are covered with team-branded koozies and you're not going to find many attendees without one in hand. Serious music folks set up in front of one of the three music stages and get ready to listen, all while eating and drinking on a beautiful sunny day with cool breezes coming off the adjacent lake.
Wandering the grounds, it's hard to find anyone without a smile on their face and, judging by the most common refrain -- "I just wanna eat some pig!" -- a gut stuffed with hog.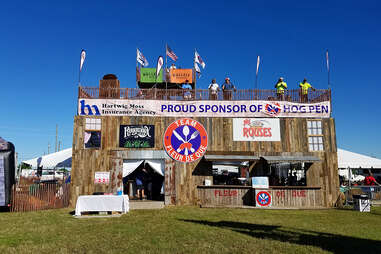 Spreading the wealth
Almost 30,000 people attended (not including teams, event staff, and volunteers) over the two day event this year. The goal was for the teams to raise $750,000. It wasn't even close. They raised a total of $1.3 million, not including ticket sales and drinks.
How do these community-driven funds get to where they're needed most?
Louapre and Hall count on hospital social workers and other medical personnel to recommend candidates. But also, Hall says, "Just like the national BBQ scene, the cancer community is tight." Once they started presenting checks, they were able to connect to new families and hospitals all over the country through word of mouth.
Local teams and sponsors are often involved in presenting checks to the families. Everyone involved agrees it's the most rewarding part of the entire Hogs for the Cause experience. Teams get to know the kids and the families and everyone catches up with each other at the event.
Smoked pork will forever be intertwined with pediatric brain cancer in New Orleans. Hogs for the Cause is the biggest fundraiser for this issue and folks in the area (and visitors from beyond) can't get enough of the food or the cause.
After smashing their fundraising goals in 2017, Louapre and Hall will give everyone a couple of weeks to recover. They then send out a survey to the teams asking about their experience and what they could do better. After a short break, it's time to gear up and prepare for Hogs for the Cause 2018.
"You never stop thinking about it," Louapre says. "And we never stop talking about it."