Since you've already hit the beer store for the greatest winter brews, it's about time for you to update your candy stash with some more festive sugar-bombs.
The big-time candy brands have rolled out their holiday lines, but you don't want some half-assed chocolate bar with an elf on the wrapper. You want legitimately holiday-y spins on your favorites -- some are rookies, others trusty vets, but either way you'll never be wanting for peppermint.
Candy Cane Hershey's Kisses
Price: $2.88
These are a Christmas essential if you're into white chocolate. They give you all the festive coloring of an actual candy cane, minus the sticky hands and occasional tongue lacerations.
Dark Chocolate Mint Truffle Hershey's Kisses
Price: $2.88
Or forget those albino striped freaks and go for straight-up mint chocolate. Excuse us, mint truffles. Because these are Hershey's Kisses with some serious family money.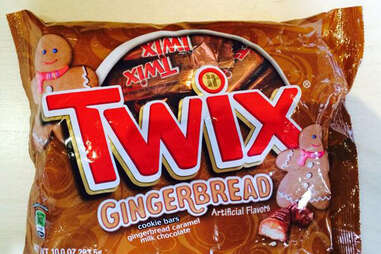 Gingerbread Twix
Price: $2.88
Twix made some bold moves this year by bypassing the seasonal flavor champ, peppermint, in favor of a new gingerbread-tinged candy bar. But they're apparently mad delicious! Hightail it to Walmart and sweep an armful into your cart before they sell out.
Candy Cane Tootsie Pop Drops
Price: $1.69
We're not sure how many licks it would take to get to the center of a Candy Cane Tootsie Pop Drop. (Seriously, someone get that owl on this.) What we do know is that instead of some cherry or orange lollipop action, you'll work your way through a peppermint shell before you hit that prized Roll in the middle.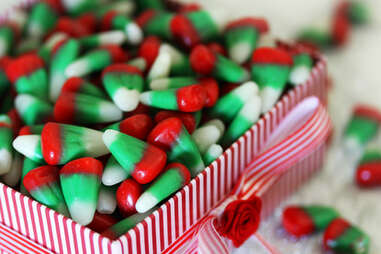 Jelly Belly Reindeer Corn
Price: $5.99
The candy corn party doesn't have to stop just because it's December. Jelly Belly graciously provides "reindeer corn", which features more seasonally-appropriate colors, but also throws a wrench in all our important candy corn research.
Dove Peppermint Bark
Price: $2.88
If you're going to have just one individually wrapped piece of chocolate this season, have seven of these squished together. This holiday-appropriate dark chocolate peppermint bark is mighty tasty.
Andes Peppermint Crunch
Price: $2.88
The venerable after-dinner mint/crucial component of any good grasshopper pie, Andes offers a more festive alternative to their creme de menthe original for Santa's season. Unwrap one and you'll even find a candy cane etched into the chocolate.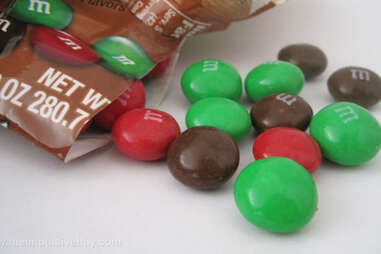 Gingerbread M&M's
Price: $2.88
Seeing as they're both Mars candy productions, M&M's decided to crib some of Twix's style with their own ginger-and-molasses-blasted chocolates this season. We're sure they're solid, but we really don't like the way Red is looking at us.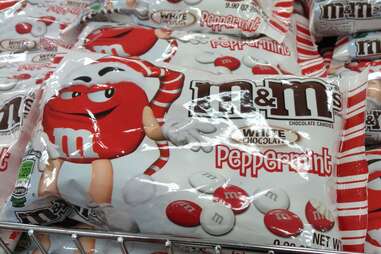 White Chocolate Peppermint M&M's
Price: $2.99
Last year's M&M's seasonal newbie, the white chocolate peppermint variety is slightly bigger than your average M, and that's because Mars took the "peppermint" part very seriously -- these guys are bursting with peppermint stuffing.
Peppermint Crunch Junior Mints
Price: $1.79
You might be watching Leonardo DiCaprio launch a little person across a boardroom at your local multiplex, but grabbing Peppermint Crunch Junior Mints from concessions will make even Wolf of Wall Street an almost-Christmas movie.
Kristin Hunt is a Food/Drink staff writer for Thrillist. Some of her strongest friendships are built on cheeseburgers. Follow her at @kristin_hunt.