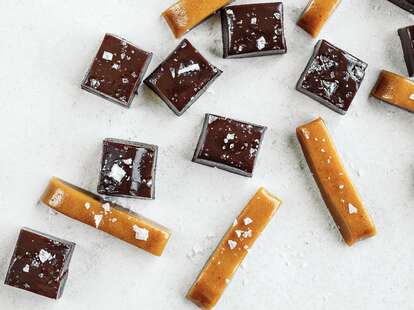 Monica Lo's homemade cannabis candies are sure to impress

| Photo by Monica Lo
Monica Lo's homemade cannabis candies are sure to impress

| Photo by Monica Lo
Homemade edibles can intimidate even the most ambitious cooks. No one wants to accidentally mess up a recipe loaded with quality flower, and mastering dosages can be tricky. "We've all had that one overly potent pot brownie experience," says Monica Lo, the author of The Weed Gummies Cookbook, a slim book that aims to take the edge off of DIY cannabaking.
If you're new to the process (or don't yet have a kitchen full of candy-making supplies), start by creating an alcohol-based tincture with a small amount of weed, Lo suggests. You can use it to gently infuse sugar to make simple candies or syrups. "Once you get comfortable with working with cannabis, you can make other infusions like butter, honey, and coconut oil," she explains.
When Lo makes infusions, she often deploys a sous-vide technique. Since many of us don't have sous-vide machines lying around, however, The Weed Gummies Cookbook also includes an easy, versatile cannabis butter recipe. Made with a heavy-bottomed pan, candy thermometer, Mason jar, and cheesecloth, the base recipe appears in several of the desserts in the book, including the Salted Mocha Caramels, one of Lo's personal favorites.
"It's a perfect balance of sweet, salty, and bitter," she says of the edible, which was inspired by her love of Starbucks' Salted Caramel Macchiatos. The recipe comes together quickly and candies last up to two months when stored in an airtight container. But don't be surprised if yours disappear quickly. "A friend of mine recently made an uninfused batch as a test, and said her family ate the entire block in one sitting," Lo says, laughing.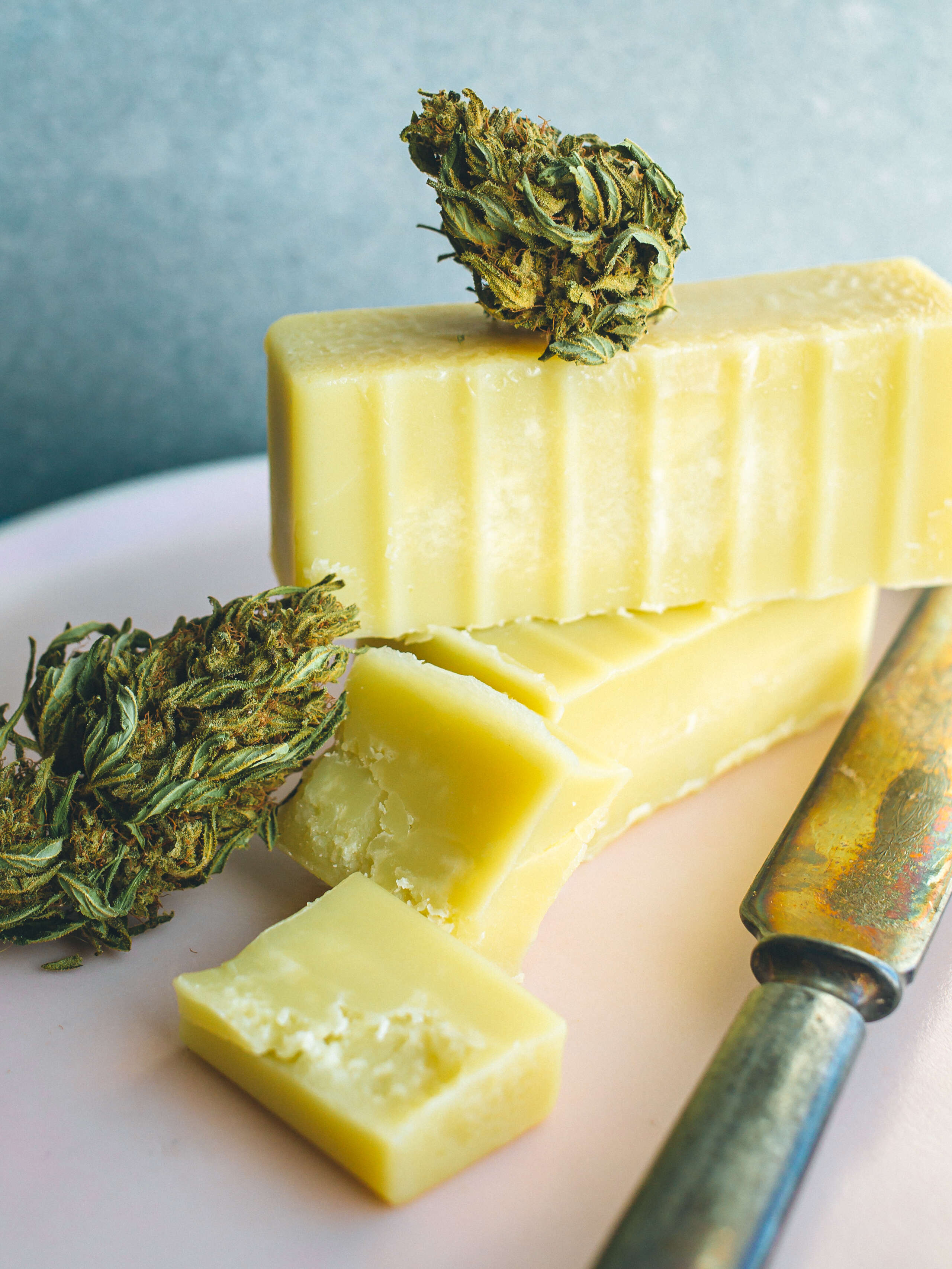 While the recipes in The Weed Gummies Cookbook are intentionally fun and approachable, Lo is also determined to contextualize cannabis in American culture. "It's so important for us to understand the history of cannabis, not just the origins, but also how communities of color in the U.S. have been disproportionately harmed by the failed war on drugs," she says. "The groundwork of the cannabis industry here in America has been laid out by Black and Brown communities, and, to this day, there are still too many people incarcerated for cannabis offenses." In the book, Lo includes lists of BIPOC-owned places to shop for cannabis products, and a portion of its proceeds go to the Last Prisoner Project, a nonprofit devoted to criminal justice reform.
What and how we cook has all sorts of political and socioeconomic implications, whether we're carefully calibrating homemade cannabutter or absentmindedly boiling water for tea. With its commitment to demystifying techniques and supporting social justice, in this book, homemade edibles are for everyone.
Salted Mocha Caramels
Yield: 64 pieces
Ingredients:
½ cup unsalted butter
4 tablespoons cannabis-infused butter (recipe follows)
1 cup light corn syrup
2 cups granulated sugar
4 ounces unsweetened chocolate, chopped
1 cup heavy whipping cream
1 teaspoon vanilla extract
1 tablespoon instant coffee granules
2 teaspoons hot water
Flaky sea salt, to finish
Directions:
1. Line an 8-inch square baking pan with a sheet of parchment paper. Crease the corners along the inside edges and leave a 1-inch overhang on each side of the pan. Lightly coat with nonstick spray.
2. In a medium- or heavy-bottomed saucepan over medium heat, add the butter, cannabis-infused butter, light corn syrup, granulated sugar, unsweetened chocolate, and heavy whipping cream. Stir until the butters and sugar have melted, about 5 minutes.
3. Decrease the heat to medium low and clip a candy thermometer to the saucepan, stirring occasionally to prevent the bottom from burning. While the caramel is cooking, add the vanilla extract, instant coffee granules, and hot water to a small bowl and stir to combine.
4. Once the temperature of the caramel registers 242ºF (117ºC) on the candy thermometer, about 30 minutes, remove from the heat and gently stir in the coffee mixture. Beware of steam as you stir.
5. Pour into the prepared pan. Cool for 30 minutes, then sprinkle flaky sea salt over the surface of the caramel. Allow to cool completely, about 4 hours.
6. Remove the caramels from the pan by pulling on the parchment paper. Wipe a sharp kitchen knife with nonstick cooking spray. Cut the caramels into 1-inch squares and wrap them with candy wrappers. Store in an airtight container or in the fridge for up to 2 months.
The Cannabis-Infused Butter Recipe

Ingredients:
2 cups unsalted butter, melted
2 cups water
¼ ounce cannabis flour, decarboxylated
Directions:
1. Place melted butter, water, and decarboxylated cannabis flower in a large mason jar. Seal the jar tightly.
2. Set the mason jar in a medium saucepan and fill the saucepan with water, making sure it doesn't reach the top of the mason jar. Set the heat to medium low and clip a candy thermometer to the saucepan. Bring to a simmer and keep the temperature around 200ºF (93ºC), never exceeding 211ºF (99ºC). Cook for 3 hours, checking in often to refill the saucepan with water as needed. Once every hour, gently shake the mason jar while wearing an oven mitt.
3. After 3 hours, gently remove the mason jar with an oven mitt and allow the infusion to cool to room temperature, about an hour.
4. Prepare a cheesecloth and set it over a fine-mesh strainer. Pour the cannabis-infused butter mixture through the cheesecloth and into a measuring cup with a spout. Do not wring the cheesecloth, the leftover plant material may leave an acrid taste. Discard the solids. Transfer the butter mixture to the fridge overnight to solidify and separate from the water.
5. Remove the butter from the fridge. Using a knife, loosen the sides of the cannabis-infused butter and transfer the block to a clean counter. Discard the water. Store the infused butter in the fridge.
Excerpted from The Weed Gummies Cookbook by Monica Lo, courtesy of Ulysses Press.
Want more Thrillist? Follow us on Instagram, Twitter, Pinterest, YouTube, TikTok, and Snapchat.
Emily Saladino is a writer, editor, and recipe developer based in New York. Previously the Digital Managing Editor of Wine Enthusiast and Editor in Chief of VinePair, her writing has been published in The Washington Post, Bloomberg, Bon Appetit, Food & Wine, and others. She currently reviews wines from Greece, Crete, and Georgia for Wine Enthusiast. A former professional cook and bartender, she holds a Culinary Arts Degree from The French Culinary Institute and Level II Certification from The Wine & Spirit Education Trust.