Hot Chicks Talk About Snacks: Lydia Hull edition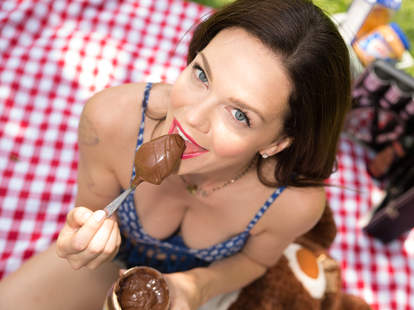 On the TV show SAF3 (pronounced "Safe"... pronounce it!), Lydia Hull plays Lily Maddox, an oft-wetsuited member of the elite Sea, Air, and Fire divisions of the Malibu Fire Department, that just also happens to include Dolph Lundgren.
When she's not doing that, she's eating delicious, delicious snacks that her producers would surely be furious about. We took her to the park and had her tell us everything.
Thrillist: Let's get right to it: what's your favorite snack?
Lydia Hull: I love sliders on pretzel bread. Specifically on pretzel bread. I'm absolutely obsessed with Nutella. I don't even put it on anything, I just eat it straight out of the jar. I already think it's a perfect thing. Oh, and mozzarella sticks. Also salt and vinegar chips.
T: Interesting -- it's definitely a polarizing chip. 
LH: Yeah, it's kind of abrasive. I like that. 
T: Favorite snack as a kid growing up?
LH: Starburst. And graham crackers with peanut butter, I loved that as a kid.
T: I don't know if I've ever heard of them together. What happened with Starburst? You're off them?
LH: I just think there's better candy. I remember when we had slumber parties, my girlfriends and I would eat a roll of cookie dough and a bag of Starburst. But I kinda grew out of them a little bit. 
Dustin Downing
T: If you could eat only one snack for the rest of your life, and you're on a desert island -- so maybe you want to consider how refreshing it is -- what would that snack be?
LH: In LA they have these fruit carts everywhere, and they have mango and pineapple and watermelon, and then they have this pico de gallo sauce, and it's just on the street. They'll put the spicy sauce on the fruit, and it's $5 for a bag of it. 
T: Fruit? C'mon! What if it had to be something from the ice cream man? 
LH: Like coffee ice cream?
T: No, like the classic ice cream man treats.
LH: Definitely a Drumstick.
T: It's kinda weird that they turned chicken into ice cream, but…
LH: Yeah, I know. Why'd they call it that?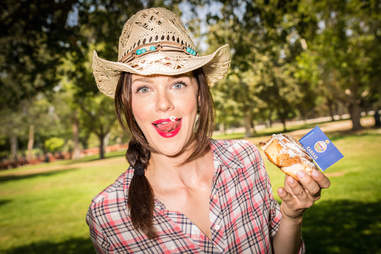 Dustin Downing
T: No idea. How would one eat nachos in an alluring manner?
LH: The same way you'd eat anything in an alluring manner. Just go slow. 
T: Maybe stretch that cheese out nice and good? 
LH: Yeah, maybe. I think it's easier to demonstrate than explain. 
T: What are your feelings on Gushers?
LH: I remember the cool kids got them in their lunches. My mom didn't buy them for me. I do not want to eat them now. Do you remember Fruit Roll-Ups?
T: Of course I remember Fruit Roll-Ups. How did you eat your Fruit Roll-Ups? People have different techniques on how to attack the snack. 
LH: I remember doing the finger one. The wrap-around-the-finger one.
T: A classic maneuver indeed. You're from Kansas... is there a typical Kansas snack?
LH: People eat tons of bread. Cinnamon rolls. My dad made the best cinnamon rolls, so I associate that with Kansas. And regular rolls. Lots of rolls. There was so much bread. 
Dustin Downing
Ben Robinson is Thrillist's Editorial Director, and used to ball up his Fruit Roll-Ups and eat them in one shot, because he was convinced that made them last longer. Follow him like he was the Ice Cream Man at @BenjoRobinson.