Behold: A Revolutionary Way to Prepare Hot Dogs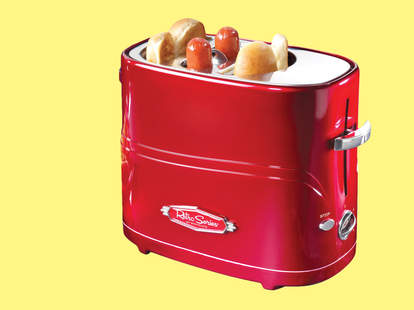 Courtesy of Nostalgia Electronics/Oren Aks/Thrillist
Pop-up toasters historically have only been good for two things: burning toast and making Pop-Tarts so hot they're impossible to eat. But now, they're good for a third thing: cooking hot dogs and buns at the same damn time.
With summertime officially over(time), the company Nostalgia Electrics (maker of this incredible three-in-one breakfast machine) is making sure you can still get beautifully prepared hot dogs without the use of a grill. This beaut of a kitchen appliance allows you to cook two regular or plump hot dogs at a time, and two hot dog buns. It retails for around $35 depending on where you buy it.
And you will buy it. Because when it gets to be 35 degrees outside, you're not going to want to grill. But you'll probably still want a hot dog.
Sign up here for our daily Thrillist email, and get your fix of the best in food/drink/fun.
Lee Breslouer is a senior writer at Thrillist, and thinks hot dogs are best paired with baseball. Follow him to nostalgia @LeeBreslouer.