Indie Hot Sauce Brands Are Recycling Waste Into Chili Flakes With Spicy Results
Toss your mass-produced chili flakes out and opt for one of these instead.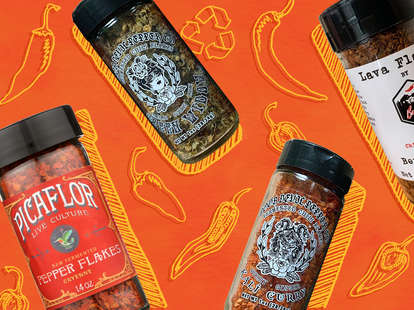 Emily Carpenter/Thrillist
A sprinkle of red pepper flakes makes all the difference on a slice of cheese. Just think about all of your favorite pizzerias; on the counters, in tiny packets or glass shakers, right next to the powdery parmesan. To me, no slice of pizza is complete without them.
But what if there was a way to coax even more flavor out of the pepper flakes I love so dearly -- bursts of acid that mingle with the all-too-familiar heat? What if pepper flakes weren't merely composed of dried chilies, but also included garlic, cumin, lime, all-spice, and curry? The possibilities are limitless -- and thankfully exist due to indie hot sauce brands that are creating pepper flakes as a way to recycle waste made from producing hot sauces.
"The flakes were a happy accident. I'm a regenerative farmer, [and] thinking about the cycles and loops and trying to connect them is really important," explained Marcus McCauley, the founder of Picaflor -- a fermented hot sauce brand -- and farmer at McCauley Family Farms, a certified organic farm situated among the mountains in Longmont, Colorado. "I'm always thinking about upcycling and reusing." McCauley was inspired to produce hot sauce because he loves chilies -- both growing and eating them -- and wanted to preserve his harvest through fermentation. Hot sauce was a natural progression, and initially, the pulp leftover from creating the sauce was coming back to the farm as compost or chicken and pig food.
After a company that McCauley hired to assist with the harvest pulled out unexpectedly, it occurred to him to try and make something else with the residual peppers leftover.
"We didn't have access to the expensive machine that could blend everything conveniently like the big companies do," he said. Instead, McCauley milled the barrel of fermenting peppers himself, separating the sauce from the pulpier byproduct. "We took this leftover stuff and dehydrated it and it made an amazing flake. That flake won the best condiment award at Expo West last year."
Fermenting a hot sauce and using the byproduct to make a flake tastes different than your standard, mild pepper flake. "The flavor that comes through, you can really smell it when it's on your pizza," McCauley said. "It heats up a little bit and the aroma is unlocked and you get this richness from the fermentation."
"The goal has been, and remains to create a zero waste product."
McCauley isn't the only person to produce fermented pepper flakes. Laura Webster and Jared Schwartz -- the founders behind Hudson, New York-based Poor Devil Pepper Co. -- have also used the leftover pulp from their unique, fermented hot sauces to produce pepper flakes. "The goal has been, and remains to create a zero waste product," Webster told Thrillist. The flakes from Poor Devil Pepper Co. are bright and experimental in flavor. There's the Green Window, which layers the peppers with cumin, lime, and garlic, as well as the Smoke Shifter -- surprisingly hot flakes composed of a blend of brown sugar, allspice, and thyme.
"We ferment all of the vegetables and peppers together with no additives. The flakes are made up of the pulp, so you get different levels of flavor in there from the ingredients in each sauce," Webster said. Webster lists off her favorite foods to put the flakes on, which includes eggs, ramen, hot chicken, and her favorite New York slice from Scarr's Pizza. "The fermentation element to the whole process leaves you with that umami flavor at the end," a flavor that improves almost anything it touches. Moving forward, the duo behind Poor Devil are planning on producing spice rubs and a furikake blend, all with the intention of remaining sustainable and using upcycled materials.
Across the other coast in Bend, Oregon, Craig Reinhart and his daughter Talia have been producing pepper flakes alongside his signature Bend Sauce from the get-go. "We couldn't throw [the by-product] away, though my wife did sprinkle some around plants to keep the deer from eating her favorites," he explained. "We knew the quality ingredients in Bend sauce and were convinced we had something."
Reinhart, however, takes it one step further. Using the leftover mash from his signature chipotle hot sauce, he sifts the flakes from the dehydrated powder, creating two new products -- what he refers to as "Lava Flakes" and "Lava Dust." To enjoy both of these products, Reinhart recommends adding the dust to anything that calls from a little kick -- whether that's replacing the paprika on an eggs benedict with lava dust or using the chipotle-infused powder as a rimmer for a Bloody Mary. As for the flakes, "it's pasta and pizza -- or just throw a few in your mouth to get the forehead sweat going for a little endorphin rush."
Instead of opting for your typical, mass-produced chili flake, consider how thoughtfully produced and sustainable these indie-made flakes are, crafted lovingly by farmers and hot sauce enthusiasts alike. The purchase of these flakes support small businesses and farms while tasting unlike any regular chili flake you've ever had. We could all use a little endorphin rush right about now.
Sign up here for our daily Thrillist email, get Eatmail for more food coverage, and subscribe here for our YouTube channel to get your fix of the best in food/drink/fun.