A little thing called Hotel Thrillist San Diego was last weekend, and it was good and wild and kinda perfect. People pool partied, they line danced, they MAYBE consumed a beverage or two. And there was much, much food. 
In case you missed the throwdown, these 11 San Diego restaurants have graciously offered to keep the off-menu items they served at Hotel Thrillist ON their menus, but only through this Friday, 9/26. So, get over to them, and get down to it.
Recommended Video
Thrillist's Best (and the Rest): What's the Perfect Fast Food Meal?
A California Taco stuffed with filet mignon, melted cheese, crispy potatoes, house-made guacamole, and tomatillo roja salsa.
The Tequila Chorizo Fundido Burger -- all-natural Brandt 80/20 ground beef and fresh guacamole, topped with beer-battered onion rings & fire roasted green chillies, drenched in house-made Fundido sauce, all served on a brioche bun. AND EVEN BETTER, you get the whole thing, not just the cut-up part shown here.
Wookies, which are basically Whoopie Pies done Cravory-style (which means red velvet cookies sandwiched with cream cheese Marshmallow Fluff).
Moroccan lamb merguez with mint, lime, and cucumber.

Duck Dive  Pan-seared duck breast with Duck Dive Dragon Glaze, served over blueberry risotto and sautéed spinach.
Chicken Scarpariello wings served with fresh baby fennel.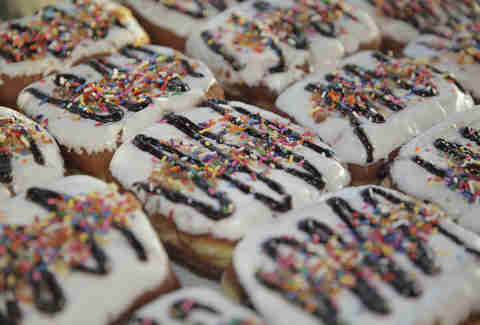 Big Poppa-Tart Donut, a massive, yeast-raised donut stuffed with nothing less than a goddamn full-size Pop Tart.
Reuben Wontons: ground corned beef & pastrami, kraut, Swiss, and Russian remoulade.
Hamachi tartare with shallots, crème fraîche, chives, and jalapeño.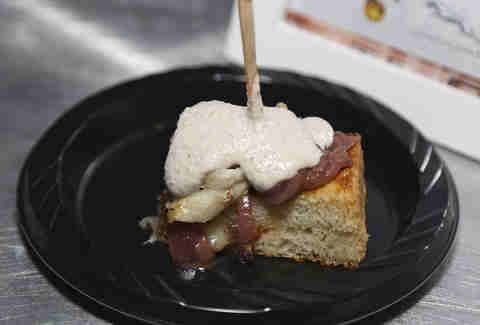 Nogada Grilled Cheese, featuring pork belly, grilled dates, caramelized red onion, and Nogada Spread (goat cheese, cream, XO Cognac & walnuts).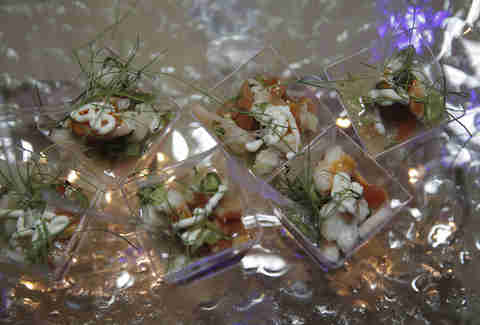 Baja-style shrimp ceviche. That's all you need to know.
Sign up here for our daily San Diego email and be the first to get all the food/drink/fun in town.