It's that time again, when we find an epic party spot and take it over for a full weekend of food crushing and beverage tippling. Welcome to Hotel Thrillist. This year we're posting up at the W Scottsdale, and we'll be bringing you updates all weekend on Instagram, Twitter, Facebook, and Friendster.
 
Social media a scary thing for the #teens? That's ok, we got you covered. First up, a recap of the kickoff feast in the best way we know how: closeup food porn of each of the 16 custom, off-menu dishes that 16 heavy-hitting Phoenix food pros concocted just for the occasion. Feast your eyes:
Recommended Video
This Pizza Is Covered in Fish Jerky
Boot Dumplings
Where it's from: Bootleggers Modern American Smokehouse
What's in it: Pork belly deliciousness nestled inside a tender dumpling and absolutely smothered in moonshine barbecue glaze.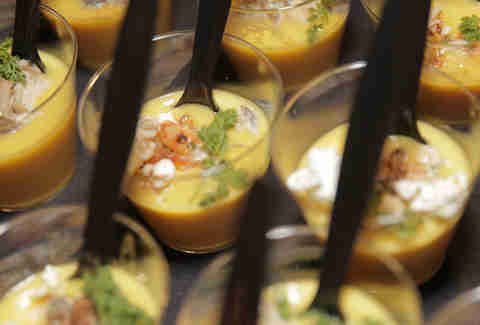 Chilled Sweet Corn Soup
Where it's from: Central Bistro
What's in it: Fresh, puréed sweet corn with hon shimeji mushrooms, rock shrimp, and crème fraîche. 
Southwest Smoked Salmon Tapas
Where it's from: Chompie's
What's in it: House-made southwest cream cheese, chopped vegetables in a lemon-infused vinaigrette, and sautéed salmon with capers, all piled onto a crispy potato pancake (take that all other latkes).
Bacon Beignets
Where it's from: Cowboy Ciao
What's in it: Bacon. In a beignet. Covered in chocolate sauce. 'Nuff said.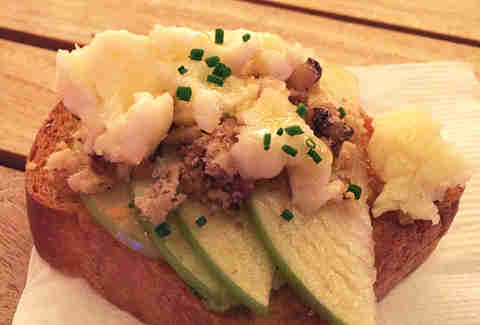 Toast, Two Ways
Where it's from: Dakota Nightclub
What's in it: Dakota brought two different toasts to the party -- one with chicken, arugula, feta cheese, scallion aioli, and lemon vinaigrette, the other pictured right up there with creamy brie, Granny Smith apples, crushed walnuts, and honey.
Machaca Sweet Corn Taco
Where it's from: Diego Pops
What's in it: Traditional, spice-dried beef Machaca and sweet corn salsa served in a warm corn tortilla.
Aloha Burger
Where it's from: The District All-American Burger Bar
What's in it: A ginger-soy Jack Daniel's BBQ sauced Venison burger with pineapple and walnut slaw on a sweet roll, because a regular roll just wasn't going to cut it.
Festival Taco
Where it's from: Gadzooks Enchiladas and Soup
What's in it: Roasted tomatillo chicken, sweet & spicy cornbread, and honey vinaigrette slaw, barely contained in a flour tortilla.
Boss Hog Burger
Where it's from: Hopdoddy Burger Bar
What's in it: A classic American beef patty topped with BBQ pulled pork, cheddar cheese, chipotle slaw, and sweet mustard on an egg bun. Oh, and they threw bacon on it, because calories = energy. And more energy = more food you can eat. It's the circle of life.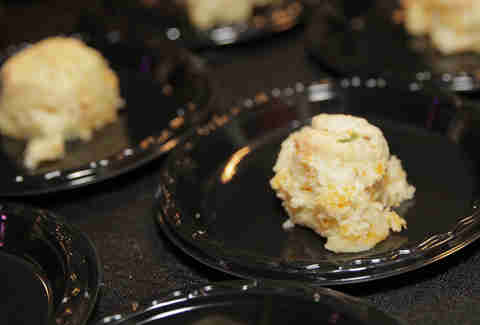 Bacon Cheddar Scallion Biscuits
Where it's from: Lo-Lo's Chicken & Waffles
What's in it: Homemade biscuits filled with bacon, cheddar, and scallions.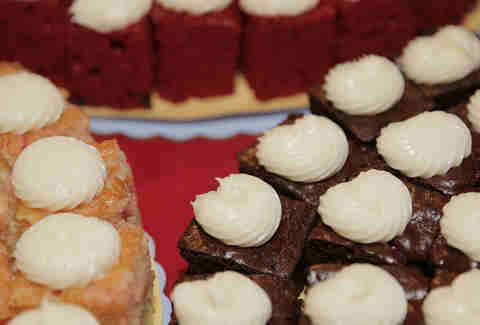 Three Flavors of "Bundtinis"
Where it's from: Nothing Bundt Cakes
What's in it: Three flavors of cake: white chocolate raspberry, chocolate chocolate chip, and red velvet. Quite the sweet-fecta.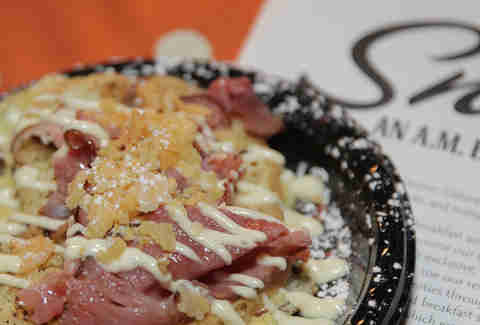 Monte Cristo
Where it's from: Snooze, an A.M. Eatery
What's in it: Organic brown sugar and vanilla egg-battered English muffin topped with Swiss cheese, shaved tender belly ham (which is what your belly becomes after eating this), Vermont maple syrup, and Dijon hollandaise.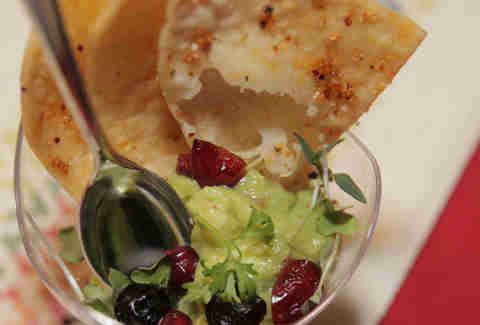 Miso Yuzu Salmon Tiradito
Where it's from: Sumomaya
What's in it: Chipotle-flavored salmon, miso, yuzu, and bonito flake on a corn tostada.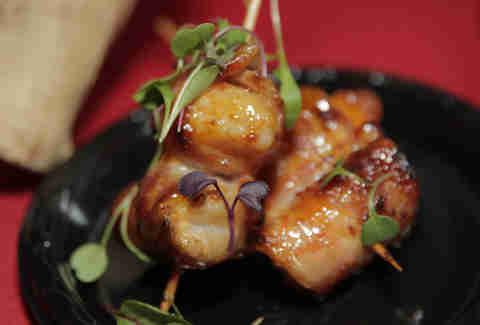 Ebi Bacon Shrimp Skewers
Where it's from: Sushi Roku
What's in it: Ebi bacon and shrimp in the easily face-stuffable skewer format.
Mini Cubanos
Where it's from: The Montauk
What's in it: Slow-roasted pork, ham, pickles, and mustard on a brioche roll.
Smoke Fried Chicken Banh Mi
Where it's from: elements at Sanctuary Camelback Mountain Resort & Spa
What's in it: Smokey fried chicken with kimchi pickles and spicy red dragon sauce (does not contain actual dragon).