Hey! How's it going? Good weekend?! I'm actually glad our paths crossed here in the office kitchen this Monday morning. I haven't had a chance to look at my email, or drink a cup of coffee, or even take off my jacket, but all of that can wait. Because right now, I'd like to tell you about my new Crock-Pot.
Yep, that one I bought on Overstock.com the other day. Remember? I BCC'd you on that forwarded email to my fiance with the purchase confirmation and the words "BOOM! THAT JUST HAPPENED!". I know you've been wracked with curiosity, and won't be able to do anything productive today unless I tell you about my new countertop miracle.
Oh, you've got a few minutes? Great. Here's what I'd like to tell you about my new Crock-Pot:
It's really brought me and Steph a lot closer.
After we got engaged, I thought we'd never have disagreements again. But guess what: relationships are hard work, and we're facing our problems by collaborating on sensible, cost-effective turkey chili. Oh also: couples therapy.
 
It's hassle-free.
Oh lord, is it easy. After a long night spent not having sex with Steph (she was tired, no biggie), it's no problem to wake up a little earlier & toss some ingredients into this thing. Eight hours later: dinner!
 
The meat just falls right off the bone.
Apparently, Steph isn't eating beef anymore (?), so I crushed an entire batch of braised short ribs by myself. Damn, they were tender!
Sometimes, Steph forgets to buy all the ingredients, but it's OK.
Look, #Crocklife isn't always sweet & savory. The other night, Steph came back from the market... without chicken stock! Luckily, I had been reading some forums on bridge-substantiating with flour & water, so we were fine. Close call, though.
 
Crock-Potting just fits into our busy schedules.
We're a busy couple. I work long hours, and Steph has this new running partner she met on something called Tinder. They jog a lot together -- especially on rainy afternoons, and in the back of our Nissan Xterra -- so cooking is an afterthought. But with the Crock-Pot, it's barely any thought at all. 
 
It totally changes my take on simple recipes.
You haven't had Buffalo chicken mac 'n cheese until you've had it out of my Crock-Pot. It's Steph's favorite! She was so bummed when she remembered she had dinner plans the last three times I made it. Man, scheduling!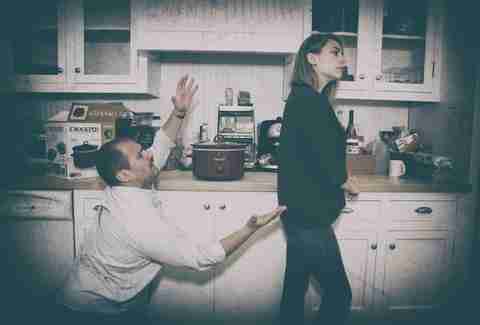 I'm sort of looking for, like, some Crock-Pot-themed social clubs or something.
If you hear of anything like that, let me know. It's no big deal... Steph has a lot of weekend business trips coming up, so I think it'd be cool to do my own thing. You know?
 
I'm saving so much money thanks to flavorful, moist leftovers.
I was actually pretty glad Steph was going to be away -- more time for me to crush the rest of this Buffalo mac, yo!
 
If it wasn't for the quiet gurgle of this machine, all this silence might drive me insane.
Sometimes, I wonder if anyone would miss me. Then I remember that my Crock-Pot ain't gonna stir itself, you know?! Side note: I'm rewatching the middle episodes of True Detective.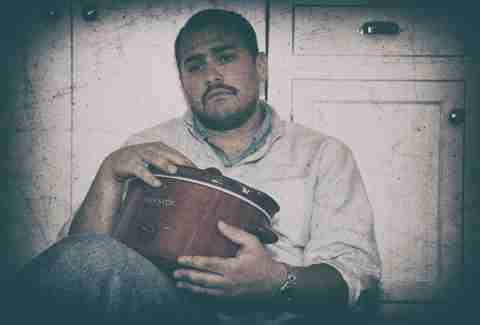 Steph took the dog, the Xterra, and the HBO Go account.
Steph's business trip actually turned out to be a pretty long one. She had me drop off Buster at her Mom's, but she wasn't there (sort of weird?). Also, I'm having trouble logging into HBO Go -- Steph's probably pranking me again! Ha! Glad my Crock-Pot doesn't require a username & password (although, that would be kind of bomb...).
 
Can I borrow, like, a hundred bucks?
Ham hock is hella expensive, and I spent my paycheck on a kitchenette-equipped motel room with plenty of countertop space. It's been a weird couple weeks for me, but you know what? I'm keeping my spirits high, and the heat low & slow.
 
Getting my recipes competition-ready is what's best for both of us.
Steph called. Sounded like she was in the Nissan. From what I can gather, she just wants to give me time to focus on my Crock game -- and there are some big meetups in the fall! She's always been really considerate.
I've been doing a lot of reading, lately.
This free time has been great for me, really. I've been brushing up on Chinese Crock-Potting techniques, legal footholds for recovering dogs across state lines, and the depths of human sadness, especially as they apply to me personally.
If you see Steph, tell her I'm doing fine. Yes, of course I'm eating. Ask her if she misses my Buffalo mac. She'll know what that used to mean.
Dave Infante is a senior writer for Thrillist Food & Drink, and has never been kissed. Follow @dinfontay on Twitter, Instagram, and Snapchat.