11 Things That Happen Before A New Potbelly Sandwich Goes In Your Mouth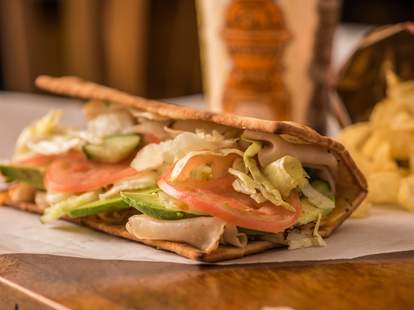 ANTHONY TAHLIER PHOTOGRAPHY INC/Thrillist
When Potbelly adds a new sandwich to the menu, it doesn't just appear out of thin air (though if anyone ever figures out how to do that, they will have themselves quite the profitable sandwich business!). An incredible amount of thinking, tasting, planning, and design artistry goes into bringing a new sandwich into the world. Get ready for a journey deep into the belly of the… Potbelly, and find how how it all goes down through their introduction of fresh sliced avocados and the development of the brand new California Turkey FLATS.
ANTHONY TAHLIER PHOTOGRAPHY INC/Thrillist
1. Potbelly finds what's missing in your life
Potbelly never breaks out a new sandwich without first asking "what sort of sandwich are people currently craving?" Recently when they were digging into this very question at the headquarters in Chicago's Merchandise Mart, which, appropriately, are decorated just like an actual Potbelly shop...
ANTHONY TAHLIER PHOTOGRAPHY INC/Thrillist
...the overwhelming answer was "the kind that has avocado on it!". A whopping 82% of customers surveyed labeled avo as the ingredient they would most like available on sandwiches (and national avocado sales increased 10 percent from 2013 to 2014). In short, avocados, like Hansel in 2001, are hot right now. The fact that avocados are delicious and crazy good for you only made the mission clearer: create a sandwich that lets the avocado shine.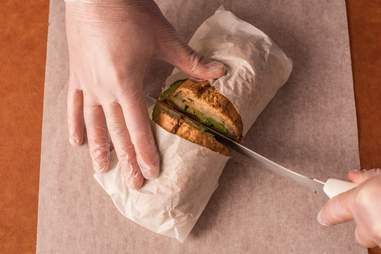 ANTHONY TAHLIER PHOTOGRAPHY INC/Thrillist
2. They make SO many sandwiches
With the mission clear, it's time for trial & error in the test kitchen. In total, Potbelly might develop something like 15 "builds" (what the sandwich biz calls a recipe), choose 10 to taste test (there will be MANY rounds of taste tests), and around five to move forward into further testing. Think of it like a lunch-tastic American Idol. In this case, the key questions were, "What ingredients will go well with avocados?" and "Should it be fresh avo, or would an easier-to-manage spread work?"
The conclusion: despite the fact that working with fresh avocados is a huge pain-in-the-a… vocado, the tastier fresh route was the only way to go.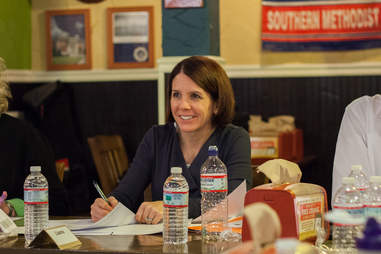 Courtesy of Potbelly
3. There are important meetings of the Sandwich Board
Potbelly is constantly tasting and tweaking throughout the development process, and one indispensable resource for all that scientific eating is a Sandwich Board composed of 8,000 enthusiastic regulars who convene on an ongoing basis to try potential new eats (and drinks) and give their unfiltered opinions on the items' prime-time readiness to Potbelly representatives like Liane Gonzalez, Senior Director, Marketing.
If this sounds like a dream job, join Potbelly's mailing list and you could potentially become a Sandwich Board member. There's also a smaller, 33-35 member Advisory Committee that meets four times a year. They're kind of like the super VIP Sandwich Board.
ANTHONY TAHLIER PHOTOGRAPHY INC/Thrillist
4. They design
As they're getting ready to test the new sandwich in a real-life store environment, they need to make sure people know that, "hey, there's a delicious new sandwich at your disposal". This means the in-house design team gets busy designing mouthwatering, eye-catching avocado art.
ANTHONY TAHLIER PHOTOGRAPHY INC/Thrillist
5. Your sandwich gets a test drive
When the sandwich first lands in stores, it's a stage known as "The Operations Shakedown," a no-brainer title for a best-selling thriller novel. Typically there will be a week-long trial in a store or two, followed by a more expansive 12-week test run in a specific market. Feedback is given. Adjustments are made. Sandwiches are consumed.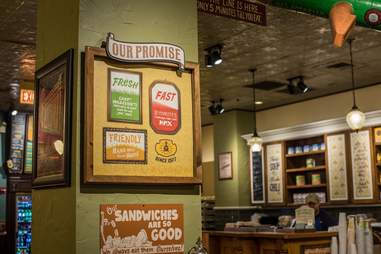 ANTHONY TAHLIER PHOTOGRAPHY INC/Thrillist
6. Your sandwich also gets a time trial
All this these trials and tests aren't just about whether or not the sandwich tastes good (though that is of the highest importance). If said tasty sandwich is so time intensive to make that it slows down the flow of all the other tasty sandwiches, it just isn't going to work, so sandwich speed is also at a premium.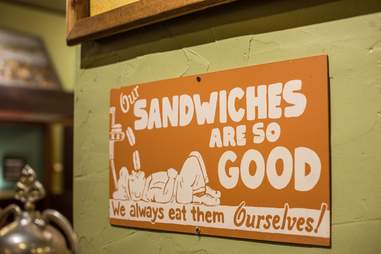 ANTHONY TAHLIER PHOTOGRAPHY INC/Thrillist
7. They play with your food
When working with a new product, Potbelly does everything it can to make sure the food that makes it to your sandwich is both fresh and maximally tasty. As mentioned, avocados present some challenges, especially if you want to slick it fresh when it's ordered, as Potbelly does. They also informed the shops about tricks like putting an under-ripe avocado in a bag with a banana to speed up the process, and storing perfectly ripe specimens in the cooler to slow things down. Another valuable trick is tearing off the bottom stem. If the flesh inside is green, that means go.
ANTHONY TAHLIER PHOTOGRAPHY INC/Thrillist
8. There's a big-time shopping spree
The beginning of the avocado era at Potbelly stores nationwide necessitated an order of 27,000 avocados (which constitutes a two-week supply) set to ship so they'd be entering peak ripeness just as they reach the stores.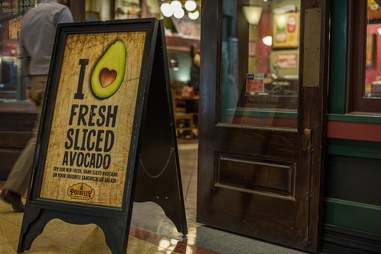 ANTHONY TAHLIER PHOTOGRAPHY INC/Thrillist
9. Things go to the next level
It's just about go time. All those new menu boards with the beautiful avocado art, nuggets of avocado wisdom, and ready-to-eat avocados get shipped to your neighborhood shop.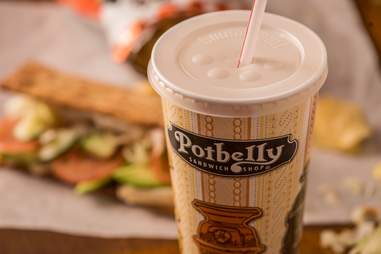 ANTHONY TAHLIER PHOTOGRAPHY INC/Thrillist
10. Your sandwich gets a five-point inspection
Congratulations! You just (wisely) walked into a Potbelly and ordered the new California Turkey FLATS, loaded with turkey (of course), cheddar cheese, cucumber, and a generous layer of fresh avocado. But wait! Before your sandwich gets to you, it needs to pass a five-point test: Hinge (is the joint where the bread bends intact?), Spread (is the meat and cheese covering everything?), Toppings (ditto, but for toppings), Toast (because who wants a non-toasty sandwich?), and Wrap (like a present!). If it doesn't pass, they're going to make you one that does. You can drink this beverage in the meantime! (But don't worry your sandwich will probably pass.)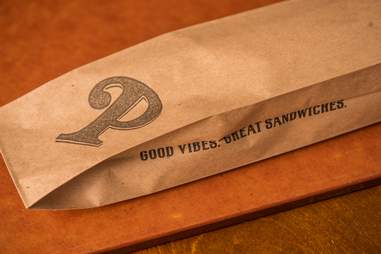 ANTHONY TAHLIER PHOTOGRAPHY INC/Thrillist
11. You remind yourself to take the sandwich out of the bag before eating it.
Paper and avocado are not the best pairing. Please remove your sandwich responsibly before enjoying.