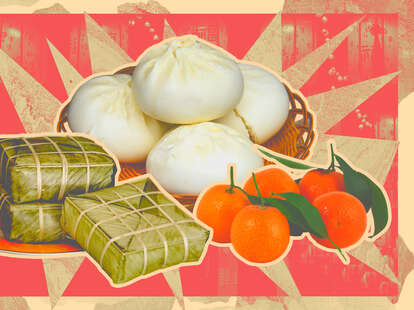 Sticky rice parcels, fruit, and baos are common foods enjoyed during Lunar New Year.

| Design by Grace Han for Thrillist
Sticky rice parcels, fruit, and baos are common foods enjoyed during Lunar New Year.

| Design by Grace Han for Thrillist
Lunar New Year is a time for cleaning the house, lighting incense on the altar, red envelopes stuffed with crisp bills, and—most important of all—delicious food. Every family does it differently. For some, bubbling hot pot with thin slices of fatty beef and assorted fish balls is the way to go. Others have whole roasted duck with crispy skin, or expertly folded dumplings with neat pleats. Some families eat only vegetarian food during this momentous occasion; and don't forget desserts of sticky rice and baskets of fresh fruit.
To celebrate Lunar New Year, we asked experts in the food and drink world—the founder of a Taiwanese tea brand, an R&D chef who creates preservative-free fish sauce, and more—about how they've traditionally celebrated, what's typically on the table at their new year's feast, and what plans they have to ring in the year of the rabbit.
Founder at Us Two Tea
Lunar New Year was always my favorite holiday growing up. It was the one time a year when I got to see everyone in the family and didn't need to worry about school. My family lived all over China, so Lunar New Year was the only time I was able to visit and stay with my grandparents. My Grandpa would always make a rotation of my favorite dishes, and we would have guests visit us every day to greet my grandparents. It was tradition that the younger family would bring gifts and snacks while visiting the elderly which was great because then I would have new snacks to eat every day.
I was born in the North of China and in our family tradition, we usually eat at least two to three different kinds of dumplings at midnight along with fish and veggies. We believe what we eat on New Year's Eve is a good forecast of the upcoming new year, so we try to eat as much seafood and meat as possible. It's all tied to tradition and the belief that you get more prosperous in the New Year because you are able to afford these "expensive" foods.
R&D Chef at Red Boat Fish Sauce
Lunar New Year is definitely a feasting holiday and our family pulled out all the stops. Preparations started months ahead, beginning with the three-month fermentation of sweet rice for rice alcohol. There were the holiday pickles that will need a couple of weeks to mature, and the candied winter melons to be turned into candies. Of course, no Têt is complete without banh chung, so all the aunties used to come to my grandparents' house for an all-day banh chung marathon. The kitchen might have looked like a Kansas tornado swept through it at the end of the day—with banana leaves and sweet rice kernels scattered on the table and floor, but it was all worth it.
Nowadays, my annual tradition is to make banh chung with friends and strangers. Many queer folks have complicated relationships with their families. I started the Banh Chung Collective to offer an inclusive space to celebrate Têt and engage in community.
Chef & Owner of Madame Vo
Lunar New Year is such a big holiday in our home. It is the only New Year we celebrate, and my family takes superstitions to new levels. New Years Eve is most important to my father. We all have to be at home and have dinner together as a family no matter what. We cook and eat dishes that are symbolic to the upcoming year for luck and prosperity: fish for increase in prosperity, spring rolls for wealth, noodles for happiness and longevity, dumplings for wealth, sweet rice balls, rice cakes, and oranges and tangerines.
Then, on actual New Years Day, my mother makes us vegetarian food for 24 hours. She says that eating vegetarian on this day is equivalent to the entire year. We sacrifice so others in our circle of life can gain. And of course, we would gamble and receive red envelopes when we were kids. Now that I'm married, I no longer receive red envelopes. Instead my wife, Yen, and I give envelopes to our parents now.
Founder of Thai Iced Tea byEmshika
My dad said his great great grandfather was part Chinese and I remember how much fun we had when I was growing up getting to experience this tradition. We woke up early in the morning and my parents would prepare food and make an offering to the spirits and our predecessors. There would always be plenty of dishes: fruits, desserts and drinks, roasted duck, boiled whole chicken, three layers pork, pig's head, Thai rice flour muffins, stuffed dough, year cake, Chinese steamed buns, Chinese pears, apple, and oranges.
As a kid, I also loved getting ang pao, or lucky money. Lucky money was typically given to the unmarried by the married. It is also traditional to put brand new notes inside red envelopes. My parents would pray outside with incense and when it finished burning, we would eat the food that we offered. It's always such a good time and continues to show me how food is so meaningful to the way of life.
Owners of Bao'd Up
Chinese New Year is very similar to Thanksgiving, in that our traditions are centered around family and food. It is an important holiday where you return to your hometown to spend time with extended family and share a large meal on Chinese New Year's Eve, typically with 20-30 dishes! Depending on which region of China you are from, dumplings and bao are commonly found on the dinner table, along with other family favorites. Once the meal is over, we enjoy watching the New Year's Gala on tv, which features performances by comedians, dancers, musicians, and more.
Chef/Owner of Bonnie's
Almost every weekend as a kid, I would visit my grandparents, who lived in Chinatown, while my mom ran errands and shopped for groceries. I enjoyed spending time with them, and especially loved hanging out at their apartment during the New Year to watch the parades and lion dances. We'd hear the drums getting louder and louder as they got closer to our apartment, and when the lion dances turned on to our street, we would run downstairs to watch from the sidewalks.
I intend to preserve and carry on the Lunar New Year superstitions and traditions that my mom taught me. The Chinese are big believers in luck and prosperity, so my family always deep cleans the whole home to get rid of any bad luck in preparation of the New Year. My mom likes to leave little candy plates with mandarins by our bed so the first thing we eat in the morning is something sweet, for a sweet start to the New Year. On the day of, we don't sweep or take out the trash because it's associated with sweeping your wealth and luck away. We also avoid scissors and knives because it represents cutting away your wealth. This means we prep and mise out all the ingredients the day before that are needed for our large vegetarian meal on New Year's morning to ensure a prosperous and lucky year ahead!
Jennifer Liao and Caleb Wang
Founders of Xiao Chi Jie
As we've gotten older, Lunar New Year has increasingly made us reflect on growing up as third culture kids... and that's definitely reflected in how our celebrations and food spreads have evolved!
As 8 year olds, we would go to our relative's house and follow our parent's traditions from their home lands; as 15 year olds, we got a little cheeky and welcomed the Lunar New Year as it signaled a wave of red envelopes with cash in them when our family's friends came over to celebrate; now, as adults, we have our own traditions embracing our dual American roots and friends (aka chosen family), offering to host dumpling making and eating parties with food as a common language and teacher.
This Lunar New Year in particular is extra special to us, because we've been very fortunate as a company this past year of the Tiger to have grown and hired the entirety of our hard-working, passionate team. As a team we are honoring the culture that inspires us and concretely integrating this into the culture of our company. Lunar New Year is a huge holiday in the East and we also decided to make it an official holiday at XCJ's offices. We'll be celebrating our first Lunar New Year as a team by making dumplings together (especially featuring our new Braised Beef Noodle Soup Xiao Long Bao – sans noodle). We are very excited to ring in the year of the Rabbit and wish everyone "Gong Xi Fa Cai!"
Ralph Hsiao
Chef and Cofounder of Open Market
Playing mah jong and eating peking duck were the two major activities that I looked forward to when celebrating Chinese New Years with my family. From the clicking and clacking of the mah jong tiles shuffling to the crunch of the crispy duck skin, it sounded like fire works were going off in the house. Since my parents were the only ones from the family that immigrated to the States from Taiwan, we kept our traditions relatively simple. We would go pray at Hsi Lai Temple, a Buddhist monastery in Hacienda Heights, eat peking duck at our favorite Chinese restaurant, and then eat mah jong tiles at home, 吃!!! (The declaration a player says when the player on your left discards a tile that would complete a sequence with 2 of the tiles in your hand, which translates to EAT!)
For us, the through line was just spending time with family. The mah jong table sat us down together and acted as a conduit for connection. It allowed us to learn about each other, have conversations, and share stories….all the while losing money to my dad. As he would always say, "There's no free lunch!" 胡了! (The declaration a player says when the player picks up the final tile to complete their winning hand. HU LE!) To continue the tradition of spending time with family, at Open Market we serve a dry aged roasted duck as LNY special every year.
Kat Thompson is a senior staff writer at Thrillist. Follow her on Twitter @katthompsonn.