Paid Content For

How Comfort Food Became The Cornerstone of American Cuisine
Paid Content For

Courtesy of Jessica Tzviah / @cheatdayeats
Courtesy of Jessica Tzviah / @cheatdayeats
From the outside, Delicatessen would appear to be one of those restaurants that thrives on serving undersized portions of overpriced dishes on fancy white plates. The walls of the sleek, contemporary dining room are made of glass -- so diners can look out onto one of New York City's trendiest corners: Crosby and Lafayette in SoHo. And sure, while you could easily order the tuna tartare or the nicoise salad, most diners flock to Delicatessen for the meatball recipe Chef Michael Ferraro adapted from his father, or one of the 12 different mac and cheese options presented with the cheese bubbling over the sides of a classic red casserole dish -- like the ones Mom has at home.
Dishes that used to be relegated to the menus at 24-hour diners on the other side of the Hudson are suddenly as ubiquitous at fine dining establishments as foie gras. Sure, you can still find high-end options -- but show us an upscale American restaurant that doesn't also have a "signature" burger, or an updated take on deviled eggs, and we'll show you an empty dining room.
That's because over the last decade, "comfort food" has become "New American." The defining flavors of our cuisine haven't been built by classically trained chefs -- they've been honed over generations in home kitchens, covered with cheese, and baked at 350 degrees for an hour. At a time when cooking has become more of an aspirational hobby rather than a necessary life skill, being able to serve up dishes with the care and love "like mom used to" is an incredibly powerful thing for restaurants to harness -- and they don't seem like they'll be letting up on their grip any time soon.
We turn to comfort food when we need comfort most -- even as a nation
Before Chef Ferraro partnered with Delicatessen in 2008, he was the executive chef at Fresh, a fine-dining seafood restaurant in Manhattan.
"The stock market crash hit in 2008 and basically, my restaurant was sold immediately," he says. "We went from doing 200 covers a night for dinner with $110 check average to doing three people a night."
This new customer mindset was reflected in Delicatessen, which opened under a concept that was relatively new for the time: they would serve "international" comfort food. That meant items like mac and cheese and hot chicken, but also spicy Asian beef noodles and a French bouillabaisse.
"What we focus on is the same service you would get at a high end restaurant, the same ambiance, decor, crowd -- but we have an approachable menu," Ferraro says of starting over with the new approach. "I knew that if it could be done right, it was the perfect timing for it."
He was right. According to Suzy Badaracco, a trends forecaster and president of Culinary Tides, in the mid- to late- aughts comfort food exploded onto the culinary scene. In 2008, as our country entered into the deepest recession since the 1930's, cheese consumption reached it's highest point in decades: 33.64 pounds per capita, according to the USDA.
Why would we do that? Well the power behind comfort food isn't just subjective. Studies show that the dishes we identify as "comfort food" are most likely determined by what our primary caregivers fed to us as children. So when we dive into our mom's chicken soup, we feel safe because the person who cooked it makes us feel safe. Not only that, but a study out of the University of Cincinnati found that eating these "pleasurable" comfort foods actually inhibit anxiety responses in the brain, and that those effects can linger for nearly a week.
"I think American consumers are really, really -- if you'll pardon the expression -- hungry for [nostalgia]"
According to Badaracco, this is a classic behavior, and one Americans as a nation have imitated throughout our history. During the Great Depression, Kraft released its mac and cheese for the first time, and sold 9 million boxes in its initial year. Come World War I, Badaracco says that soups and stews came into popularity, and by World War II, it was all about starches.
This time around, though, as the trend marks a nearly decade-long run, it seems as though comfort foods are more than just a fad. This is the new culinary landscape. Besides elevating comfort food to fine dining, chefs are tweaking the entire definition of what comfort food even is. The addition of global influences mixed with these dish's viral potential on Instagram -- where our hunger for the cheesy, savory, and decadent seems to be insatiable -- has helped make comfort food a phenomenon with staying power.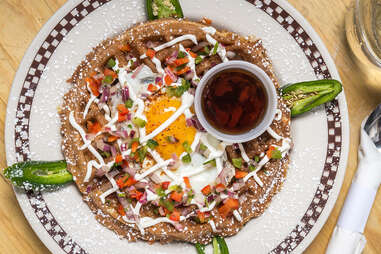 It brings us back to our childhood
The menu at Delicatessen has evolved several times since it first opened nearly a decade ago. Since day one, though, Ferraro has kept "Giorgio's Meatballs" -- a recipe inspired by his dad's meatballs -- as an offering.
"Everybody has that piece of their childhood that stuck with them. For me, I can remember how the house smelled when my dad made meatballs," he says. "That's my comfort space. But for a lot of Americans, it's mac and cheese."
That may be the reason why mac and cheese is the one comfort food that's overrun the food scene in the last 10 years. If you look back at 2007, Kraft reported that their macaroni and cheese sales were finally on the rise, up about 6% that year, after seeing four years of decline.
Two years later, Ferraro opened Mac Bar, a single-concept, fast casual mac and cheese restaurant next door to Delicatessen. He followed S'mac, a similar concept that gained national press, that opened around that time, too. In the years since, the concept has spread to Philadelphia (Mac Mart), Wisconsin (Mac's Macaroni & Cheese Shop), and Houston (Jus Mac).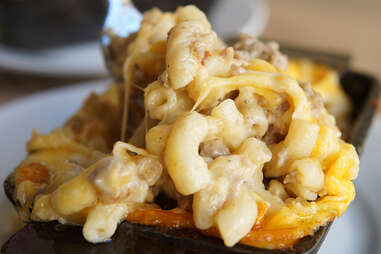 "Mac and cheese is the universal problem solver," Donny Delessio, chef/owner of Queens Comfort, a comfort food style restaurant in Astoria says. "We grew up eating mac and cheese, and the mac and cheese you get in restaurants is a better product than the boxed mac and cheese we grew up eating."
Delessio serves three different kinds of mac and cheese at his restaurant, plus a deep-fried, spicy mac and cheese appetizer called "Atomic Fireballs" -- named after the hot cinnamon candy. Nostalgia, and food nostalgia in particular, is the central theme of his restaurant. Vintage toys serve as decor. Childhood photos from customers line the walls. He uses kids' cereals, like Cap'n Crunch, instead of breading on his fried chicken.
Comfort food is about recreating that safe space in your cooking. What could feel safer than elevated versions of the dishes you ate on your childhood living room floor while watching Legends of the Hidden Temple? Especially, if you can't make them yourself.
In a study by Morgan Stanley, 53% of millennials eat out at least once a week, a 10% increase from our parent's generation. Combined, men and women spend about 110 minutes cooking each day -- but in the '60s, that number was closer to 150 minutes per day, according to a national survey. Basically, for as much as millennials love food, we're not cooking for ourselves the way our parents, or grandparents, used to. So, we're turning to the experts to give us what we want.
"I think American consumers are really, really -- if you'll pardon the expression -- hungry for [nostalgia]," says Marc Halperin, a food trend expert and co-founder of CCD Innovation, a San Francisco food and beverage development company.
Social media has transformed the potential and reach of comfort food
Just how hungry are we? All you need to do is look at social media to see how sought after comfort food is. Only the gooiest grilled cheeses, massive five-napkin burgers, and giant bowls of ramen have the potential to go viral -- because a major part of our dining experience now is making our Instagram followers envious. (And really, no one is jealous when you post a pic of your raw vegan salad).
The numbers prove it, too: the comfort food hashtag on Instagram has been used 2.7 million times, showcasing everything from pasta to barbecue to burgers. A survey of Pinterest users in the United States found that 50,000 "comfort food" pins are saved daily -- and that number was up 140% over last year.
"Instagram changed the game for everybody," Chef Joe Isidori of Black Tap Burgers said. "It created this thirst for content. As people wanted more and more content, it had to become more and more interesting... and food started to be plated or designed with that in mind."
"One of the happiest times I've ever had was when my father took me to the local luncheonette and I had a cheeseburger deluxe and a milkshake with him. It was our favorite meal."
Isidori designed Black Tap to be a modern day version of a luncheonette, where he says he shared some of his happiest food memories with his father. While the focus is craft burgers, the eatery has gone viral for it's "crazy shakes" -- $15 monstrosities topped with everything from gummi bears to chocolate brownies and entire cookies.
"One of the happiest times I've ever had was when my father took me to the local luncheonette and I had a cheeseburger deluxe and a milkshake with him. It was our favorite meal," Isidori says. "So I wanted to recreate that experience."
Blue Ribbon Fried Chicken, the fast-casual concept from brothers Eric & Bruce Bromberg, has seen a similar surge. The first location opened in New York in 2013, and has since spread to Las Vegas, with more locations in other markets set to open. According to Rob Anderson, Blue Ribbon Fried Chicken's general manager, Instagram has also been partially responsible for their growth. He says he sees it first hand, when customers walk in and point to a photo on their phone, instead of checking the menu to place an order.
"Comfort food has exploded over the culinary scene," he says. "Right now it just seems to be getting bigger and bigger."
Comfort food has evolved into something more than just home cooked classics
We're not only seeking out comfort foods that are classic iterations of what we ate as kids, though. According to Badaracco, we see classic examples of comfort food at the onset of a crisis: think mom's meatloaf served alongside mashed potatoes. But, when the economy started recovering, dishes like lobster mac and cheese, or a burger topped with brie and avocado, started popping up on menus. Shortly thereafter, comfort food from other cultures began to rise in popularity as well.
Take Ipuddo, the Japanese ramen restaurant chain. It opened its first overseas location in New York City in 2008 -- and since has grown to have 60 locations worldwide. On the company's website they declare that "Ramen is Japanese Soul Food." Since opening in 2004, David Chang's Momofuku restaurants have spread from New York to Las Vegas, serving his ramen, pork buns, and Korean ssäm alongside fried chicken and country ham.
"The idea of 'comfort food' is not limited to any ethnicity or nationality," says Jinah Chang, food and beverage director of Her Name Is Han, an NYC restaurant specializing in home cooked Korean food that opened in 2015. "Our intention when opening Her Name is Han was not to replicate the fancy, contemporary culinary culture that trends may lean towards, but to design a nostalgic place where guests can enjoy home-style meals and feel the same comfort they would at home." Each dish at Han is presented with "a mother's touch," she says.
"Comfort food is growing up"
Besides the global influences, comfort food has seeped into even the finest fine dining establishments. At Napa Valley's French Laundry, a Garden Green Garlic "Pierogi" made with sweet English peas and turnips is one of the offerings on Thomas Keller's tasting menu. It's offered alongside "Bread & Butter" -- a brioche laminated with a bitter cocoa and a $49 per pound butter from Vermont. Three Michelin Star Chef Antoine Westermann offers a squab pie at Le Coq Rico in New York -- and as a side, "macaroni au gratin."
In Halperin's mind, as chefs and restaurateurs take classic concepts of comfort food and modernize it, they'll elevate the experience of eating dishes like meatloaf and chicken soup, while still maintaining the elements that make it comforting.
If you ask some experts, they'll tell you that the fact that comfort food seems to be sticking around is unsettling. It could signify that we, as a country, are uncertain of what's to come, so we're turning to the dishes we're most familiar with, instead of branching out. But, simple, honest cooking has been championed for decades -- even by the greatest of chefs. James Beard said that it was "better to undercook than overcook." So, maybe, we're just starting to celebrate that.
"Comfort food is growing up," says Halperin. "If you can capture [its] characteristics, but in a newer version of it, you can contemporize the entire experience. And that's why I think this whole notion of comfort food is going to be around for a long time."