18 Things You Didn't Know About Dippin' Dots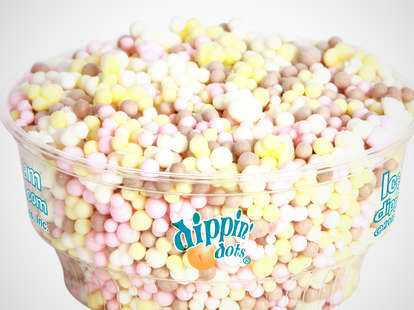 The guys who invented glow in the dark ice cream might think they're the wave of the future, but they're wrong, because Dippin' Dots has been riding that future dessert wave since 1988, and they most certainly have it trademarked, or at least cryogenically frozen.
If you've ever been to a mall or amusement park (or hijacked a time machine and gone to the year 2100), you've probably had your fair share of these tiny little ice cream balls, but to help you connect the dots between childhood mystery food and more adult concepts like "facts", we've compiled 18 fascinating tidbits about the most futuristic of desserts.
1. There are 2,000 Dippin' Dots in a 5oz cup
Our special dessert calculator states that is .0025oz per dot, a number that sadly does not spell an inappropriate word when turned sideways.
2. Dippin' Dots was founded by a microbiologist
In 1988, Curt Jones was working in a Lexington, KY lab developing a flash freezing process using liquid nitrogen. At home, he was churning homemade ice cream, and, long before people were paying hundreds of dollars for molecular gastronomy, he aimed his liquid nitrogen rays at that homemade ice cream. Dippin' Dots were born.
3. It takes less than one second to freeze a dot
And yet it takes two hours to get a beer cold in the fridge. This is a travesty.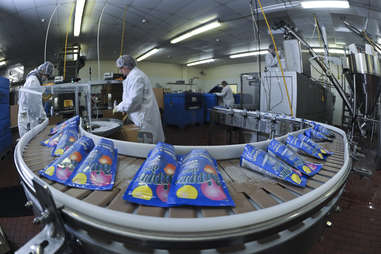 4. The DotBot3000 makes 50mill dots per day
Our dessert calculator tells us that is 25,000 5oz cups per day, enough to give you a brain freeze from now until 2114.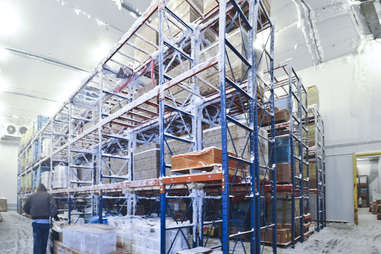 5. The Dippin' Dots freezer holds 12.5 billion dots at 40 degrees below 0.
It's like the Fort Knox of ice-cream based treasures.
6. The temperature of cryogenic freezing is 320 below zero.
Even people who live in Chicago would be terrified.
7. A man celebrated his 100th birthday by eating his first cup of Dippin' Dots
One of the oldest citizens of Lubbock, TX is finally experiencing the ice cream of 1988 the future!
8. They built a DD container that fits on top of a movie theater cup lid
It's called the RockTop, and it's the only thing that will make That Awkward Moment bearable.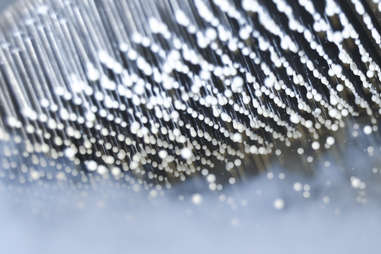 9.The first flavor invented was Vanilla.
You gotta start somewhere...
10. The most popular flavor is Cookies 'n Cream
Obviously. Anyone who says there is a better flavor is incorrect.
11. Their milkshakes bring all the boys to the yard
But in a way more wholesome way than Kelis. Also, they sell milkshakes!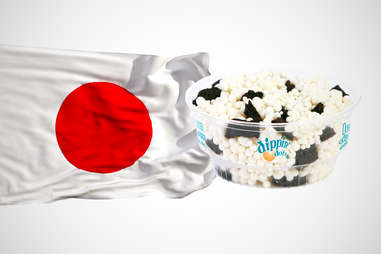 12. Dippin' Dots is sold overseas in nine different countries, with Japan being the first!
They gave us sushi, and we gave them tiny, frozen balls of ice cream. We'll call it a draw.
13. They have a personality test to show what flavor you are
If you saw your crush at the mall with someone else and you choose c) pour the rest of your drink over their head, you're obviously strawberry. And mentally unstable.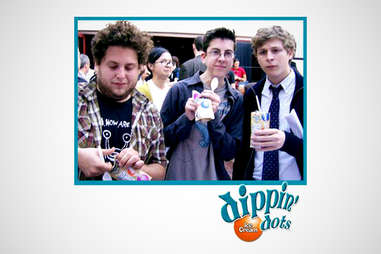 14. It's endorsed by the cast of Superbad
Jonah Hill has been dipping dots long before he became hungry like the Wolf.
15. Scarlett Johansson also loves it.
Nowadays, she's only allowed to smile this much when she's posing with a SodaStream.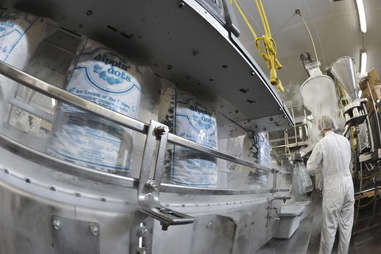 16. There are over 30 different 200gal flavor vats
Our dessert calculator says that's 18mill dots per vat.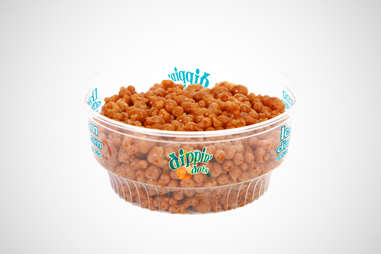 17. They make a coffee flavor from pure espresso
It's called Forty Below Joe and has created an entirely unheard of coffee drinker stereotype: the coffee drinker of the future.

18. The Food Network filmed a tour of the Dippin' Dots factory
It's full of scientists who look very, very cold.
Dan Gentile is a staff writer on Thrillist's national food/drink team who recently purchased a very nice toaster oven and is excited about exploring the world of crispy reheated food. He also enjoys hating mustard. Follow him to pots of gold/Twitter at @Dannosphere.