Sponsored By

How Giving Back Has Revitalized American Farming
Sponsored By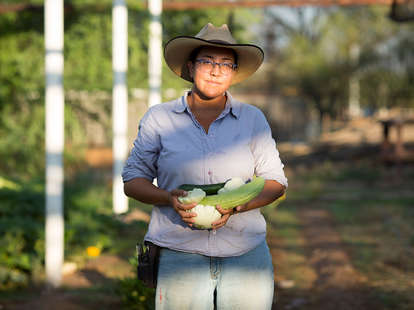 In 2015, Jonathan Lawler's son came home from school and told his father that one of his classmates didn't have food to eat. To feed themselves, Lawler's son said, the classmate's family frequented a local food pantry for whatever they could find. Unfortunately, this isn't unusual in our country; according to nonprofit Feeding America, there were over 42 million food insecure residents in the US that year. But hearing it from his own son struck a chord with the Greenfield, Indiana farmer.
"To be honest, that pissed me off."
Lawler says that if you leave his property, Brandywine Creek Farms, and drive to his son's school, all you do is pass farms. Farms stocked with produce.
Lawler started to think about hunger in his own county, Hancock, and in the neighboring county, Marion, where Indianapolis -- the state's largest city -- is located. In 2015, an estimated 300,000 Indiana children were food insecure.
"I had no idea there were thousands and thousands of people in Indianapolis that weren't sure where their next meal was coming from," he says. "That kids bought stuff from gas stations and that was their dinner -- or that they didn't eat at all when they got home because the only time they ate was at school."
That was it for Lawler. It was at that moment that he decided to give away everything he grows. Tomatoes, cucumbers, bell peppers, zucchini, watermelon, corn, and more. By the end of 2016, Brandywine Creek had donated 420,000 pounds of produce in total.
Selfless acts
While a gesture this great might sound like it's one in a million, Lawler isn't alone in his generosity. In Indiana and across the US, selfless farmers are working tirelessly around the clock just to give it all away. From fertilizing their land to planting their crops to sowing their seeds, some give away every tomato that's harvested to a food pantry or soup kitchen that needs it.
Over on the West Coast in Tuscon, Arizona, Sofia Forier-Montes and Felicia's Farm are making a massive difference in their community. We're talking 9,000 pounds of fresh produce and 72,000 eggs donated last year massive.
The 27-year-old farmer was finishing up her master's in environmental science when she heard about the position opening up at Felicia's, a nonprofit that was created by David S. Cutler in honor of his late wife; her mission was to "feed the people and teach them to feed themselves."
In addition to that mantra, Forier-Montes says she and the farm were aligned on how the crops should be cultivated. "You should constantly be making the land better," she says. "I really try and be as sustainable as possible. We make our own compost. We have five worm bins. We use all the manure from our animals. Really, just trying to be very respectful of the area and trying to put back more than we take out."
But even putting the land first, the farmhand still manages to make at least one trip (two trips when the tomatoes and peppers are in season) to the Casa Maria Soup Kitchen every week, donating 200 pounds per trip.
How they sustain themselves
Though farmers can grow anything from corn to zucchini, there's one thing they haven't figured out how to harvest from the earth just yet: crispy green dollar bills. So let's think about this…
When you're an organization that uses its surplus revenue to further its mission instead of paying your shareholders (the difference between a nonprofit and a for-profit) and your sole mission is to give away everything you produce... how the heck do you stay in business?
Well, first you file for official nonprofit status with the IRS. When you're a 501(c)(3) charity, you get out of paying certain taxes because of the contributions you make to your community AND you're able to provide your donors with a tax-deduction. Win-win. Felicia's Farm is already a non-profit, while Brandywine Creek is in the process of becoming one.
Felicia's Farm also has a part-time grant writer, whose sole job is to apply for grants to keep the farm funded. The average grant is about $5,000, while the largest grant they've received was $50,000 from the City of Tuscon -- a true testament to the farm's impact on the community.
And then if you're intent on making a difference in people's lives, you're most likely willing to make personal sacrifices to keep your operation afloat. When Cutler decided to honor his wife, he turned half of his four-acre backyard into a farm and uses every penny from the foundation he started (The Izi Azi Foundation) to keep churning out crops for the needy. Similarly, Lawler says he put in a significant amount of personal savings and took a 50 percent pay cut to start Brandywine Creek.
But at the end of the day, people want to to help a good cause. Forier-Montes says that she'd been buying from a local seed company for a few years when the owner recently decided to donate everything. "She was like, 'I'm just really happy to be a part of this. It feels good.'
"People hear about our farm and what we're doing and they get really passionate," she adds.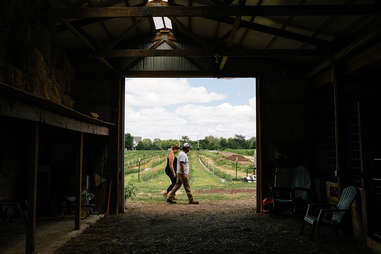 It's not as simple as it looks
It shouldn't be hard to feed someone who's hungry, but everything comes with its own distinct set of challenges -- no matter how charitable the act. One problem that plagues soup kitchens, larger government-run food banks, and smaller, community-run food pantries all too often is storage. Not having adequate refrigeration or freezer space is a big reason why many don't receive as much fresh produce as they need, according to Richard VanVranken. An agricultural agent at Rutgers Cooperative Extension of Atlantic County, New Jersey, VanVranken has been working with vegetable farmers and food banks for 35 years.
"If you get a case of lettuce and you don't have refrigeration, you've got a couple hours to get that out or else it's gonna start going bad, [not to mention] it may have come from a rejected load," he says, meaning it's already not top-quality.
Then, if it is "fresh and wholesome" and you don't have proper refrigeration, "it may not fit into the cycle of when people are coming to get the produce," he adds. "So you need to scramble and find a home for it, or else it ends up getting dumped."
Another big issue is accessibility. VanVranken notes, "[Those who are] most in need of good healthy foods either don't know what the products are, they don't have the capacity to store them or prepare them, or even the right knowledge."
For this reason, Forier-Montes tries to grow crops with which people are familiar. Felicia's winter season consists of leafy greens (spinach, all the brassicas like turnips, cabbage, and brussel sprouts, and cauliflower) and the summer season is all about melons, cucumbers, tomatoes, green beans, squash, and more. "We serve a soup kitchen that's predominantly Latino and black, and some people just don't have the pleasure of just being able to look up a recipe or look up what something is, you know. So I really don't want that to be a barrier when someone gets our produce," she says.
The difference one drop-off can make
When asked what kind of difference their crops make for people, both Forier-Montes and Lawler instantly recall stories that have given their work -- and their lives -- meaning.
Forier-Montes says on one particular drop-off to Casa Maria (where there are plenty of baked good and processed foods), the manager told her, "It's good that you're here! You're the 10th person to donate this morning, but you're the first to have any produce."
And as disheartening that can be to read, it's this kind of trip can keep you going as a nonprofit farmer. "I can be feeling super bummed out that a certain crop's not doing well or we didn't harvest enough, but they're just so grateful that I'm there with whatever I have -- no matter how much it is," says the Tuscon farmer.
Lawler donates to multiple places in the area, like The Cupboard, Kenneth Butler Soup Kitchen, Shepherd's Community. But thinking back on one particular drop-off trip still brings him to tears. One center -- which serves everyone from the elderly to the disabled to "younger folks who only make enough money to live here" -- contacted Brandywine Creek asking the Indiana farmer if he could bring them produce.
Lawler was happy to oblige and, with his son and a couple of his farmhands, packed up two pickups. Not knowing this community center or if they'd have sufficient space and refrigeration, he was naturally worried. "I said, 'You're gonna have to have room to take all this stuff.'" But when they drove up at 11am, the worker greeted them out front. "She said, 'There's been a line of people waiting for your produce since 9:30am.' We walked in and there were, I don't know, 150 people. Some of them were disabled, some of them were veterans…"
Talking about the impact this had on himself and his children, Lawler chokes up. "[Seeing them], my middle son turned to me and said, 'Dad, we need to get back to the farm.' My son hates farming, but he said, 'We need to get back right now so we can keep growing food.' And that's when I decided I'd do this until I'm dead in the field."
Why we need these farms
Looking at the 2015-2020 Dietary Guidelines for Americans published jointly by the US Departments of Health and Human Services and of Agriculture, one thing is pretty hard to miss. On average, both males and females ages 18-70 eat about half of their recommended daily fruit and vegetable intake. This includes those who have easy access to the stuff. People who can stroll to their neighborhood farmers' market on Sunday morning and take their pick of strawberries, dates, peaches. Whatever they want. And they're still not doing it.
Those who rely on food pantries take what they can get, which VanVranken says isn't often the "best, most wholesome products.
"Food pantries are most likely to get canned goods. And then they're going to get boxed goods like cereals and rice products, fast-cooking grains, and that type of thing. They typically get more refined types of sugars and flours as opposed to whole grain and low sugar products," he says.
But these farmers fill the void so that everyone -- not just those who can afford it -- can achieve a balanced diet. That means veggies of all kinds, fruits, grains, dairy, and protein -- anything with limited saturated and trans fats, sodium, added sugars, and sodium.
And sure, they can't feed everyone but Lawler and Forier-Montes (and those just like them) won't ever stop working to better their communities. "Our goal this year is to hit one million pounds," says Lawler.
With their passion and determination to do good, they could soon surpass that.