Cole Saladino/Thrillist
Cole Saladino/Thrillist
When you tell people you're going to Red Lobster for the first time in your life, nobody talks about the lobster. They talk about the cheddar biscuits.
Having never consumed those cheddar biscuits, or anything else at a Red Lobster, ever, I found it a bit odd. Now look, I love biscuits, and would eternally swap them for regular bread even though that would lead to weird shit like biscuit bowls full of clam chowder and really tall, cylindrical grilled cheeses. I even used to frequent a restaurant -- frequently! -- just because its website was GreatBiscuits.com. But the place is not called Red Biscuit, which is a biscuit I would still gladly eat even though that name is gross. It's called Red Lobster. And yet, no talk of the lobster.
They also told me about the shrimp. The endless shrimp. And the Shrimp Month! Which might also be endless. And then doubled back on the cheddar biscuits. What in the hell was the deal with this place? Why was it nothing like I was picturing?
For reference, here's what I was picturing: plastic bibs on everyone. Wooden picnic tables. Other tables made of dinghies with real barnacles on them. Or maybe you sit in those, instead of booths. Definitely fake sand. Do they even make fake sand? Probably not. So, more like real sand, which just seems fake, since it's not supposed to be there, in a restaurant. A creaky rental stand for those big rubber wader pants lobstermen wear. Maybe there's a guy doo-doo-dooing around in a lobster mascot costume that the kids love to take pictures with. Soda fountains that only shoot out butter.
This is also worth mentioning: despite legitimately picturing Red Lobster as all of those things, I was going there on a date.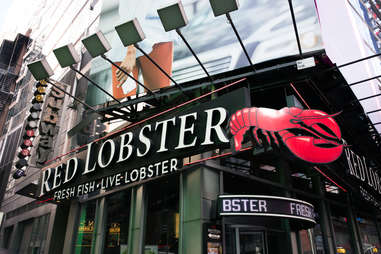 Now I'm not going to pretend that the Times Square Red Lobster is just like every other Red Lobster. It's surely got its own quirks and deviations from the Americana mean, and that's understandable. For chrissakes, it's in direct geographical competition with the Bubba Gump Shrimp Company, which is based on a popular heartwarming movie starring the guy from Money Pit. But even if this wasn't perfectly representative of the chain, since I live in New York City and didn't want to go anywhere near Secaucus, New Jersey, it was the one for me.
The questions swirled as I walked in. Do businessmen power lobster lunch here? Aren't most lobsters red? And if so, couldn't they just have called this place "Lobster"? Would my date assume that I was just joking about this whole thing, and not even show up? Why was I being handed a light-up buzzer and being told there would be a 45 minute wait?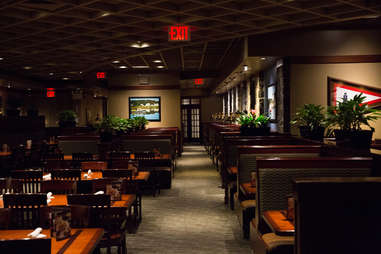 Gives me plenty of time to look around, I guess. There's a ton of stone, all over the joint. Like, really nice stone. A bar with a sign reading "Bar Harbor Bar, est 1968," which is lies. The bar seemed to be populated, amazingly, by post-work Times Square locals. Between that and the waiting area, they had constructed a two-level fish tank, plus an elevator that kept whooshing people up that whole one flight of stairs to the upper dining room. Near the elevator, a tourist woman, her poor feet clearly exhausted from SO MUCH WALKING AROUND THE M&Ms STORE, had taken off her shoes but left on her socks, and was just standing there, buzzer in one hand, sneakers in the other, like even a small part of this was not completely gross. Her son was 7/8 of the way there himself, thanks to a little company called Teva.
Five minutes later, 1) my date arrives, and seems to at least be faking enthusiasm, which is about all I could ask for, and 2) my buzzer goes off, a full 40 minutes early. This has never, ever happened at a "real" New York restaurant. They just keep saying "10 more minutes, just have another really expensive Tecate at the bar." I love this place.
We're elevatored upstairs, and get sat in a booth. Actually, everyone gets sat in a booth. There are only booths! I'm honestly not sure this is even architecturally possible, but this is how I'm remembering it. It's our waiter's first night on the job. He just moved here from Cleveland, and is very excited. We're excited for him. First times for everybody tonight! We order "signature cocktails" -- including a "Lobsterita," which turns out to be just a Margarita with zero lobster involved -- and an "Alotta Colada," a giant frozen pina colada with a "sidecar" of Captain Morgan loosely attached to the rim. Good start!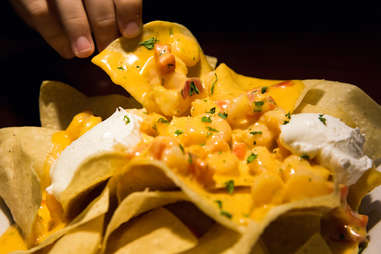 Time for food. First up, Shrimp Nachos, covered in waves of fake cheese, which is my favorite kind of cheese. But this variety isn't the movie theater/sports arena kind, where they ram a brick of Velveeta into a heat source and just let it fly. It's more refined, not as viscous, and actually interacts with the delicate chips and barely visible shrimp rather nicely. I'm honestly not sure how I resist also ordering the Lobster Pizza, as one fake-cheesed seafood fusion dish is rarely enough.
There's no better way to understand what a restaurant is all about than to get the biggest damn sampler platter they've got. For one thing, it tells you that said restaurant all about offering gigantic sampler platters as entrees. Also, there's the whole expansive-range-of-food part. It's like tapas, but all on the same oversized plate, and all costs 1/3 the price of a single croquette. The Ultimate Feast® Tender came with 1) a Maine lobster tail, 2) steamed North American snow crab legs, 3) "our signature garlic shrimp scampi," and 4) Walt's Favorite Shrimp. Apparently Walt likes his shrimp breaded like mad and fried. Walt's a good dude.

The lobster tail spends its brief life splashing into a ramekin of golden melted butter. Those shrimp that Walt loves consist of more panko than crustacean. The crab legs are tons of work and contain basically zero meat, as it is with all crab legs. The scampi is waterboarded in a deep bath of oil and garlic. And my god it's all fantastic. All of it! I marvel with every bite, and not just to trick my date into thinking that this whole thing was a good, normal idea. I'm very certain every bit of seafood is frozen and flash-cooked, and it doesn't matter. I didn't expect any of this.
As we sit there, deciding if a Top-Shelf Long Island Iced Tea is a decent idea, I look around and see smiling faces at every table, then hands diving into metal-mesh baskets. THE BISCUITS. People are literally wrapping them up in napkins, shoving them in their pockets, and immediately ordering more. It's a biscuit-acquisition free-for-all. But where are our biscuits? We've had zero biscuits. What am I going to talk about when people ask how my first trip to Red Lobster went? The admittedly very delicious lobster??? Just stop that. I flag down our server, and inform him of his exclusionary biscuit gaffe, and I've never seen a more embarrassed individual in my life. It's his first night, he reminds us, and he's very very sorry, and holy crap, he's going to get us some biscuits.
He gets us some biscuits. And then some more biscuits. And then, after lots and lots of asking and reminding him how he reallllly owed us because he forgot the biscuits in the first place, even more biscuits than that.

What'd my date think? She claimed she had a great time and loved the food, and I half believed her, but in the end, she couldn't have been THAT horrified -- I moved in with her last week.
Sign up here for our daily Thrillist email, and get your fix of the best in food/drink/fun.
Ben Robinson is Thrillist's Editorial Director, and is going to the Olive Garden with an AMAZING view of Times Square for his next anniversary. If you follow him at @benjorobinson, he'll probably tell you about it.