The apple slices have 20, maybe 30 minutes until they start browning. In just a moment the shot will look completely different than the last couple hundred. Unusable even. It's time to try a different setup. Maybe try plating the dish differently? What about the windows on the west side of the house? The natural light on the west side of the house is totally different…
This is the inner monologue of an Instagram food blogger. While a lot of food pics look like casual, pre-snack snaps, an immense amount of work actually goes into every photo of smoothie bowls and homemade protein bars you flip through on your social feeds. We talked to some influencers whose lives are dedicated to making healthy eats look better than a bacon-topped burger sandwiched between two slices of pizza. (And if you don't think that's possible, well, all the more reason to keep reading.) Here's what they had to say about the relationship between awesome food photography and improving your diet.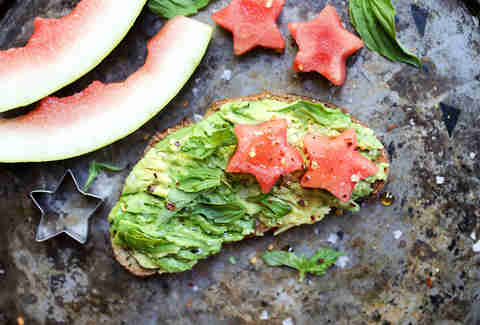 Healthy doesn't mean strictly kale and quinoa
Before you throw out and donate everything in your pantry, let's define what we mean by "healthy foods." Flaxseed, chia, and Greek yogurt are among the most nutrient-packed things you can eat -- but that doesn't mean they're the only things you can eat. "I don't want everyone to think they need to only eat kale, spinach, and fruit to feel healthy," says NYC's Rachel Mansfield (@rachlmansfield), who started her Instagram account and accompanying blog in 2015 hoping to inspire others to eat "deliciously clean." Many of her recipes represent this mantra. Your food can be gluten-free, dairy-free, plant-based, and vegan-friendly -- and still be tasty.
Take her most well-known post (which Mansfield says is still the most frequently-visited recipe on her blog despite being published almost a year ago): a completely nut-, dairy-, soy-, and gluten-free banana bread. It uses sunflower butter, bananas, chocolate chips, coconut flour, maple syrup, coconut oil, eggs, and some other things like cinnamon and vanilla extract. The words seem scary -- this-free, that-based, this-friendly -- but you would never know the difference when you eat it.
"I just want people to feel like they don't have to sacrifice anything just to eat healthy and feel good about themselves," she says. "You can have cookies after dinner -- just pay attention to what you're putting in them."
Eating healthy is all about balance. "It's easy to put out only the most wonderful healthy foods. And it's like, well that's not real life," Liz Harris (@floatingkitchen) of Newburyport, Massachusetts says. "The food that I'm sharing is what I'm eating every day -- and sometimes it's treats and sometimes it's salads.
"I'm a real human being. Sometimes I think that gets lost in blogging and social media."
The bottom line: Use real ingredients and make things yourself, and not only do you not have to eat salads every day -- but you don't have to spend $12 on salads every day.
DON'T LECTURE THE TABLE OF MILLENNIALS PHOTOGRAPHING THEIR FRITTATAS -- THEY'RE ACTUALLY ENJOYING THEIR MEALS ON A DEEPER LEVEL THAN YOU ARE.
Train your brain
Since starting Floating Kitchen in 2012, Harris found that making food aesthetically pleasing actually made her feel better about eating it. "There's something about thinking, 'Okay, I'm gonna make [something] nice, take the time to cut everything equal-size, and arrange it.' It feels good to do that and to eat that way," she says. In other words, stop eating out of the container or over the sink -- which we're all guilty of from time to time. Make the effort to eat a proper meal. It just feels better.
And it feels good for a reason. Research published in the Journal of Consumer Marketing found that the time it takes to interact with and photograph what's on your plate -- considering the camera angles and lighting, the placement of berries and nuts and lemon zest -- actually builds anticipation and gives you more time to savor and lust after it. Let's say you did this over and over again with a green smoothie -- well, it would taste more like a milkshake each time. So next time you're at brunch, don't lecture the table of millennials photographing their frittatas about how they need to put down their phones and experience life. By carefully crafting the perfect pic, they're actually enjoying their meals on a deeper level than you are.
The same group at Saint Joseph's University found that Instagram encourages a herd mentality when it comes to eating. If you're made aware other users are consuming healthy foods, you'll be more likely to consume healthy foods (and not douse them in ranch dressing). Browse through the hashtag #cleaneating and it's filled with veggies, oatmeal, even fruit-infused water. Browse through it often enough, and you can train your brain to desire these healthy options all because you see others consuming them. Warning: these brain bending powers render hashtags like #travelgram extremely dangerous to your bank account.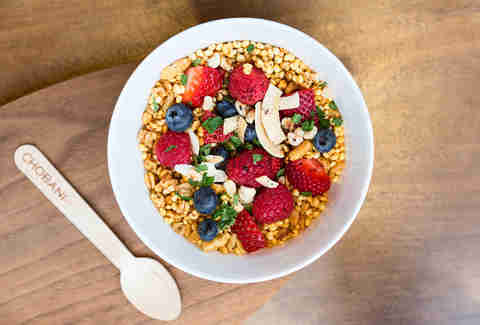 Let the food sing...
Being a full-time food blogger and influencer takes work. A lot more goes into these stylized and mouth-watering photos than meets the eye. Mansfield has learned that you can't just take a picture of boring food on a plate and expect it to not look… boring.
Letting us in on a little secret, she revealed that many of her photos contain more than one serving. "If I post a picture of yogurt and granola, that'd probably be half a cup of yogurt, a third-cup of granola, and some berries…." she says. "That would look so naked in a bowl! Like, that wouldn't have enough love in it." Instead, she'll whip up a double batch, style it, photograph it, then eat half and put the rest in a tupperware. If it's perishable -- something containing avocado, for example -- that's where the real genius comes in. Instead of wasting food, she'll put something underneath it to give it a little extra height and play to the camera. Basically, if it looks good enough that you want to reach out and grab it and eat it… she's done good.
When it comes to dishes, simplicity is key. Mansfield only uses a few items: a marble slab and a couple of pretty white bowls. A similar approach anchors the design at the Chobani Café in Soho, New York, one of the most instagrammed spots in the city. Straightforward plating ensures the food is the star of every photo. For example, the Mixed Berry Açai Breakfast Bowl (shown above) starts with a base of whole grain cereal and whole milk Greek yogurt, but once the honey puffed grains, strawberries, raspberries, blueberries, coconut, hazelnuts, mint, and açai powder are added, the white bowl ensures the food stars in the type of dynamic photo that jumps off an Instagram feed.
But even with Mansfield's trusty bowls (she just got a shallow one to help amplify those single serving shots), photogenic marble slab, and tried and tested methods, she still gets stumped. So when she doesn't know how she wants something to look -- like this recent chickpea-less beet hummus -- she takes to pen and paper. "I didn't really know how to photograph that because it was just a bowl of this pink dip," she says. "So I took out a piece of paper and drew how I could put carrots around it and different bowls, and I'll try and kind of outline [something like that]."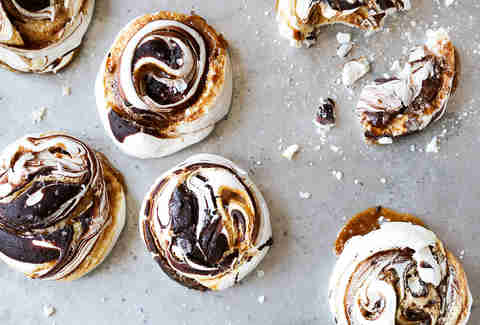 ...But never forget the background
When she started, Harris didn't know how to do anything except make beautiful food. She quickly learned that the only way to get better would be by trial and error. Using a DSLR professional camera, she shoots constantly. "I mean thousands and thousands of photos," she says. "You just learn how your camera works and what light works in your house. What time of day [is best to shoot], on what side of the house."
Of course, natural light is just one important element of a great food pic. At Chobani Café, the huge glass windows have lent to its inviting atmosphere and its viral setting, but that's not all. Chobani's spokesperson says the harvest table is always decorated with fresh seasonal fruits as an ode to our natural ingredients, and often serves as a background element in people's photos.
Other elements in the café that symbolize important company history naturally align with what works well on Instagram: wood (the spoons) represent Chobani's farming roots, glass represents its transparency, and metal symbolizes the manufacturing background. So while they didn't seek out to attract foodies, shooting at the cafe has the potential to make you the most popular person within your social (media) circle.
"With Instagram you eat with your eyes, so if the food isn't making you salivate, then I'm not doing my job."
Give the people what they want
Both bloggers say they started gaining a following when they began sharing consistently and determined what posts do well. Of course, if you have tastebuds, the big winners probably won't surprise you: desserts and anything with avocado. This chia pudding with banana, almond butter, and chocolate from Mansfield is a "prime example" of what people like to see. "Just having the topping laid on the floor is very pretty on the eyes," she says. "And with Instagram you eat with your eyes, so if the food isn't making you salivate, then I'm not doing my job."
If you scroll through your feed on a Sunday morning, how many photos of avocado toast will you see? Well, there's a good reason. Harris says it's one of her favorites and performs really well -- yes, because it's delicious, but also because it's simple. "You can just see that this is avocado and there's some kind of cheese. I put broccoli and kale, and then you can go and make it. Like, I don't even need to tell you," she says, "You can just see it -- and that's what I love about Instagram. That [sense] of immediacy."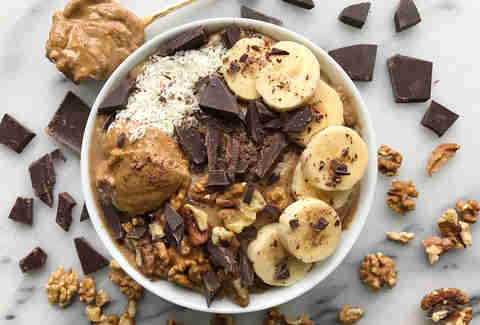 A community service
Mansfield cringes at the word "followers," even though she knows that's the technical Instagram term. "If I say 'followers' I sound like I'm Kim Kardashian," she says. "But really, they're so much more than that. They're my people. They're the people who motivate me to get up every morning and keep making recipes."
Not only has she formed close bonds with people over Instagram, meeting up with other bloggers when she was in California and having others visit her in New York ("We're all brought together by this perspective and passion for what we do. It's so special to be connected to these women," she says), but she's constantly picking up tips from the community as well.
For example, when she was making bone broth, a user commented and told her she was boiling the chicken at too high of a temperature and she'd ruin the nutrients that way. "It's a lot of random things, but I think it shows that bigger Instagram accounts don't necessarily know everything," Mansfield says. "We're all learning from each other."
Because Chobani believes food is meant to be shared, the café has communal tables. It's also why Instagram is Harris's favorite social media platform.
"The more you use it, the more you develop a community -- and that really is important," she says. "The people I interact with… I love seeing their their content and their beautiful work. It inspires me to keep making my working better."
So whether an account has 500,000 followers or 500, is just getting started or has been at it for years, behind each one is a person -- completely human, passionate, and eager to inspire healthy eating.