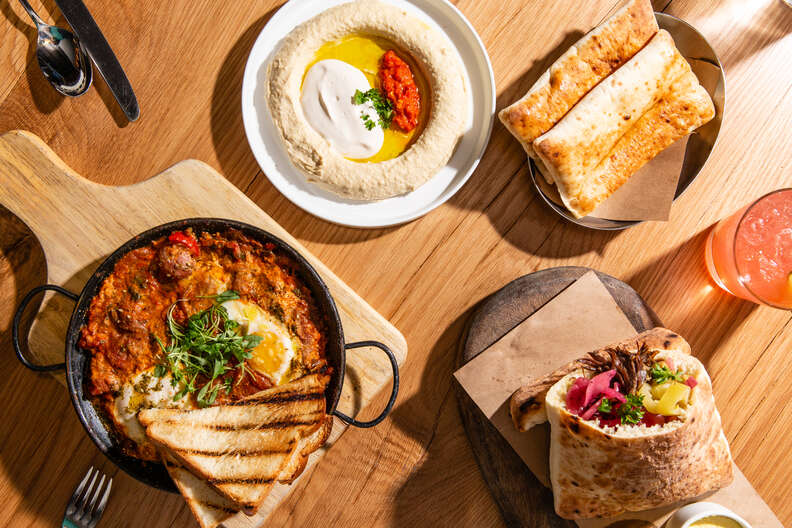 Why There's Never Been a Better Time to Eat Jewish Food
First came the hipster delis. Then babka went viral. Now, Broad City is filming scenes at Russ & Daughters Cafe and people are making burgers with latkes for buns. There's no doubt about it, Jewish food is everywhere, and it's undeniably cool.
But only 10 short years ago, things were not looking great for the centuries-old cuisine. Food media was screaming about the rapid disappearance and decline of the Jewish deli, which seemed to indicate a declining interest around Jewish food in general from the millennial generation. Delis of course, are central to the Jewish-American identity and were also previously some of the only places (save for bagel shops & bakeries) where someone could enjoy the cuisine outside of the home. Soon the next generation of Jewish-Americans realized that as their older relatives started to pass on, traditions, recipes, and culture would die along with them, unless they did something about it. They also realized that they had to help make it relevant to attract a younger, restaurant-going audience.
"New wave" delis started popping up in notoriously influential food cities as early as 2007 (the same year as David Sax's Save the Deli blog launched) with Portland's Kenny & Zuke's, followed shortly thereafter by the likes of Wise Sons in San Francisco and Brooklyn's Mile End Deli in 2010. These restaurants focused on old-school techniques but using high-quality ingredients. They played around with fusion too (ie, Mile End's Chicken Schnitzel BLT et al).
Younger generations of Jewish-Americans like Noah Bernamoff, co-founder of Mile End Deli, felt a call to action. "My grandmother had just passed away," Bermanoff recalls of the summer of 2010. "The way I comforted myself and addressed that was to start digging into her recipes. I soon realized, this is what we should be doing -- we should be serving Montreal deli food, and it needs to be defined as being Jewish." Like Bermanoff, many others have opened new wave Jewish food businesses in the past couple of years.
So what exactly makes a food "Jewish?" In the past that was a much more literal thing, having to do with a food's Kosher designation for religious Jews who followed Kashrut dietary laws. Jews that immigrated to the US from Eastern Europe during the early part of the 20th century brought the foods they grew up eating in those regions to hub cities like New York and Chicago. Many were simply classic takes on Eastern European dishes like dumplings, smoked fish, and soups that were Kosher-friendly. Ashkenazi Jewish traditions stuck and became what we consider Jewish food in America, many strictly Kosher, and later, many not so much.
The book and digital feature, The 100 Most Jewish Foods, which was released in March of this year by Tablet Magazine, attempts to answer the same question, ie "what makes a food Jewish?" with a list of 100 items. "While they may not be the best or tastiest Jewish foods, they are very, very Jewish," says editor Alana Newhouse. There's no scientific algorithm at the heart of it that clearly leads to all of these entries. The challenge for us in asking what foods have the greatest Jewish significance -- meaning they've played a role in the Jewish experience throughout history or in contemporary times in a way that feels elevated and vital." In the book you'll find essays on everything from Entenmann's donuts to gefilte fish.
Since Jewish people have been diasporic for most of their history, this means food influences are global. Thanks in part to influential chefs like Yotam Ottolenghi, Mike Solomonov (Philly's Zahav) and NYC's Einat Admony (Taim, Balaboosta) who have fostered so much interest in Sephardic Jewish food traditions, Israeli food (which is incredibly challenging to define) is now often considered by some to be under that umbrella of Jewishness despite the fact that if you "ask any chef in Israel and most will tell you that they don't consider their food Jewish," according to food writer Gabriella Gershenson.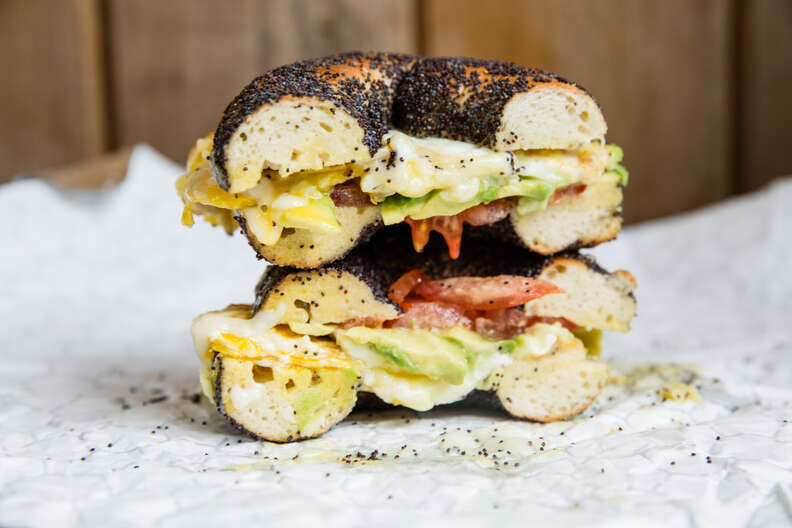 Bermanoff and his partner Matt Kliegman later opened Black Seed Bagel, which now has five locations (including one in Brooklyn), a James Beard nomination for its head chef/baker Dianna Daoheung and inspired a whole new set of would-be bagelmakers in NYC and beyond including Baz and the sit-down concept Sadelle's, from Major Food Group which specializes in artisanal bagels and featured cured and smoked fish from a top-notch purveyor.
Around the country, trendy spots like Washington, DC's Call Your Mother markets to millennials with neon purple graffiti and sandwiches with names like the Rihanna-Flex and The Efron. Half Sour in Chicago plays with fusion in dishes like pastrami chili and smoked salmon dip. Daughter's Deli in West Hollywood is the 2.0 version of Trisha Langer's namesake family restaurant.
Over the past couple of years, things have gone a few steps further — far beyond just bagels and deli fare. Freedman's, which opened in 2017 in LA's Silver Lake neighborhood, serves kasha-laced tartare, pastrami plates, and sweetbread schnitzel inside what feels like a hipster bubby's house (think retro light fixtures and vintage print wallpaper). "For me and so many others, it was food that felt like home and like comfort," says co-owner Jonah Freedman on why he was drawn to Jewish food as the focus of Freedman's. "It was food wrapped in memory, nostalgia, and family. ...We wanted to look at the roots and history of Jewish American and Ashkenazi cooking and try to reinvigorate and reinterpret it." The restaurant secured a James Beard nomination shortly after opening in fall 2017 for its former chef, Liz Johnson, and graced Bon Appétit's 10 Hot issue cover in 2018, widely considered one of the hottest restaurant openings of the year.
In San Francisco, chef David Nayfeld, opened the critically acclaimed Che Fico in 2018 as well, which was heavily inspired by the Cucina Ebraica, the Jewish cuisine of Rome. While waiting to immigrate to the US, Nayfeld's parents, originally from Belarus, spent six months in Rome, and were finally able to purchase food items they desired, without having to ration. "The flavors spoke to me in a familiar way," Nayfeld tells us. "They were a marriage of so many childhood memories and my newfound passion for everything Italian." Dishes like grilled chopped duck liver and supplì fried rice balls are examples of Nayfeld's interpretation of Cucina Ebraica, alongside plates of more classically Italian items like Neapolitan pizza and pasta pomodoro.
The influence of Jewish food is not just in specifically Jewish concepts, but it's everywhere. Los Angeles' breakfast-focused spot Sqirl made waves with a green shakshuka. Nearby Kismet combines Middle Eastern flavors with California cuisine in a similar way, popularizing the flaky Yemenite Jewish bread malawach.
And then there's the institutions, who have invested in strategies to revitalize their legendary brands and keep them relevant to a young audience. The most conspicuously overt millennial marketing attempt in recent memory has to be a speakeasy-esque concept called 2nd Floor, opened by 2nd Avenue Deli above their Upper East Side location in 2018. Here you'll enjoy $16 crushed ice cocktails, and snacks like gefilte croquettes, bone broth, and pastrami deviled eggs.

Kossar's Bialys, a legendary Lower East Side institution for bialys in NYC, reopened in 2016 inside a revamped space with new branding and a snazzy website. The iconic Katz's Deli, now owned by 31-year old Jake Dell who took over the business from his father and uncle in 2009, added a new Brooklyn location inside a bougie food hall in 2017. This first-ever expansion of the legendary deli might have seemed improbable pre-2009.
Fourth-generation owners Niki Russ Federman and Josh Russ Tupper took over from their parents in the mid-aughts as well, expanding to open Russ & Daughters Cafe in 2014. More recently, they made a major investment for their next 100 years of business -- an 18,000 square foot space in the Brooklyn Navy Yard they're now using as the hub of their family-run operation, Russ & Daughters. Here they finally have the space they need to mass produce speciality smoked & cured fish, baked goods like bagels & knishes, and much more. And customers finally have room to breathe (the original LES location is almost always packed shoulder to shoulder) with plenty of seating and room to order.

Beyond the classic "Ashkenormative" dishes found at delis and appetizing shops (matzo ball soup, lox, latkes, et al.) which have long defined what Jewish food is in America to a mass audience, the list of foods that fall under the umbrella of "Jewishness" has gotten broader and more nuanced in the last few years. Highly personal storytelling, through cuisine, has also catalyzed the ascendance of Jewish food to the mainstream. Cooks are bringing a distinctly personal point of view that highlights their own unique heritage -- and the results are more delicious than ever.
Sign up here for our daily Thrillist email, get Eatmail for more food coverage, and subscribe here for our YouTube channel to get your fix of the best in food/drink/fun.
Kelly Dobkin is a writer/editor, culinary school grad, and recovering waitress based in Brooklyn, New York. Her interests include piña coladas (check out @piningforpinas), cats, pizza, and sushi she can not afford. Follow her on Twitter and Instagram.