Strong, Black, Bold: One Woman's Heroic Charge Through the Cold Brew Game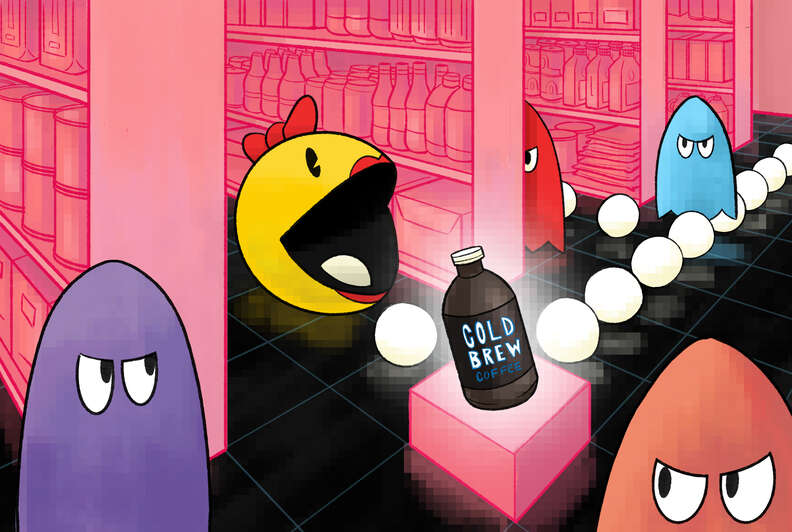 Jason Hoffman/Thrillist
Jason Hoffman/Thrillist
According to Dauber, a highly respected commenter on the Atari Age forums, the bonus fruits in Ms. Pac-Man usually come out of the tunnel in the center of the screen once you've eaten between 67 to 72 dots. And sure enough, when Mamaleelu Cold Brew Coffee founder Maliesha Pullano's Ms. Pac-Man avatar eats 68 dots, a peach appears on the screen.
When Pullano plays Ms. Pac-Man, her entire body becomes one with the joystick. If Ms. Pac-Man slides right in the tunnel, Pullano slides right. If Ms. Pac-Man doubles back to avoid ghost, she jerks her body back. If Ms. Pac-Man takes off after a peach, Pullano says out loud, "I gotta get this peach."
And right now, she's gotta get this peach. By the time Pullano manages to corner the fruit in the lower left tunnel, the increasingly hostile ghosts have lost their beehive mind, and swarm at her with frankly unnerving gusto. Still, she manages to twist and turn enough to give herself a clear path to an energizing pellet. But just as she reaches the final right turn and appears home free, she accidentally jerks the joystick up, and Ms. Pac-Man's promising, fruit-saturated run abruptly ends. Pullano lets out a frustrated yelp.
"Sometimes you kill the game," she says, shrugging. "And sometimes the game kills you."
If cold brew coffee were a game, it would likely be Magic: The Gathering -- originally just for nerds, slowly introduced into mainstream culture, and now everywhere.
Initially a darling of the "third wave" coffee shops, cold brew (coffee made from steeping coffee beans in cold water for a long period of time to draw out flavors in a softer, more nuanced way than the traditional method of heating them) has taken off, initially thanks to third wave pioneers like Stumptown, Intellegentsia and Blue Bottle expanding their ready-to-drink cold brew lines. In the last four years, cold brew has seen a serious spike in popularity, with a 370% rise in sales from 2015 to 2017 and the accompanying flurry of stories with headlines declaring "Cold Brew Might Save the Coffee Market." And from there, of course, came ubiquity. Starbucks introduced its own cold brew in 2015. Last year, McDonalds and 7-Eleven both launched cold brew drinks. And this year, Panera joined the party. At this point, Tillamook Dairy has cold brew yogurt, Ben & Jerry's has cold brew ice cream, and Sugarfina has cold-brew gummy bears.
But back in 2013, when Maliesha Pullano first thought up the idea for her own cold brew company in Kalamazoo, Michigan, she wasn't worried about an eventual market saturation, just survival. More than just the rise of cold brew, Pullano's story is a case study in both the difficulties small business entrepreneurs, especially women of color, face sustaining a business, and the resilience you need to survive in America's 225 billion dollar coffee industry.
Pullano was born in Benton Harbor, an economically depressed southwest Michigan town and a twin city with the more well known, affluent beach town of St. Joseph. Though both cities are technically along Lake Michigan, St Joseph basically owns five miles of coastal lake front land, whereas Benton Harbor has less than one. If you look at a map, St. Joseph looks like a body splayed out across the water with Benton Harbor politely waiting behind it, one small hand reaching towards the lake.
As a teenager, Pullano experienced bouts of homelessness, and during her late teenage years, felt directionless -- taking junior college classes and working at Steak 'n Shake and other temporary jobs. After having her son Robert when she was 22, she realized she needed to get out of Benton Harbor and do more with her life, so she and her son moved an hour east up to Kalamazoo so she could attend Western Michigan. Eager to continue to expand her horizons, she became the first woman with a child in tow at Western to participate in the study abroad program, spending a year in the small Spanish city of Alcalá de Henares.
In the movie version of this story, Pullano would've instantly fallen in love with Alcalá's cobblestone streets, the white storks perched atop the cathedral, the men and women walking arm and arm through Cervantes Plaza as chestnuts roasted on open fires. Enchanted by this literal embodiment of a Johnny Mathis Christmas song, Pullano would have decided to raise Robert there and make a new life with Benecio Del Toro.
But in reality, Pullano, who'd never been out of the country, arrived in this small city 20 miles northeast of Madrid speaking almost no Spanish, and suddenly it dawned on her that maybe she hadn't thought this through. That first day she and Robert both lay down to take a nap and Pullano prayed that when she woke up, she'd be back in Michigan and it would all have been a dream.
And honestly, she could've gone back. She could've judged the whole experiment a disaster and boarded the next plane home, and chalked it up as a mistake. But that's not in Pullano's nature. She forced herself to stick it out, knowing that if she pushed through the discomfort, the experience -- whatever it was -- would ultimately be beneficial to her and her son. And so, for a year Pullano lived in Alcalá, enrolling Robert in school, picking up Spanish, and learning to love the strong coffee the Spaniards drank.
After graduation, Pullano worked as a school photographer. But after eight years she was laid off, just as she'd had her second child, Lulu, in January of 2013. With a new child and no job, Pullano felt terrified she might lose her home. "I was getting eviction notices every month on my door, and I'd wake up every morning with this terrible feeling in the pit of my stomach. I didn't want to get up and face it."
One day, down at the Kalamazoo Farmers Market, she ran into a Ugandan woman she'd gotten to know named Betty Udongo, whom everyone called "Dr. Betty." When Udongo saw Pullano's crestfallen face, she got worried. "Mamalulu, what's wrong," she asked, using her nickname for Pullano.
When she finally told Udongo her problems, Udongo asked what her talents or skills were. But Pullano, who couldn't even muster up the energy to feel she was worth something, told her "I do nothing."
Udongo, determined, wouldn't let her get away with that. "Surely you do something. Can you cook?"
When Pullano admitted she could cook, Udongo immediately put her to work making and selling her famous samosas door to door for $2.50 a piece. She was only making maybe $30 a day, but it gave her a feeling of purpose, and money in hand to put towards her rent. Eventually Udongo told her they should go into business together, and mentioned Can-Do Kitchen, a non-profit food incubator that gave scholarships to low-income grant applicants to launch small businesses.
But when Udongo was forced to go back to Uganda over visa complications, Pullano was on her own. Still, she pushed forward, knowing the grant could be a lifeline if she figured out the right idea.
One day, she wandered into the grocery store drinks aisle and saw something called cold brew coffee for sale. Though she didn't have the money to buy it, she did some research and became fascinated by the seemingly simple process, and the fact that it was hip in the third-wave coffee community. Suddenly, the passion for coffee she first cultivated in Spain came roaring back. "This is what I have to do," she thought. Only problem: The application deadline was a week away, and Pullano had never made cold brew before in her life.
Quickly she got to work, experimenting in her apartment, tinkering, reading everything she could. And on January 15th, 2014, her daughter Lulu's first birthday, she finished her application and presented it to the seven-person board.
"How long have you been doing this?" one of the board members asked her during the presentation, as she passed out samples.
"Oh you know," Pullano said, worried a wrong answer could derail her chances. "A... while?"
The panel was impressed -- none were very familiar with cold brew -- and they thought the idea was promising. Can-Do gave out nine scholarships that year. Pullano got the second-to-last.
Maliesha Pullano's secret sauce, her energy source, her magical alchemy comes through in the effect she has on the people in her path. "Anytime Maliesha is around other people you see it," said Dilley. "She's this warm, kind force of nature."
One spring day Pullano takes me to the People's Food Co-Op Natural Grocery & Deli on Harrison Street in Kalamazoo. The building, which looks like someone carved a right triangle out of a barn, has an office in the back. When we walk in, it's like Pullano took a snow shovel filled with pixie dust and tossed it throughout the room. If you could monetize social capital, she'd be rolling in it. Pullano goes from person to person, exchanging hugs, taps on the shoulder, and little jokes with all of them. One, who is working on a beard balm, tells me she motivated him to pursue his dreams. "And I'm going to need you to remember that when this balm takes off and you become famous," she laughs.
The range of personality shown by Pullano would stagger an acting coach. She's equal parts sarcastic, teasing, happy, empathetic, and concerned, all in the space of six minutes. When we walk out, all the people in the office are smiling and in better moods and I am staggered. It seemed like she'd known everyone forever.
"Did you grow up with those folks?" I said, as we walked into the actual store so she could show me the display where they kept her coffee.
"Ha!" She laughed, as if that was the craziest thing. "I only knew about half of them, why?"
Later on, we pick up Pullano's six-year-old daughter Lulu from school for the hour long drive to Benton Harbor, through the peach and apple tree orchards of Michigan's fruit belt. As we pass the rusted exterior of "Surfari Joe's Indoor Wilderness Water Park" water slide inside a Fairfield Inn in Watervliet, Pullano talks Michigan, everything from Kate Upton's family's political dynasty, to the Flint water situation, to general waterways issues. Pullano has an expressive, kind face, the type that's almost backlit when expressing emotion, but it's her voice, honeyed by years in the service industry, that is truly striking.
A mezzo-soprano/contralto with the tonal qualities of a particularly dynamic librarian, its beauty turns particularly exhilarating when the occasional swear slips out. "You don't know about Kate Upton's uncle Fred, the congressman?" she asks me at one point, and shakes her head laughing. "Shiiittt."
Over the course of the next few hours, we tour Benton Harbor. Pullano shows me the Ravines, a trailer park where she grew up, her high school (she played the flute in the marching band), her father's old barbecue place, and then we head over the Bicentennial Bridge into St. Joseph and drive along Silver Beach, with its beautiful, beach-front homes and picturesque, little downtown. And then we drive back through Benton Harbor, over kiddie-pool-sized potholes, and stop by this little airport off of Red Arrow highway that used to be her grandfather's land. We sit staring out at the fields, crisscrossed by runways and hangars. "I have dreams about this place," she says softly, more to herself than to me. And then she snaps back into it. "Alright, should we head back to Kalamazoo?"
By June, 2014, the day of her son's graduation from high school, Mamaleelu Cold Brew Coffee was open for business at the Kalamazoo Farmers Market. The Can-Do Kitchen incubation process had started in earnest in March, working off a checklist Dilley and her team had refined over the years. The most common mistake was an eagerness to rush in without the knowledge of how exactly to do that.
"People come in and say they're ready to get their [business] license," said Dilley. "But then we'll tell them 'before you get your license you need to have a label approved. And before you make your label, you really should have a brand. And before you have a brand, you should figure out who your target customer is.' A lot of people don't realize they need to go back and do that foundational work first because it helps so much. Maliesha didn't have that problem."
As part of that process, Pullano met with Melissa Al-Azzawi, the creative force behind Mazawi Design, who was consulting for Can-Do. Pullano pitched the idea for a futuristic design, with the coffee in boxes, and the name Coffee Cubed. Al-Azzawi, who'd just heard Pullano's story, immediately rejected it. "This doesn't speak to your values," she told Pullano. "It has nothing to do with everything you've just told me."
Instead of being frustrated by Al-Azzawi's critique, Pullano liked her style ("Melissa was blunt and cussed a lot, so I loved her from the start," she says now). Together they settled on the name Mamaleelu, an homage both to Dr. Betty's nickname and both of her children (Lee is Robert's middle name), and the tagline "Strong. Black. Bold." At first, Pullano was nervous about the name. "I'm selling a $10 bottle of artisan coffee concentrate at health food stores," she remembers thinking. "I just assumed that my audience would be mostly white, and so I was afraid that if I didn't make them comfortable, it wouldn't sell. It was my own form of stereotyping, but I was in survival mode, and outside of actual barista jobs, I hadn't seen other black faces in coffee."
In 2018, Phyllis Johnson, president of coffee purveyor BD Imports, addressed this issue with a story in the coffee trade publication Roast Magazine that asked, "Why aren't African Americans more prominent in the coffee industry?" In it, she laid out a convincing argument that it was both illogical and just plain bad business to ignore African Americans, who represent 13% of the population. She listed off misconceptions in the community around coffee and health, marketing choices (whereas fruit juices and sodas often used African American athletes to market their products, Johnson argued, coffee routinely used "middle aged white men" as their spokespeople, etc.) and anecdotal thoughts from other African Americans in the coffee industry, including Pullano, who offered, "Not only do we need to see ourselves, others need to see us."
When I talked to Johnson on the phone from her business in Atlanta, she told me she was motivated to write the article because she was "tired of being the only black woman in crowded rooms where decisions are made." As Pullano noted, she said most other African Americans she runs into in the coffee business are baristas, or maybe manage a shop, but don't think past those roles. "It's like this closed society," Johnson says, "and when you're on the outside, you have no idea how to gain entry."
For Pullano, Johnson's article hit home in two different, equally powerful ways. For one, it was finally addressing her insecurities in trying to launch herself in the coffee industry, which was -- on the consumer/professional side -- predominantly white. But it also hinted at something Lucy Dilley mentioned in the Can-Do Kitchen: "The extra layers of crap Maliesha has to go through as a woman of color just to launch a small business, it's so frustrating."
In Kalamazoo alone, the discrepancy between revenues for black-owned and white-owned businesses is staggering. According to Dwayne Powell, the Neighborhood Business & Special Projects Coordinator for the city, businesses owned by African Americans average only $25,000 per year in revenue, whereas non-Hispanic, white owned businesses earn, on average, $438,000. To help combat that, Powell told me, the Kalamazoo city government has launched several initiatives under Shared Prosperity Kalamazoo and its Foundation for Excellence including giving out zero percent interest loans, and also exploring the idea of a city run incubator. "It's still early though," says Powell. "And if we're going to combat systemic issues, the only real way to do that is by putting the proper systems in place. It's in everyone's interest to see people like Maliesha succeed."
"I'm not trying to get rich … I'm just trying to try."
Nearly every other day Pullano goes to a communal kitchen in downtown Kalamazoo, gets filtered water, sanitizes her equipment, sets up her Filtron Pro, grinds the beans, and leaves it to seep overnight (she also keeps a box of toys for Lulu in the kitchen, so she can play while her mom works). The next day, she sanitizes her bottles and cans, filters into her buckets, and sets a table up with 36 bottles or cans, filling them by hand. When her first cans came out "squishy," she again would not let that deter her. She taught herself physics and chemistry, and went as far as calling a Western Michigan chemist to explain what went wrong (the answer: there was no pressure inside the can). Eventually, Pullano created workarounds, putting in more liquid because she knew it would contract as it got colder.
After she's done, she dabs the cans to make sure they're dry, hand labels all the expiration dates, and stores them until they're ready for delivery to the local co-op, or Whole Foods, or one of her other accounts. Most of the time she delivers everything herself. She is, in every respect, a one-woman business.
But she wants to be so much more than that. Pullano understands that the personal connections you make can mean the difference between a business expanding or failing, and with her magnetic charm, she realizes going to makers and coffee conferences to network and develop more contacts is in her best interest. The problem is, most are prohibitively expensive, or out of state, and don't offer scholarships, or pathways for nascent, financially disadvantaged entrepreneurs to get in the door. "I know in my heart that if I got in front of more people and went to more conferences, the business would grow," she told me. "But in order to get in front of more people, I need the business to grow, so I can have the money to attend [the conferences]. It's an incredibly tough cycle to break."
And in fact, it was through the Michigan Makers Summit that Pullano got her first Whole Foods account (Can-Do Kitchen helped pay her way to the summit, in exchange for helping work their booth). Pullano remembers the buyer being interested and even excited about her coffee, and then going through the grueling three-month vetting and on-boarding process, and finally seeing a picture of her product in the East Lansing store, taken by her friend.
"It was exhilarating in the moment," she says. But then she remembered another vendor at the Farmers Market, a woman who made fake meat products, and how she'd also been in Whole Foods, and then, one year later, she was completely shut down. "It made me realize there is no magic pill," she says. "You're in Whole Foods one day, and out of business the next."
Her main frustration was the perception that, because she was, as Dilley put it, "the most successful of the scholarship recipients, the one who has grown her business the most, the one in stores," that somehow she wasn't still struggling to stay afloat.
"I've been in business for five years and I haven't been able to afford to pay anyone else to help me. I haven't been able to pay myself other than bills." Pullano lists off the people involved who also get a slice of her pie, from the producers, to the wholesalers, to the distributors, to the stores. She tells me, in five years, with sales and everything, she's probably made a total of $50,000 "not counting expenses." She figures she's living on around $12,000 a year, which is "pretty much" where she was before she started the business.
"The difference is then I was just in a rut, treading water," she says. "But this thing is my baby, my row boat and my oars, and I feel like as long as I believe in it, and keep moving, I'm hoping I can grow it and finally earn enough to feel safe."
Safe, Pullano thinks, means having enough left over to pay an employee to help her out so she has the bandwidth to think about growing the business and meeting with more vendors, or food hubs, or buyers for the various hospitals and other large businesses in the Kalamazoo area. Safe means figuring out how to scale, so she could get a food broker, and start doing a higher volume of business.
There are promising leads out there. Pullano has been in on-again, off-again talks with a large local coffee company for the past six months (again, someone she met at a conference). Whether it would be a licensing deal, or help with distribution, or something else altogether remains to be seen. But Pullano sees all of these moves as steps towards her goal of building a network to help connect and elevate other black-owned coffee businesses so everyone can support each other.
"I'm not trying to be rich," Pullano tells me. "I'm just trying to try."
Back in Kalamazoo after our trip down to Benton Harbor, we just make a meeting about a play Lulu is acting in. The meeting is at a school in Vine, a beautiful neighborhood filled with big, old homes and lanky, septuagenarian oaks. After the meeting, Pullano drives me past a modest pink and green three-bedroom in the neighborhood with a big deck. "This," she says conspiratorially, "is my favorite house in the world."
She tells me a story about how, when it was on the market a few years ago, she used to call the realtor just to hear the description of the house, so she could imagine herself in it. And she'd drive past blasting the song "Whatever Lola Wants" to try and make some sort of cosmic connection.
"Lola is one of my personas," she says, slightly embarrassed. "But it's my confident persona. So I feel like if Lola puts it out into the world, and I really make this business work, this house is going to be the reward for all that work, and come back around to me."
Pullano looks at me and smiles. "Hey, if you don't believe it will happen, it ain't gonna."
She stares at the house again for a long while, and then taps her finger on the steering wheel and drives off, softly humming the song under her breath.
Sign up here for our daily Thrillist email, get Eatmail for more food coverage, and subscribe here for our YouTube channel to get your fix of the best in food/drink/fun.
Kevin Alexander is Thrillist's National Writer-at-Large, Food. His book on the unique mix of people, places, and circumstances that led to the last decade of eating/drinking in America, BURN THE ICE: The American Culinary Revolution and Its End, was published in July by Penguin Press. He is a 2017 James Beard Foundation Award winner.