It Takes 20lb of Apples a Week to Feed a Duggar-Sized Family
America's collective fascination with large broods is well-documented -- turn on TLC at any given moment and you'll catch the Gosselins, or the Willises, or, until very recently, the Duggars shepherding their legions of children around town. And while so much of how big families function has been demystified by those shows, we were curious about how huge families without a TV contract run. Specifically, how they run their kitchens, because holy crap, we thought our grocery lists were long.
So we reached out to three moms who have documented their family life through blogs. Renee Bergeron writes about her 14 children on Little Earthling, Cindy Lutz chats about her 12 on 12-Arrows, and Catey Ball has blogged about life with her 10 kids on Random Thoughts from the Zoo. Here's what they had to say about Costco runs and dinnertime.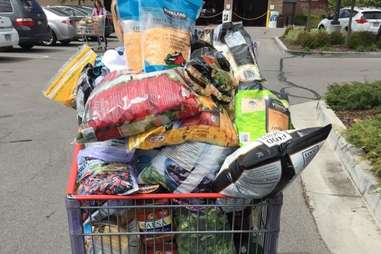 How often do you go grocery shopping?
Renee Bergeron: "I do a big shopping trip every two weeks, where I stock up on staples such as: flour, beans, rice, oats, salad dressing, etc. Then I go the alternating week and buy fresh produce, meat and dairy products."
Cindy Lutz: "Once a week, every Monday, after I drop my kids off at school, I drive down the pass to Colorado Springs and grocery shop."
Catey Ball: "Big grocery shopping at a warehouse-type store is usually done once a month. In addition to that big trip, there is usually one smaller trip to Walmart or a neighborhood grocery store each week for perishables, produce, etc."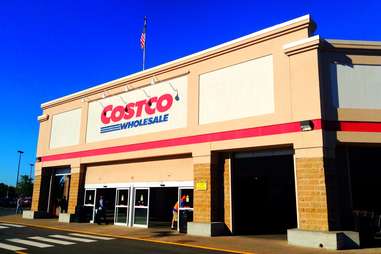 Where do you typically shop?
Renee Bergeron: "I go to Costco once a month on one of big stock up trips, and then to Cash and Carry -- a restaurant supply store -- once a month. For my weekly trips, I often stop by a local grocery store."
Cindy Lutz: "King Soopers, sometimes Walmart if we run out of items before Monday."
Catey Ball: "Costco, Walmart, and our neighborhood grocery store. We do usually order our chicken from Zaycon, a company that facilitates group purchasing events, so we will buy a few 40lb cases of chicken breasts a couple of times a year, then we freeze them for use over a couple of months."
"It's common for stores here to have what they call "case lot sales", where you can buy larger quantities such as cases of canned foods at a regular grocery store at a lower price than normal. This is also typically when we purchase beans and grains in large quantity; for example, we typically buy rolled oats in 50lb bags and then store them in 5gal food-grade buckets."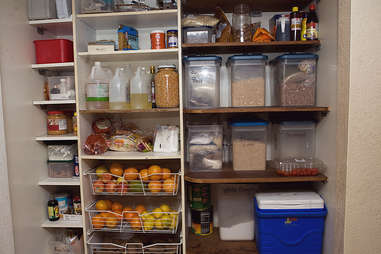 What kind of items do you buy the most?
Renee Bergeron: "Always fruit and veggies. I once bought a 40 pound box of bananas intending to bake with some of them and freeze the leftovers for smoothies....my kids ate the entire box in less than a week! We can go through 20 pounds of apples a week. We buy flour, oats, and rice in 50 pound bags. I buy 4 double loaves of Kirkland bread at Costco at a time. People are always surprised that we only go through a gallon of milk a week, but we don't actually drink milk, we just use it in cereal, oatmeal or for baking."
Cindy Lutz: "Meats, dairy, breads and cereals, staples monthly."
Catey Ball: "We try to concentrate on staples vs premade/packaged foods. We bake/cook a lot from scratch, which not only tends save money, it makes me feel a little better to know what exactly we are eating instead of wondering about a list of ingredients that is often incredibly long! Chicken is the meat we most often buy, oats, rice, quinoa, beans, eggs, fresh and/or frozen fruits and veggies, cheese, and since we bake from scratch we tend to buy large quantities of four, sugar, etc."
How do you plan out your family's meals?
Renee Bergeron: "On a good week I will plan out every dinner... on a bad week I wing it, which is never a good thing with 11 people to feed!"
Cindy Lutz: "I pull out all my cookbooks and search for recipes, pull out the ones I am going to use and make my weekly meal menu from that."
Catey Ball: "I try to map out two weeks of dinners at a time. We often stick to a couple dozen favorites that we have frequently, as we know everyone, or almost everyone, will eat them. We do try to experiment a couple of times a month as well so that we are helping our kids to try new things. I usually ask the kids to help pick new meals, as when they are involved in choosing and helping prepare meals they tend to be more likely to eat them. We do also try and eat seasonally. In the summer we are eating more veggie-based meals and utilizing what we grow in our garden."
What are some things you frequently make for dinner?
Renee Bergeron: "Some of our favorite dinners include chicken curry over rice, Philly cheesesteaks with potato wedges, potato soup, chicken gumbo, homemade chili, tacos, chicken enchiladas. We have homemade pizza every Friday. We generally make six large pizzas."
Cindy Lutz: "Spaghetti, tacos, meat loaf, sloppy joes, BBQ chicken."
Catey Ball: "Things like fajitas, salads, pizza, or a pasta bar -- meals where everyone can choose their own components helps keep a healthy balance and please more palates. Casseroles/one dish meals make a relatively frequent appearance as well. Soup with homemade bread or rolls is a staple in the fall and winter."
Besides quantity, how is grocery shopping for a large family different than shopping for a smaller one?
Renee Bergeron: "I can't do the typical "make two and freeze one." When we eat muffins for breakfast, we go through four dozen. Can you imagine me doubling that to make life "easier"? We eat a lot of sauces over rice with veggies on the side. I think we probably eat less meat than a smaller family because I try to stretch it as much as is reasonable."
Cindy Lutz: "Less time consuming, we don't run out of staples as fast as with a large family. The food budget can be significantly less with a smaller family."
Catey Ball: "For us it isn't terribly different, other than it taking a little more planning than when we had just a few kids. Well, other than the odd looks we often get with more than one grocery cart."
Finally, can you share a grocery list with us?
Renee Bergeron's Monthly List
-50 pounds oatmeal
-50 pounds rice
-20 pounds of beans
-6 whole chickens
-1 gallon of salad dressing
-10 loaves of Costco bread
-30 pounds of apples
-10 pounds of spaghetti noodles
-Four gallons of milk
-Five pounds of shredded mozzarella
-Five pounds of cheddar cheese
Cindy Lutz's List
-2 family packs of individual bags of chips
-4 boxes of Little Debbie cakes
-2 Nutella packages
-6-8 boxes of cereal, whatever is on sale
-4 loaves of bread
-2 dozen eggs
-1 celery stalk
-6 cans of tuna
-4 cans of soups each: chicken noodle, veggie, tomato, cream of mushroom, cream of chicken
-2 gallons of milk
-2 coffee creamers
-2 cans of pizza sauce
-1 pkg pepperoni
-1 pkg mozzarella cheese
-2 bags of chocolate chips
-2 bags of butterscotch chips
-1 18oz peanut butter
-1 thick sliced bologna
-4 cans of green beans
-4 cans great northern beans
-2 nacho chips
-2 Fritos
-12 pounds hamburger meat
-Pork chops
-6 cans of sliced potatoes
-Ham slices
-2 old-fashioned egg noodles
-2 applesauce
-6 frozen pizzas
-2 pkgs of bacon
-2 pkgs of sausage links
-1 bottle of syrup
-24 Gatorades
-24 bottles of water
-Coffee
-Frozen veggies: 6 corn, 6 peas, 6 carrots, 6 broccoli
-Chicken breasts
-1 25 lb. turkey
-Dinner rolls
-2 big tubs of real butter
-4 raspberry Jell-Os
-Head of lettuce
-2 cukes
-1 pkg baby carrots
Catey Ball's Costco List
-2 10lb bags sweet potatoes
-3 bags of salad mix
-1 or 2 pkg of lettuce (3heads/pkg)
-4lb bag of spinach
-1 or 2 pkg bell peppers (6/pkg)
-10lb bag of whole carrots
-5lb bag of baby carrots
-3 6lb bags of pancake mix
-5lb block of cheddar
-5lb of shredded mozzarella
-Frozen fruit -- berries, pineapple, mango
-25lb bag of flour
-25lb bag of sugar
-10 dozen eggs
-4 gallons of milk
-2 4lb bags of frozen broccoli
-2 4lb bags of frozen peas
-2 16oz jars of peanut butter
-8lbs of butter
-4 32oz tubs of plain Greek yogurt
Sign up here for our daily Thrillist email, and get your fix of the best in food/drink/fun.
Kristin Hunt is a staff writer for Thrillist, and cannot even fathom 30 pounds of apples. Follow her to a single bag of five at @kristin_hunt.