Paid Content For
Estrella Jalisco
How Tamales and Tacos Launched the Billion Dollar Food Truck Industry
Paid Content For
Estrella Jalisco
Raul Ortega has been serving his shrimp tacos out of a white catering truck in East LA since 2001 -- nearly a decade before the days of Korean fusion tacos, artisan grilled cheeses, and mobile restaurants tweeting their locations. It's a recipe he learned in his hometown, San Juan de Los Lagos in the state of Jalisco. On any given Saturday at Mariscos Jaliscos, the line for Ortega's lauded tacos de camaron (the whole taco is deep fried with the shrimp inside it, making it crispy and packed with flavor) can stretch far past his main truck at 3040 East Olympic Boulevard in Boyle Heights.
"I'm old school," Ortega says. "I was there before the new wave of trucks."
Opening more than 15 years ago puts Mariscos Jaliscos at an interesting juxtaposition. Ortega runs one of LA's old school loncheros: taco trucks owned by Mexicans and Mexican-Americans, that have been serving tacos from street corners for generations -- mostly in Latino neighborhoods. However, he's also been around to witness (and even reap some success from) the cross-cuisine food truck phenomenon inspired by those first trucks -- the "luxe loncheros," as they're sometimes called.
The tradition of Mexican immigrants selling their hometown dishes out of something perched on four wheels, though, goes back way further than the early aughts. Like, more than a hundred years back. Here's why we can thank them for the mobile food phenomenon we have today.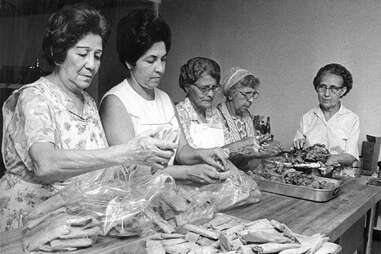 First, there were the tamale wagons
Before the rise of #tacotuesday and the fascination with using the tortilla as a culinary vessel, another staple of Mexican cuisine stole the hearts of Americans: the tamale. From the 1870s until the 1940s, the tamale was the street delicacy of choice, whether you were in New York or Chicago, San Francisco or LA.
"Tamale men ruled the streets, hundreds of them taking to corners and alleys, bars and businesses," food journalist Gustavo Arellano writes in Taco USA: How Mexican Food Conquered America.
It wasn't just Mexicans selling the tamales though -- African-Americans, Greeks, Italians, and other European immigrants all served as tamaleros. There were songs written about them. They appeared in plays. They were as common on the streets as a dirty water dogs are in NYC today. Blues titan Robert Johnson wrote a hokum song about them (or at least tamales as a euphemism), and by 1939 there was even a Three Stooges bit riffing on their prevalence at fancy dinner parties.
In most cities, the tamale men carried their goods in pails, wandering the sidewalks. (Several, Arellano writes, were a part of the California Chicken Tamale Company, a San Francisco-based operation that sent SF-style tamales across the country.) But another California city adopted a different style of selling tamales. According to Arellano, Los Angeles was so widespread (even in 1870) that the tamaleros would use 8-foot-long wagons, or slightly smaller pushcarts, to sell not only tamales but everything from Mexican goat stews to -- yes -- tacos.
Since 1910, Mexico has washed down home-cooked meals with a refreshing bottle of Estrella Jalisco beer. Now the true taste of Guadalajara has arrived in select US markets, so take home this authentic Mexican staple today.

Despite their popularity, they faced a slew of city ordinances aimed at thwarting their success, under the guise of "maintaining order." For instance, they could only operate after 9pm, and before 1am -- making their primary customers those at bars, looking for a snack after a few drinks. (Sound familiar?) After restaurant owners complained about carts hurting their businesses, attempts were made by local politicians to raise their licensing fees or ban them completely. Despite that, the tamaleros were offering some of the most popular food in LA -- and any attempt at shutting them down was met with pushback from their fans.
By the 1940s, though, it wasn't the city officials who sent the tamaleros to history books -- it was the car. "Pedestrian culture waned as automobile culture gained in popularity. People weren't walking the streets to places, they were driving. So vendors got pushed off the sidewalks for decades," Sarah Portnoy, professor at the University of Southern California and author of Food, Health and Culture in Latino Los Angeles, says.
Still, all those cars couldn't run the trucks off the road for long.
Then came the loncheros
A few decades before Ortega opened Mariscos Jalisco, Raul Martinez got an idea that seemed like it would bankrupt him: he wanted to take an old ice cream truck and sell tacos out of it near an LA bar. King Taco, an LA staple today, was born.
It was 1974, and around that time, it was more common for the city's loncheros to drive from construction site to construction site, selling a cheap lunch to workers. (The word loncheros translates to "lunch box.") According to Portnoy, it wouldn't be until a few years later, as the construction business waned in the late '70s and early '80s, that the trucks began to look for places to park.
"They started parking in fixed locations," she says, "and had fixed clientele that knew they would be in this one spot, wherever it was: Downtown, Boyle Heights. So they became part of Los Angeles culture." Unlike today's most popular trucks, they had to do it without Twitter or Instagram.
Arelleno credits Martinez with not only kicking off that stationary trend, but also bringing the street tacos we recognize today onto the LA food scene: think tacos al pastor, served on corn tortillas. Martinez's friends thought he was crazy, but by 1987, there were 500 loncheros in Southern California. A generation after that, King Taco has 20 sit-down locations (and a few food trucks parked outside the restaurants to handle overflow).
2008: The Taco Truck War erupts
While the loncheros have been a part of LA's streetscape for decades, they haven't always operated with the support of local government. Like their tamale-cart predecessors, they've survived being ticketed and/or legislated out of business for decades. It was in 2008, though, when the issue came to its breaking point. An ordinance was proposed that would require the taco trucks to move their location every hour, and it was presented as an opportunity to "clean up" Downtown LA. If they didn't, they would face a $1,000 fine. The clash made national headlines, with outlets like Time magazine calling it "The Great Taco Truck War." In response to the new rules, Ortega and 300 other loncheros owners created La Asociación de Loncheros L.A. Familia Unida de California, a union that sued the city to stop the ordinance.

At the same time, historically Latino neighborhoods in LA like Echo Park and Highland Park started to be gentrified, Portnoy says. Foodie hipsters became new fans of the trucks, and teamed up to fight back against the ordinance by creating an online petition under the slogan "Carne Asada Is Not A Crime." About 2,000 people signed it.
Later that year, a Superior Court judge declared the ordinance unconstitutional.
"We went in front of a judge, and fortunately we won and they don't really bother us anymore," Ortega says. "Sometimes we get tickets, but it's not like before. I'm glad I can say that we're doing better."
Next, upscale dining concepts hit the streets
While the loncheros were defending their right to sell tacos on the streets of LA, Roy Choi, the chef credited with founding the food truck movement we have today, opened his first truck: Kogi. It's a name synonymous with LA now, but in 2008 the Korean-fusion tacos and burritos were an entirely new concept, created by a Korean immigrant who had grown up on LA's loncheros. The team behind Kogi also leveraged social media to drive customers to their truck -- an idea that was completely unheard of to LA's existing food trucks. The idea spread, with imitators opening up as far away as New York or DC -- but one that could have only started in Los Angeles.
"His cooking is an expression of the food he was surrounded with growing up," Anthony Bourdain said of Choi in a Thrillist interview last year. "In many ways he was one of the first to express that in an unashamed, unembarrassed way, to say, 'Look, I'm Korean, yeah. But I grew up surrounded by Mexican food and hot dogs.'"
When Choi was named one of the most influential people in the world by Time last year, Bourdain expressed similar admiration: "Roy Choi first changed the world when he elevated the food-truck concept from 'roach coach' to highly sought-after, ultra-hot-yet-democratic rolling restaurant."
Suddenly, what Mexican immigrants had been doing for decades was the "it" way to dine.
Now, it's everywhere
Ortega admits now that he never believed the "luxe" loncheros that debuted nearly a decade ago would revolutionize the food scene. At that time, he said he saw several people open trucks at the height of the recession, looking to get rich, without realizing the difficulties of navigating the business.
"There's people who make it and a lot of people don't make it," he says. "It's super, super hard, because you are on the street, you break down. You have the problems with the police, with the parking enforcement. There's so many things some people don't realize what they are getting into. And plus, you don't make any money at first, and you get frustrated. I know a lot of people who had to go out [of business]."
Today, the food truck business is a $1.2 billion industry in America: A steep and rapid change from life before Kogi. In the decade since these first trucks came on the scene, though, Ortega says the loncheros business has completely changed for him, too.
"I never saw myself in the position where I am now," Ortega says. "We are very well known, nowadays, not just from LA but from all the parts of the country. And not only that, people from outside the United States come to check out Mariscos Jalisco. Any big chef that comes to LA, they want to try Mariscos Jaliscos. It's amazing, it's very, very rewarding. I see new faces every day in my business, and that rarely happened in the [lonchero] business."