This article is cont­ributed by Leafly, the world's largest cannabis information resource. For more information please visit Leafly.
The growing allure of legal cannabis is undeniable. Baby boomers who gave up cannabis decades ago are rekindling their relationship with the plant. Medical marijuana patients are seeking out dispensaries that carry the strain or product they need to relieve their symptoms. Legal adults are becoming interested in discovering cannabis for recreational purposes. And with eight more states having given the thumbs-up to medical or adult-use legalization on November 8th, more people than ever will have these same opportunities in the near future.
If you've never done so before, it can feel intimidating to step inside a dispensary and not know what to do, which questions to ask, and how to find the products you want. Here's how to prepare and what to expect on your first visit.
Expect to be carded
This goes for adult consumers as well as for medical marijuana patients. Whether you've just turned 21 or are pushing 70, keep your state-issued identification handy. If you have a medical marijuana recommendation, make sure it's still valid (most recommendations are good for six months to a year), and be prepared to hand over your ID along with your recommendation. It's good practice to make a habit of it. Your budtender will appreciate not having to ask for both.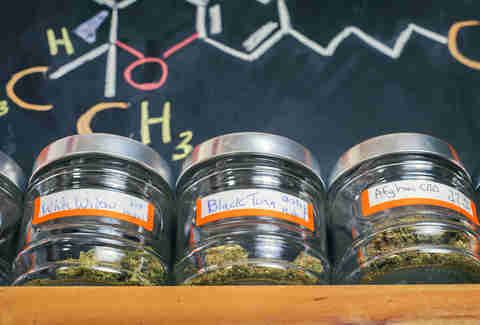 Be prepared
Check out Leafly's Finder and read reviews of your local dispensaries and retail shops. Shops range in caliber, style, and selection, so read others' opinions before making a choice. The highest-rated shops are often featured on the Leafly List; these are generally going to have some of the best, most informed employees.
You can also use advanced filters in the Leafly Strain Explorer to find the best strains and products for your personal symptoms, conditions, or mood, then check dispensaries' menu pages to see what they have in stock. All this preparation will come in handy when you're trying to order, and it will keep you from being that guy in the dispensary -- you know, the one who stands slack-jawed, staring at the menu while the customers in line behind him tap their feet impatiently? Don't be that guy.
Be ready to wait
This is fairly standard procedure, especially in the medical market. In many states, regulations require dispensaries to serve only one patient at a time, so you may need to take a seat and wait your turn. This is a great time to peruse the dispensary menu on Leafly in full and think about what products you'd like.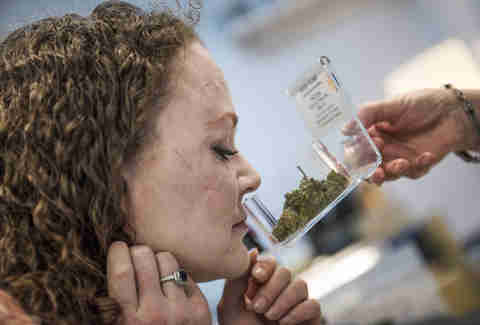 Be sure to ask questions
Whether you know what you want ahead of time or not, one of the best ways to get your bearings during a dispensary visit is to ask your budtender. Get recommendations on strains they like, or ask for strains that might be best suited for your needs. Let the budtender be your guide. Looking for something to settle your tummy? Ask. Looking for a bright sativa to inspire you to finally deep-clean your house? Ask. There are no stupid questions. Budtenders have heard it all.
Make sure you have enough cash for your purchase
Cannabis can be pretty pricey. Although more dispensaries and retail shops are offering cashless ATM systems for purchasing, most cannabis shops remain cash-only. Before you visit, check to see whether it accepts cards or has an ATM on site. Otherwise, be prepared and bring cash. This will help your purchase go as smoothly as possible.
Don't feel pressured
Not sure about your purchase after all? Is the budtender rubbing you the wrong way? That's OK. You are under no obligation to spend your hard-earned money, especially on a product that you're unsure about. (Remember: In most cases, returns are forbidden by law. Once you buy it, it's yours.) Occasionally budtenders will be less informed about strains. You don't need to take their recommendations just to be polite. Let them know what you want, and if they recommend a product you're not interested in, simply say no thanks.
How was your experience?
After your first visit, reflect on the service you received, the quality of the products you purchased, and the shop's general atmosphere. Did you feel unwelcome? Did you feel you could be honest with your budtender? Did your budtender answer all your questions and help you find the right products? Let them know by leaving a review on Leafly. This helps employees improve their service, allows you to give credit where credit's deserved, and provides future visitors with a sense of what to expect on a first visit of their own.
Sign up here for our daily Thrillist email, and get your fix of the best in food/drink/fun.