Go on, Make a Pretty Charcuterie Board
You'll definitely want to post your platter on IG once you've learned these tips.
Photo by Cole Saladino for Thrillist; Food Styling by Jenn de la Vega
Photo by Cole Saladino for Thrillist; Food Styling by Jenn de la Vega
It's that time of year when we start seeing the Parade 'o' Charcuterie Platters on our Instagram feeds. It's funny—some of them look intimidatingly elaborate and difficult to construct. But they're basically just a bunch of meat and cheese thrown on a slate board. How hard can that be, really?
Well, I am here to tell you this party trick is completely accessible. You can do this. All you need is a set of guidelines to get started. And that's where Jenn de la Vega comes in. She's a caterer, former educator at Murray's Cheese Shop, food stylist, and the list goes on. We tapped her to share her expertise on styling a charcuterie board.
The first thing I want to point out is that if you're a beginner, start small. Jenn picked out a rectangular, 10-inch-long sized board for our demo.
Think visual interest when you buy your ingredients
Nowadays, at casual, unpretentious gatherings, a typical charcuterie platter includes sliced cured meat and/or pate and/or cured sausage (we like American-made Les Trois Petits Cochons), cheese, nuts, fruit, garnishes, and crackers, flatbread or sliced baguette. "You want different kinds of textures, colors, flavors, and munchy bits," de la Vega says, so keep that in mind while you're shopping.
"And if you've got a tight budget, don't be afraid of specialty cheese and charcuterie shops," she says. Those places can help you find affordable and familiar foods like brie or cured ham.
Prep your station
Set your cheese out an hour ahead so it has time to warm slightly and get a bit softer. That enhances its flavor. The pate and meat, on the other hand, should go out right before you're ready to use them. De la Vega adds, "Charcuterie is like, now! Because oxidation makes it change color."
Before you get started, take everything out of its packages. Cut up ingredients, separate cured ham from those little papers, and have everything out and easy to place. Pate usually comes in a flat rectangle or a brick, but you don't have to put that whole thing out. De la Vega sliced a triangle shape of pate, and an odd shape of foie gras. You can always replenish your board with more later on. (Keep the rest wrapped in the fridge in the meantime).
Start big and work your way down in size
A tip I picked up from food stylist and Wall Street Journal cheese columnist Tia Kennan is to choose one, big showpiece item as your main focal point. Place that on your platter first, and then arrange everything else around it.
That doesn't mean your big piece is in the center—notice how de la Vega used the corner for her wheel of brie. Diagonals add visual interest. After you've placed your showpiece, follow with your next-largest ingredients, and so on, working to your smallest ingredients.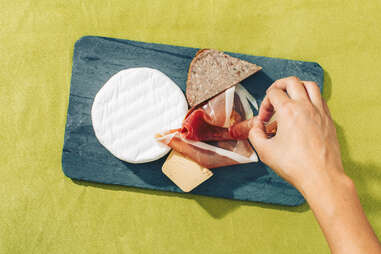 Build vertically
Pile your sliced meats upwards. "Height equals drama! Make it look like you just shaved it off the animal," de la Vega says.
Scatter color and texture
Green garnishes like thyme and rosemary add contrast and texture. Place smaller ingredients like these dried sour cherries, pomegranate arils, and walnuts here and there, overlapping the larger elements. By the way, de la Vega tells us dried and fresh fruit helps break the fat in the cheese and meat. That's also why you want to serve bubbles, seltzer and sparkling wine with your charcuterie. They help lift the fat off your tongue.
Sliced fruit like apples and pears are a good, less-expensive option that taste great with charcuterie, but they tend to brown over time. Spread a smear of jam right on your cheese and pate, since it goes with both. Jenn used Eat This Yum's tomato and jalapeño marmalade. "People need to get more into savory jams," she says. Add a dab of mustard to the side as well.
Let Loose
Feel free to break up larger crispbreads and crackers into smaller, irregular shapes and tuck them slightly under the cheese, letting them spill over off the platter.
Above all, don't be too precious with your arrangement. Let it be a little bit unruly—after all, the goal is to have it completely demolished by your friends.