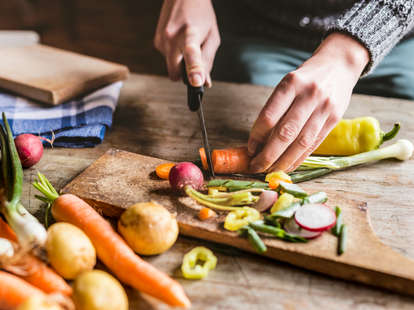 Growing up, many of us were taught the golden rule: "Do unto others as you would have them do unto you." Some weren't, and those were the kids who stole your lunch money. Regardless, that's a fantastic credo to keep in mind… unless you're in a kitchen. Whether it's a restaurant kitchen or a kitchenette, there is a wholly different set of rules for people who cook professionally.
We spoke to chefs from across the country to find out their golden rules -- or mantras -- for when they cook. Whether you're a professional chef or an amateur one, we think you'll find these guidelines helpful in your kitchen.
Organize like a boss
"The absolute most important thing is mise en place, which means 'everything in place.' Don't start cooking until you have all of your ingredients laid out, all of your equipment ready, and your timing down. Once you start, you don't have to stop until it's time to serve (and eat)!" -- Hosea Rosenberg, Blackbelly Market (Boulder, CO)
Listen to your body
"Food should feed your cravings and your body. Your body should say, 'Fuck yeah!' and your tongue should say, "Why the fuck not?!" -- Justin Cucci, Vital Root (Denver, CO)
Cook with intent
"Cooking needs to be done with mindfulness. It's intimate, honest, and authentic. You are giving someone something that they're putting in their body -- there's an underlying raw intimacy going on there and you have to give it the proper level of intention and respect." -- Daniel Asher, River and Woods (Boulder, CO)
Don't just heat up the cheese
"Melt the cheese completely!" -- Bobby Flay, Bobby's Burger Palace (Las Vegas, NV)
Take your time
"There is only one golden rule to cooking and that is that great food takes time. Time is one of the most valuable assets in the kitchen, and it is critical to understand its importance to achieve success. In our fast-paced modern world, the value of time is often lost, but it is important to step back and remember the magic that time does to our food." -- James Richards, Table 10 (Las Vegas, NV)
Be a risk taker
"Take risks! Recipes are great tools to find inspiration and get the cooking started, but don't be afraid to go off on your own and experiment. Everybody has their own palate, so teach yourself what different ingredients can do -- like what helps you add salinity or sweetness -- and you'll have fun in the kitchen playing around and making the recipe your own. Not everything in cooking is a hard-and-fast rule, and that's what makes it fun." -- Todd Mitgang, Crave Fishbar (New York, NY)
Use fresh ingredients
"The quality of ingredients is the most important component of cooking, so the golden rule is to always make sure to start with the best and freshest ingredients in your cabinet and fridge." -- Pasquale Cozzolino, Ribalta (Atlanta, GA)
Perform the cooking version of measure twice, cut once
"If you don't have time to do it right the first time, how are you going to have time to fix it?" -- Nick Swanson, Under the Sun Eatery & Pizzeria (Boulder, CO)
Show respect
"Respect the raw product. There was a farmer that grew the wheat and made sure it was watered. There was an animal that was raised and cared for, and then gave its life so we can make the food that we all eat. Respect the food." -- Garrett Pittler, City Winery (Nashville, TN)
Sign up here for our daily Thrillist email, and get your fix of the best in food/drink/fun.
Lee Breslouer is a senior writer for Thrillist, and is a big fan of following rules. Follow him to measuring twice and cutting once @LeeBreslouer.