The Secret to Cooking for Yourself -- and Liking It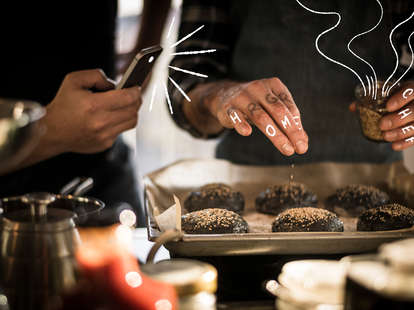 Jason Hoffman/Thrillist
Jason Hoffman/Thrillist
Between the years of 2006-2008 I went on a no-restaurant quest, pledging to eat only what I cooked at home. And I did it because I loved exploring the food culture in my city, but could barely afford to eat out at food trucks all the time, let alone indulge in trendy restaurants. So I decided to challenge myself by only cooking what I ate for a while. It lasted longer than I expected -- I survived to write a blog and book about my experience -- and was more fun and fulfilling than I ever imagined.
Fast forward to 2020. Suddenly, a lot more of us are cooking from home. And we've all seen the empty grocery store shelves. Maybe you heeded the advice to stock up on pantry staples: shelf-stable foods like dry grains and pasta, beans, flour, eggs, and lots and lots of canned food. This is good. Acquiring a hardy collection of essential ingredients will help provide for many meals to come.
But that's just the start. If you're going to be cooking on an everyday basis, now that you're sheltering and limiting your outings due to COVID-19, you're going to need to think a lot more outside the box. That means making weird, impulse food purchases that will help guide and inspire your meals. And that's basically how everyday cooking works -- pandemic or not.
"We should be open to letting availability guide our shopping."
Grocery stores are considered essential businesses that will stay open even during shelter-in-place mandates, although that can change. But it would be irresponsible to the workers at these stores to waltz in just because you feel like having, say, shrimp scampi with your pasta. Limiting your shopping trips to once a week is crucial, and that's why it's essential to look beyond the shelf-stable basics when you shop.
Experts say we don't need to worry about shortages in the food supply yet, but if grocery aisles are any indication, you might not be able to find exactly what you are looking for, both in the short- and long-term future. The short-term is that stockpiling has created temporary shortages of certain foods at the retail level. Looking ahead, if the coronavirus disrupts international trade, as it has already for exports to China, then we may not be able to import all the foods that we're accustomed to. Simply put, we should be open to the possibility of not having all the products that we're used to, and to letting availability guide our shopping.
Let unexpected and odd foods inspire you
This is the kind of attitude you need when you cook everyday meals in any circumstance, actually. When you have a bedrock of pantry staples, it's easy to absorb fresh, unexpected, or just random ingredients that come your way. And, when you're cooking regularly, unexpected and odd ingredients -- often in the form of leftovers -- are a regular occurrence. You're never really cooking from a blank slate when you're cooking every day.
It's important to keep things exciting by incorporating new ingredients into your routine now and then. I'm talking something as simple as a bunch of fresh sage, which you might have never thought to buy before, or baby artichokes, or a box of walnuts. You can make brown butter sage pasta with baby artichoke and walnuts one night, or a savory tart with the same ingredients another. Still have some artichokes leftover? Try making a blended soup with a crunchy topping of fried sage and walnuts. Or, say you can't find the same chicken pieces you're used to cooking with? Get a whole chicken to roast one night, then use in a soup, in sandwiches, and to make chicken stock with. When in doubt, sautee any leafy green with garlic, and watch its mass shrink to just a few bites. Or add any leftovers to fried rice, including the day-old rice itself.
As I learned from my self-imposed two years of not going to restaurants, these kinds of ingredients really grease the wheels for everyday home cooking. They spark ideas, while shelf-stable goods provide the means. They can also make what might feel like work more like a fun process of discovery and learning.
There's a lot of uncertainty in the world thanks to COVID-19. But making a tasty dinner out of whatever you swept through the supermarket with should be the least of your stresses. And there are ways to keep exciting ingredients coming that don't involve a supermarket, too. If there is a silver lining to this virus, it could be that we'll all be a lot more experienced in cooking satisfying meals for ourselves on a daily basis. Here are a few tips on what to buy, and how to shop for it.
Buy fresh food
It makes little sense to let fresh produce perish on the shelf while scraping up the last bags of frozen vegetables. And only buying shelf-stable food and canned food is doing nothing but favoring the big food conglomerates that make them, rather than farms that may be struggling. So load up on fresh vegetables and make a hearty soup, such as ribollita, with various leafy greens (nobody will know that yours might have included some romaine lettuce). Get a ton of green beans and freeze some if you can't eat them all. Spoil yourself with fresh parsley; you can chop up heaps of it in a grain-based salad, like tabbouleh, or just enjoy as a salad green.
Cook small
Unless you're cooking for a soup kitchen, there is no need to make massive portions of food to freeze for later. Cooking too much can easily lead to food waste. So just relax, as "quarantine cooking" often means cooking any time you feel like it, since so many people are now working from home. Big projects like a whole lasagna are fun, as long as you like leftovers of it for a few days.
Don't stick to the familiar
Did you often glance at the Za'atar (a spice mixture often consisting of dried thyme, oregano, marjoram, and sesame seeds) at the grocery store but shy away? Did Urfa Biber chile (a dried Turkish pepper) catch your eye but you didn't think you were good enough for it? Now is the time to make your move. Get the cool mustard, the rice stick noodles, the unpronounceable whole grain, and the funky mushrooms for a change. Look into them and learn something new. Carry that knowledge into the next cooking adventure, and the next, and watch the experience compound with interest.
Consider a CSA or Farmers Market
Put your food-shopping dollars directly in the hands of the people who grow your food, without the middleman. That's the point of local farmers markets and CSA (Community Supported Agriculture) memberships, and right now, small farms can use your help more than ever, since the restaurants and institutions that usually buy from them may be closed. Some even offer delivery options, and signups on an ongoing basis. And with many, like Mint Creek in Illinois, you can choose regular installments of eggs and meat in addition to vegetables and fruit. If you're going out to replenish your food supply, farmers markets provide an open-air option to the supermarket--just remember to keep a 6-foot distance away from the other shoppers. You'll be benefiting the farmers directly there, too.
Join a specialty food club
Then, there are memberships for food clubs that focus on just one type of food, like a cheese of the month club from Murray's Cheese or Cowgirl Creamery. Rancho Gordo's bean club is a fan favorite. There are meat of the month clubs from purveyors like Heritage Foods or a cured meat club from Zingerman's, seafood clubs from Wild Alaskan Company and small fishmongers like Mermaid's Garden in Brooklyn. You might be surprised how many shops offer some kind of monthly share that you can pick up or get delivered, so you can still support them if not visit them as much as you normally would.
Order specialty ingredients from makers you love
It's a great time to get those pantry staples that are much more than basic. Unique seasonings, pickles, jams and chile sauces are your jam right now, as they can not only spruce up but guide so much of your cooking. Do you love Sichuan food? Check out the sauces and other pantry ingredients from Fly By Jing or the Ma La Market. Want a taste of authentic Taiwanese ingredients? Yun Hai has you covered. Get your Indian condiments directly from Brooklyn Delhi. Or check out Snuk Foods for flavors from around the world. Whatever tickles your fancy or flashes across your Instagram feed is probably a wise investment when it comes to food now, as you'll be cooking more often.
Sign up here for our daily Thrillist email, get Eatmail for more food coverage, and subscribe here for our YouTube channel to get your fix of the best in food/drink/fun.
Cathy Erway is a James Beard Award-winning food writer and the author of
The Food of Taiwan: Recipes from the Beautiful Island
and
The Art of Eating In: How I Learned to Stop Spending and Love the Stove
. She hosts the podcast
Self Evident
, on Asian America's stories, and
Eat Your Words
on Heritage Radio Network. She has written the blog
Not Eating Out In New York
since 2006.