What the Heck Is a Rutabaga and How Do You Eat It?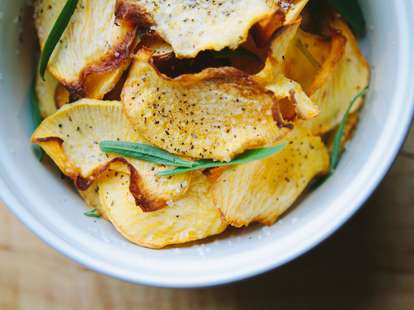 Courtesy of A Thought For Food
Courtesy of A Thought For Food
You've heard of it, sure, because the name is totally hilarious, but chances are you've never actually tasted a rutabaga, and you've certainly never cooked one.
A cross between a cabbage and a turnip -- which translates, basically, to a bitter carrot -- it's often fed to livestock here in America just as much as it's featured in soups and stews. But as eating seasonally becomes more and more desired, so will this lil' up-and-coming root vegetable. Get in on it with these six entry-level recipes!
(And, just so you know, it's in season right now.)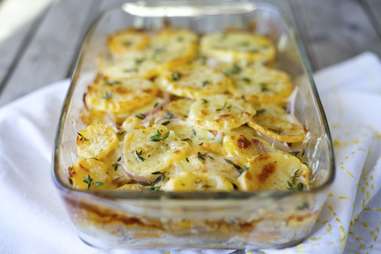 Lighter and sweeter than your typical potato gratin, it could make a perfect side dish to your typical potato gratin. Recipe here.

Basically any vegetable can be chipped. Recipe is here!
Fun fact: old French and German folks might shy away from the rutabaga because it's associated with food shortages during the World Wars. Can't hate fries, though. Recipe is here.

An easy, Paleo-friendly recipe. Our suggestion: add bacon because that's how this diet works. Recipe here!
Between the root vegetables, cheddar, chipotle-adobo, and hoppy brew, it's a veritable symphony of flavors. Click here!

To be honest, the rutabaga kind of takes a back seat to the slow-braised lamb shank, but the sturdy root holds up to bold flavors. Get the recipe here.
Carrie Dennis is an associate editor for Thrillist and eats a rutabaga a day. Follow her on Twitter: @CarrrieDennnis.