Hack Your Night Out: Tips From Bartenders, Hosts, and Servers
Henn Photography/Getty Images
Dinner and drinks planned tonight? Before you hit the road, hit this handy primer on all the tips and tricks you can use to prepare for your night, from that fancy new eatery to the cocktail-slinging bar. And all this advice comes from real industry insiders: the hosts, hostesses, servers, and bartenders who'll be taking care of you all night. Read on, learn up, and get ready to own date-night.
<a href="https://www.flickr.com/photos/compassrose_04/7436737616/" rel="nofollow" target="_blank">compassrose_04/Flickr</a>
Before you even sit down to eat
Get there early
Getting to your resto right as it opens and beating the rush isn't just about nabbing a good seat (the place is empty, so that's easy). Way more importantly, getting there early means getting the full attention of the staff. Servers won't be hurried, and will have plenty of time to answer questions about the menu, make recommendations, and note any food allergies on behalf of the kitchen. And don't worry about any order mixups or sitting around for your food; the kitchen is primed to turn around food, and there's no backlog or inevitable back-of-the-house catastrophes just yet.
Todd Bannor / Alamy
Tip your host or hostess when you want a better table
Here's a good benchmark for this tip: the price of a cocktail at a bar. And if you don't have the extra cash, keep in mind that a compliment (or just good manners) really does make a difference. One former hostess we spoke to revealed that she's given away "prime tables for a well-timed, tasteful compliment." Her caveat? "Don't hit on the hostess, for Christ's sake."
Go with the pro
If you have a large group and you already know you're going to split the check eight ways, and that Matthew isn't going to want to split evenly because he only got the mozzarella sticks (this freakin' guy), then it's best to ask for a more experienced server. More experienced wait staff may be busier, but they can definitely handle more customers at once.
Be flexible
If you're in town for just a day, or if you're in a rush, and just want to try the joint's famed specialty, then be sure to inform your host that you're down to sit anywhere. Even if there's an entire page of reservations ahead of you, if you're open to eating at the bar, or that dinky booth facing a wall, you might be seated immediately.
<a href="https://www.flickr.com/photos/basheertome/3109649072/" rel="nofollow" target="_blank">Basheer Tome/Flickr</a>
Getting the most out of your order
Let your server know what the occasion is
Don't lie -- but if it IS your birthday, or your first time in the city, or your anniversary, or your anniversary of it being your first time in the city, do let them know. Sometimes it does work out in your favor. They will make a note of it, and you might wind up with free dessert or something, which is always nice.
Chat with your server or bartender, fellow human beingin this mortal coil
Show an interest in what he or she doing, or what the kitchen is working on, or what complicated cocktail is on its way to the drink list. If they're in the mood and have time, they might give you a sample of something the chef is prepping back in the kitchen. But it's much better to let them offer, rather than ask outright.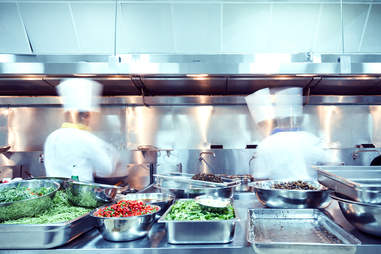 Snvv/Shutterstock
Thinking about going off menu? Don't.
When there's a bunch of substitutions or special requests, it backs everything up. It takes more time for the server to put the order in and ensure the kitchen understands the request. It delays your server, as well as the kitchen, because they have to take extra time to prepare the meal, rather than just put together the thing they've perfected. Special orders can also create a gray area where payment is concerned. This obviously doesn't apply if you're allergic to something.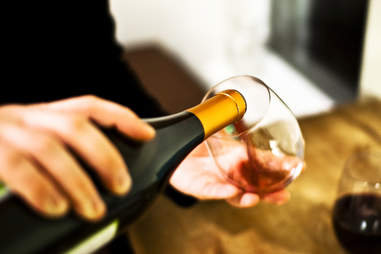 <a href="https://www.flickr.com/photos/okadots/3284153452/" rel="nofollow" target="_blank">Oka Tai-Lee/Flickr</a>
Is the wine list freaking you out? Speak up.
Nevermind all the weird tips you've gotten about ordering wine before (like getting the second cheapest). Just straight up say, "I don't know where to start," and you will be helped, usually with gusto. In some cases, if wine is offered by the glass, it would be okay to ask to try it out first. But don't get a bottle opened and decide to send it back because you don't like it. Remember: your servers and/or bartenders will help you get as close to your taste preferences within your budget as possible, because that's their job.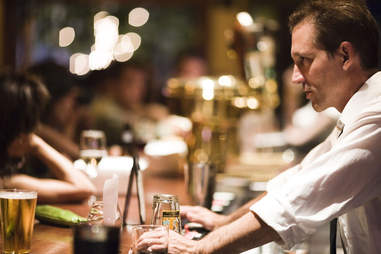 <a href="https://www.flickr.com/photos/thomashawk/229516213/" rel="nofollow" target="_blank">Thomas Hawk/Flickr</a>
Ending the night with drinks the right way
Be aware that the bartender is not ignoring you, despite what you may think
Bartenders are very aware of what's going on, even if they don't seem to be acknowledging you the second you get to the bar -- they know you're there. People who shout or do that annoying pointing thing or snap (an offense popular among exasperated movie villains) will not be looked on kindly. It's literally as simple as actively not being a jerk; it will be noted.
Stand out with your bartender (and not in the way that gets you thrown out)
For extra brownie points, bussing your own glasses was a recommendation given to us by a seasoned bartender. Tipping is also appreciated -- for complicated cocktails that take time and effort, 15% is the norm. Bartenders remember and take care of their regulars. 
<a href="https://www.flickr.com/photos/mike-p/894872205/" rel="nofollow" target="_blank">mik_p/Flickr</a>
Don't go in there expecting a free round
It could happen. "Could" being the important part there. The general rule is after you've bought your third round and you've been consistently tipping and it's not packed, it might happen. But nobody's entitled to it.
Understand that they are here to help you
Have coherent requests at the ready -- or at least a list of things you definitely do not want burning a trail of regret down your throat. Want a dirty martini, but hate vodka? Gin it is. And of course, you're more than welcome to try certain beers or wines if they're on tap. In the end, just know what you want, be kind and gracious about asking for it, and prepare to take "no" for an answer. That's the ultimate life hack for everything. Well maybe not for getting gum out of your hair. But for an awesome night out? Definitely.