Bagels are the best breakfast food in America solely due to their versatility, like an edible version of those reversible belts. You can add a schmear of cream cheese, a pile of egg and cheese, or a little butter. And while you might think the best kind of bagel is the everything-type, or garlic, or even plain -- you would be wrong. The best kind of bagel is a free one.
I've figured out a way to get them for free. For life, kind of. If you ever pay for another bagel again, you're wasting money. It only took me three quick trips to Einstein Bros., Panera, and Dunkin' Donuts to unlock the secret. Here's how I did it.
Editor's Note: Obviously, take these recommendations with a grain of salt. Or enough salt to cover the top of a bagel. Because every place is different, and no two bagel benefactors are the same. This is one man's journey. Hopefully, yours follows the same path.
How I got free bagels at Einstein Bros.
It's about 4:30pm, and Einstein's employees are cleaning up for the night. I order an iced tea. First rule of free bagels is this: you can't be cheap when you're getting something for free. I order it not because I want an iced tea, but because I need a reason to talk to the people behind the counter. Asking for something free right after you walk in is like going up to somebody in a bar and saying, "Hey! Sex?" That person is probably not going to be into it. Unless you're Zac Efron.
The possibly high guy behind the counter (I live in Colorado, so I'm giving him the benefit of the doubt) tells me they just dumped the tea. I order an iced coffee.
I ask him what they do with the bagels at the end of the day.
"We give them away," he says. To charity, he means.
"That's nice!" I reply.
"Yeah, it's pretty cool, [especially] because other places throw them away or whatever."
This does not phase me, especially because of what he says next.
"Do you guys ever take them home?"
"Sometimes. I get sick of them."
I laugh as if I too get sick of free bagels, when in truth, I do not. I've never had free bagels, I just know bagfuls of them get tossed at the end of the day.
This is important info: they don't always give them to charity. That's when I knew I had my chance.
"Do you ever give them to customers?"
He looks away from me, and mumbles a few words.
I realize they're still open, so I take the pressure off of him to get me the free stuff now. I smile. "I can hang out," I say.
I sit at a table while they clean up, and I drink my iced coffee. In a few minutes, he calls me over. We're in front of a huge case of bagels, and he starts picking out bagels for me. I ask him if I can get a pretzel one, and that asiago one, and on and on. He stops at half a dozen. I tip him a few bucks and leave.
Pro tips:
First of all, if your Einstein location gives its food to charity at the end of the day, make a nice donation to your local food bank to offset the fact that you're taking bagels from them. And/or Einstein employees. And tip them when they give you a freebie. Remember, you're not paying for the bagels.
After all that donating and tipping, your bagels won't be "free." It's more of a break-even proposition. If you demand actually free bagels, read on. Also: get as many pretzel bagels as you can. They're delicious.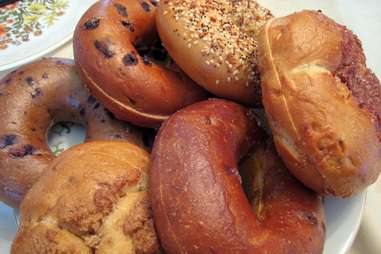 How I got no free bagels at Panera
I walked into Panera about a half-hour before they closed at 9pm, ordered a hot tea because I'm 110-years-old, and asked what they do with the bagels at the end of the day.
"We give them away to the community, to [organizations] that sign up for donations," she says. "It goes to a good cause."
Panera employees are not taking these bagels home, nor are they giving them away. This is not the place for free bagels.
Pro tips:
Buy a hot tea, and then don't even bother asking for free bagels, because they're not giving them to you, regardless of how tattered you look.
How I got free bagels for life at Dunkin' Donuts
Did you know they make donuts fresh all day at Dunkin'? I didn't until I walked in about an hour before they closed and they had delicious looking trays of glazed and creme-filled beauties sitting out.
I bought a donut for a buck, and asked if they had any bagels. The Dunkin' employee said she had a few left, and I asked if she was going to throw them away.
"I'm not sure what we do with them. I know with the donuts, we throw them away. That's just regulations," she said.
I nod. I ask if she would give me the bagels.
"I'm not sure I can give them to you," she says. "I think we need them until close, in case anyone comes."
I smile and tell her I can wait until close. She laughs, probably thinking I'm a crazy person, and says she'll see what her manager says. I go take a seat and wait.
Ten minutes later, I go to the counter to see what the deal is. She hands me a bag with three bagels, and a box with eight more. Eleven blissfully free bagels. I lay a $5 on the counter, and thank her. Then the manager, who I hadn't met before, says something interesting.
"They get thrown away here at 9 at night," she says. That's an hour before they close. "It depends on who the manager is or how many they have left. If you can come in on Mondays and Tuesdays, I'll give them to you. It's silly to throw this many out."
Now, that's what I call music... to my ears. That's how you get free bagels for life.
Pro tips:
Find a nice manager who works the closing shift. Be nice. Tip well. Get all the free bagels you want at the end of the day. And freeze them, so that they never go bad. As I know from personal experience, bagels smell delicious coming out of the toaster oven in the morning. Every morning.
Sign up here for our daily Thrillist email, and get your fix of the best in food/drink/fun.