Finishing summer strong means grill parties and fantasy drafts. Combining the two with an epically large grill feast: great idea. Getting our guide on how to throw an epically large grill feast: even greaterer idea, because we got the how-tos from some of the best pros in the meat-slinging biz. If you can't trust a guy who runs a 10,000 sq ft BBQ palace on something like this, who can you?
1. Choose your main course wisely
You've got to satisfy the appetites of a large group of people – now is not the time to try that 48-step molecular gastronomy grilled ice cream recipe. Pick a menu item with broad appeal, like chicken breast or hamburgers, which are simple to prep and chef. If you grill something like burgers, it's easy to provide a veggie option. Lastly, just try to make careful selections that you expect to score big (like when you drafted your Fantasy Football team).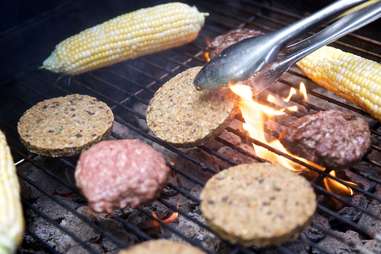 2. Start up a group email before the party
Before you can stock adequately, you need to know how many mouths you're going to feed and how many of them have dietary restrictions (e.g. allergic to wheat, dairy, food cooked with fire, etc.) Send out a group email or text (if you've got a go-to friend group or a fantasy football league you probably already have one) to inquire ahead of time because figuring this out mid-grill is insufferable. And leave off the clown who will reply-all with convo-derailing GIFs (it's not 2011, Jeremy).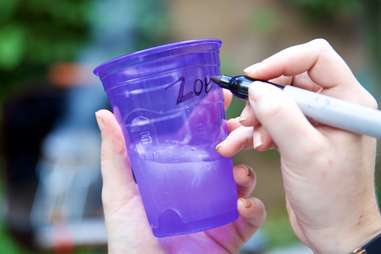 3. Make sure your shopping list contains non-foodstuffs
Band-Aids, an extra trashcan, aspirin, wet wipes -- so not everyone has to use your bathroom to wash their hands -- all key and often overlooked. "There's a lot you can do well before your guests arrive," says Brad Orison, founder of the 10,000 sq. ft. Mississippi BBQ mecca The Shed. He recommends getting high-quality disposables for food storage (and the sharpies to emboss them), and figuring out where people can sit days before your party.
4. Serve a pork butt
Burgers and chicken are easy, but not pork butt-easy. According to Henry Porter, a BBQ-focused caterer who serves the Silicon Valley area, one of the best dishes for a large group is that sweet, sweet butt. "A 20 lbs. cut feeds 40-50 people, and all you need to do is wrap it up and put it on the grill for a couple hours." Butt is so fatty that you've got to try real hard to dry it out or screw it up.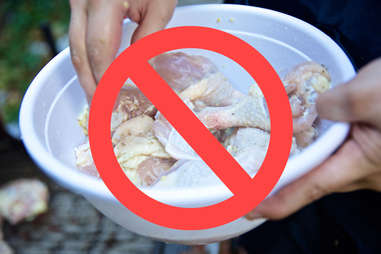 5. If you want to cut down on mess, avoid marinades all together
Sure, marinades are nice, but Porter argues that they are very messy (particularly with chicken), so you should avoid them when you plan to stuff your crib to the rafters with pals; there's plenty of other food offerings that don't need it.
6. Wrap everything in foil and wear gloves
To combat the inevitable slop, line your serving platters with heavy-duty aluminum foil. Done? Just toss the foil and presto – no grease covered yeah-I'm-just-going-to-let-that-soak-overnight nightmares. Also, get food-safe disposable gloves, so you don't have to keep washing your hands and so you can look like Doom for Who Framed Roger Rabbit.
7. Get a freaking Bluetooth thermometer
When you've got a ton of different meats and veggies going on a grill, it can be tough to track temperatures. Invest in a Bluetooth thermometers (or even a few of them). You can set them to alert you to a set doneness via a smartphone app, meaning you're not grill-watching and sucking smoke all day.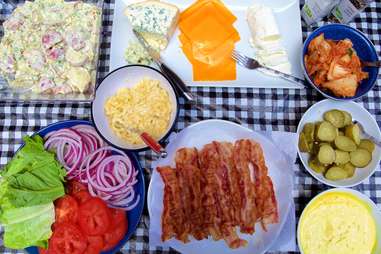 8. Let your guests go crazy with condiment customization
It's hard to pick a menu item with exactly the flavors to please every palate. According to Orison, instead of trying to do that, you should provide as many crazy condiments as you can muster. If you're grilling burgers, don't just stack bright orange slices of cellophane-wrapped American cheese -- have blue cheese, have shrimp, have whatever will taste good on a burger (good news: almost everything does). While not everyone can get Aaron Rodgers in their Fantasy draft, you can at least make sure everyone gets bacon on their hamburgers.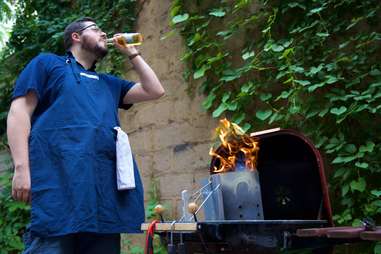 9. Save your socializing for after the cooking is underway
As tempting as it is to crack open a beer when the first guests filter in, you should plan to begin the cooking at the start of the shindig. You can always keep things warm in a chafing dish later on, and that doesn't require your attention. Cooking, on the other hand, will demand your focus, and you could end up stuck over hot coals right at THE PARTY'S PEAK if you've neglected your culinary duties at the beginning.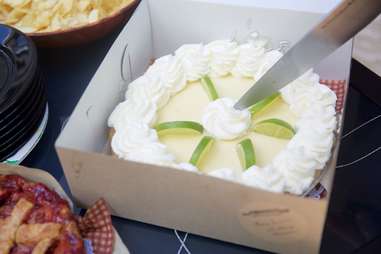 10. Buy a pie (seriously)
People love dessert. But, if you've got to feed the whole crew, you won't want to waste hours making a complicated pie, and then do a half-ass job applying rub to the pork, or whatever prep work you're doing. Instead, find out what bakeries make the best pie and buy it. That shows that you made a thoughtful effort --- the cherry filling on top, if you will -- and just focus on really bringing home whatever your main dish is.
11. Let your friends shuck stuff and help with the heavy lifting
When you're attending a social function, it's actually pretty nice to have something to do. Party-chat conversations move more smoothly when awkward pauses are met with the Velcro-sound of cornhusking, or some other simple cooking-type thing (putting out napkins, carrying heavy things, etc.). Basically, don't be afraid to let your guests get to know each other while they busy themselves with a mutual goal like a socialist utopia.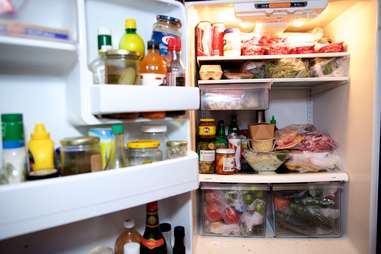 12. Make sure storage space is not a problem BEFORE you buy everything
According to Porter, you should remember to clean your fridge of anything you don't need before you buy your meat. But most importantly, make sure you've got room to store everything, because the last thing you want is to stroll up to the fridge hauling a butt in hand, only to find that that butt ain't gonna fit.