Welcome to Grillist, our annual celebration of all things smoke and fire. Join us all summer long as we get up in your grill with expert BBQ advice, insightful interviews, and bad grilling puns -- but mostly those first two.
Chef Seamus Mullen knows his shit. He's judged Chopped, was a finalist on The Next Iron Chef, and regularly cooks out of a wood-fired grill at his award-winning NYC restaurant Tertulia. Plus, as the author of Hero Food: How Cooking with Delicious Things Can Make Us Feel Better, he's also a champion for health and wellness. Diagnosed with the autoimmune disease rheumatoid arthritis in 2007, he was forced to renegotiate his relationship with food -- and eating more fish was a big part of that. Here, he explains his favorite ways to grill 10 different types of seafood… and what to drink them with.
Salmon is best grilled on a cedar plank
How to make it: I love to do salmon using Middle Eastern spices. I season the salmon with salt, pepper, ground coriander, and fennel seeds, and then glaze with unsweetened pomegranate molasses. I grill it over medium-low heat on top of a cedar plank that has been soaked in water for 7-10 minutes, then increase the temperature or move to a hotter part of the grill for 2-3 minutes.
What to drink with it: This is perfect with a chilled red wine; I'm a big fan of reds from the Jura region in France.
Cook delicate tuna on a Himalayan pink salt slab
How to make it: Tuna is really best cooked super quickly over high heat or else very gently. Sometimes it's hard to accomplish this when the fish is directly on the grill, which is why I like to grill tuna on a pre-heated Himalayan pink salt slab. I season the tuna lightly with sea salt (it will pick up some salt from the slab), and marinate it in olive oil with lemon zest and basil for 10-30 minutes. Then, I grill it delicately for 3-4 minutes per side and serve with a Provençal-style tapenade of olives, anchovy, pine nuts, dried tomato, and lots of herbs.
What to drink with it: A summer rosé is a no-brainer.
Swordfish is another great fish to grill gently on a salt slab
How to make it: I season the swordfish liberally with salt, pepper, and a dried red pepper, like Aleppo or Urfa pepper, and then gently grill and carve into thin slices. I like to serve it with fresh cherry tomatoes, thinly sliced raw shallots, grilled corn, some grilled shishito peppers, and olive oil.
What to drink with it: A robust white wine like a white Rioja is the perfect thing to wash it down.
Grilling mahi-mahi wrapped in a leaf keeps it moist and lends fragrance
How to make it: Ideally, you want to use a banana leaf (which you can find in the freezer section of most Asian food markets), or if you can find it, a pandan leaf, which is often used in South Asian and Southeast Asian cooking. I like to make a mojo paste of chiles, citrus, garlic, and some sort of tropical fruit like mango or pineapple. Then I season the mahi with salt and pepper and wrap it up in the leaf. Grill it over medium heat until it's cooked through, about 7-10 minutes. This is delicious with a fresh pineapple salsa and plenty of cilantro or a bright chutney.
What to drink with it: I would definitely suggest reaching for a cold beer.
If ever there was a fish to cook whole, on the bone, over the wood fire, it's a snapper!
How to make it: Look for a 1- to 3-pound fish, and have it cleaned and scaled. I like to make 3 diagonal slits on the skin on each side of the fish where I slip in thin slices of lemons. I stuff the cavity with fresh herbs like basil, parsley, tarragon, and oregano, then I season the whole fish with salt, pepper, and lemon zest, and drizzle it with olive oil. Grill it over high heat for 5 minutes per side. This is perfect with a massive green salad or some heirloom tomatoes with tons of herbs and a fruity olive oil.
What to drink with it: A fresh and lean white wine like Vinho Verde is a nice accompaniment.
The simplest way to take on shrimp is to marinate them
How to make them: Try an aromatic marinade like olive oil with pimentón (Spanish paprika), herbs, lemon, and garlic and then grill them over high heat. For the slightly more adventurous, try lining a cast-iron pan with 1 cup of kosher salt and heating it up high on the grill. Then, bury some head-on, shell-on jumbo shrimp in the salt, cooking until they are cooked through, about 5-7 minutes. Peeling and eating the shrimp like this is a little messy, but they are super tasty, especially when served with a garlicky aioli on the side.
What to drink with them: Shrimp are great with a funky white wine -- I like the oxidized "yellow" wines of the Jura region in France.
Scallops get the kebab treatment
How to make them: Skewer raw scallops, peaches, and scallion bulbs and grill the kebabs for 2 minutes per side over high heat. The fruity sweetness of the peaches brings out the sweetness of the scallops. I like to serve these guys with some thinly sliced serrano chiles, some cilantro, and a drizzle of good extra-virgin olive oil.
What to drink with them: This is a good candidate to have with a white sangria!
Cook clams in a pot over the fire
How to make them: I render diced spicy chorizo in the pot first, and then add cherry tomatoes and sweet corn. Finally, I add the clams and a little white wine like an albariño. I let the alcohol cook off before I cover the pot with a lid and steam for 3-5 minutes until the clams open up. Once the clams have popped, I throw in a handful of chopped parsley and a wallop of unsalted butter. Adjust the seasoning with salt and pepper and serve right away.
What to drink with them: The same albariño you cooked with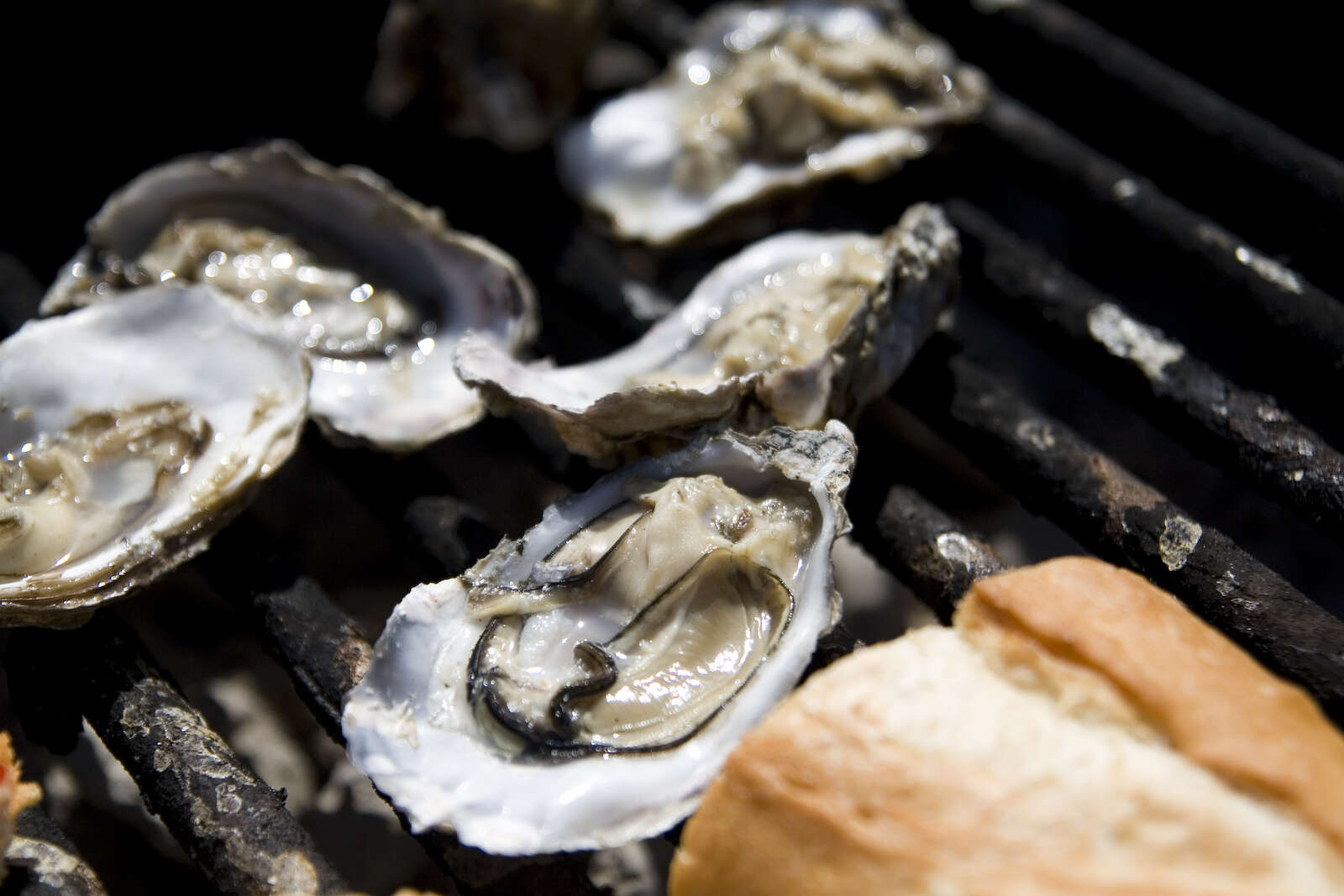 Oysters are one of the most delicious of things to make on the grill!
How to make them: There are two schools of thought on grilling oysters: crack them open, add some seasoning, and then grill, or grill them whole until they pop open. I like both methods, but I particularly like cracking them open and grilling them with a dab of compound butter. To make compound butter, blend cold butter, lemon zest, garlic, and herbs with either breadcrumbs or almonds (I don't eat gluten so I go for the almonds) in a food processor, and then chill until firm. Slice little pieces of butter and place them on the oysters. Rest the bivalves directly on the grill and cook until the butter melts.
What to drink with them: Serve with whatever suits your fancy: Dom Perignon or Miller High Life… depending upon if you're from Champagne, France or Champaign, Illinois
Mussels also need to be cooked in a pot
How to make them: Throw a pot directly in the coals (assuming you're cooking on charcoal grill -- keep it on the grates otherwise) and add some chopped tomatoes, chiles, onion, and garlic and a hefty pour of olive oil. I season the mixture with salt and pepper and a little white wine and vinegar, then cook until it comes together into a spicy little ragout. I toss in the mussels, cover, and cook them until they pop, about 3 minutes. Then you can top them with some thinly sliced fennel, another pour of olive oil, and some crusty grilled bread if that's your thing.
What to drink with them: Beer and mussels go together just as well as beer and muscles.
Sign up here for our daily Thrillist email, and get your fix of the best in food/drink/fun.
Carrie Dennis is a former Food & Drink editor for Thrillist and is tremendously passionate about toast. Follow her on Twitter @CarrrieDennnis.