Everything You Need to Know About Grilling with Skewers
Grilled, skewered meats and veggies are a lot like Keanu Reeves: internationally beloved, and a fantastic addition to any backyard party. To ensure you have an excellent adventure the next time you fire up the grill (sorry), we've got a slew of tips from top-notch, skewer-obsessed chefs from around the country. They're experts at everything from Thai, Indian, Middle Eastern, Chinese, and Japanese-style skewer magic, so no matter how your skewers skew, you'll learn something new.
Marinate ahead of time
It's tempting to move meat straight from the fridge onto a grill, but you'll be amazed at how you can up your game with planning and a little marinade. "If you're grilling meat or fish, a simple marinade will bring out its flavors -- just olive oil, lemon juice, cumin, salt and pepper," says Greek native Christos Christou, the chef/owner of NYC's Yefsi. Christou recommends marinating fish for a couple hours, chicken for slightly longer, and beef for at least overnight.
Philly's Michael Solomonov, chef/co-owner of the James Beard Award-winning Zahav, uses an onion puree and garlic-infused marinade to enhance the diced up chicken thighs, hanger steak, and veal in his modern Israeli eatery. "When it cooks over charcoal, [the meat] gets caramelized and robust," he explains. "It also adds acidity and a little bit of sugar."
And when you apply the marinade, try this eco-friendly idea from Top Chef alum Pig & Khao chef/owner Leah Cohen. "Use a bruised piece of lemongrass as a brush while grilling," she says. "If you don't have a bruised piece of lemongrass, use pieces of pandan leaves."
Pick your stick
There are two major options on which to skewer your meat and veggies: metal or wood/bamboo. Solomonov likes metal because the skewer is reusable and the meat won't slide around. Chef Gaurav Anand, who whips up a menu full of kebabs at NYC's Bhatti Indian Grill, prefers metal because you can use 'em in a conventional oven. Chicken kebabs can be grilled at 350 degrees for 15 minutes, and he recommends you "balance a metal skewer on top of a grilling pan so the skewer doesn't stick to the sheet or foil, and the meat gets cooked evenly."
Christou prefers wood because metal skewers can get so hot, they have the potential to overcook the meat. He also recommends you make like Schwarzenegger in Batman and Robin and start freezing. "Soak [wooden] skewers for at least 3-4 hours to make sure they don't burn," he says. "Then freeze them. It makes them stronger, and they go through the meat, fish and vegetables faster and smoother."
Light the charcoal
Matt Staph, chef de cuisine of Houston's One Fifth, knows what you need to fill your grill. "I highly recommend using charcoal -- any kind of lump charcoal is always preferred over gas charcoal or wood fire," he says. "The charcoal gives it a fire flavor, whereas gas is a cleaner flavor -- charcoal adds another element to whatever your grilling."
Rusty Bowers, chief butcher and charcutier of Atlanta's Pine Street Market, has one big reason to never use gas: flavor. "No one has ever fired up a gas grill said, 'Man, you can really taste that propane!'" he said.
If you're planning on whipping up yakitori, consider white charcoal, or binchotan. "Buy good charcoal," says Tatsu Aikawa, chef/owner of Austin's Kemuri Tatsu-Ya. "Japanese binchotan coals burn slower and hotter than American charcoal. It also holds heat more consistently, which is ideal for yakitori."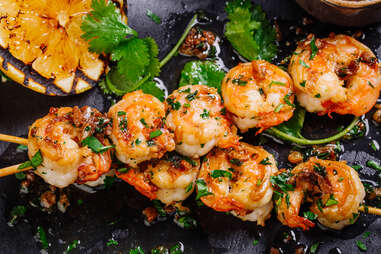 Choose your meats wisely, creatively
Sure, you can skewer the standard cuts of chicken and beef and grill up a fine dinner. But you have a unique opportunity to make dinner interesting. "Lean towards getting creative, first and foremost," encourages chef Yuval Leshem of New York's HaSalon. He practices what he preaches, having recently served up sardine + king crab skewers.
Chef Toshi Kizaki of Denver's Ototo, which specializes in Japanese-style robata, echoes that sentiment. "Be brave -- use duck," he says. "Sear the skin first and skewer before grilling to render the fat. Make sure to rest for several minutes before serving to release the fat." Chef/partner of Brooklyn's Yaki Tiki JT Vuong likes some lesser appreciated poultry parts. "My personal favorites are cuts that are a bit more fatty like chicken thighs and bellies," he says. "You get that distinct flavor from the fat dripping onto the coals."
And don't skip on grilling up the bounty of the world's seas. "Grouper works really nicely," says Solomonov. "Salmon also works well, and if you do it just right, you can keep the skin on and grill it skin-side down."
Georgette Farkas, owner of Rotisserie Georgette, loves grilling octopus. "It's very important to poach it first to give it a tenderness," she says. "Then I either put the whole tentacle in an s-shape on the skewer or slice it into diagonal pieces and alternate them with cherry tomatoes or small potatoes. Grilling it gives it that beautiful crispy, charred outer edge and a wonderful combination of textures."
Eat your vegetables
Pink Floyd said if you don't eat your meat, you can't have any pudding, but if you don't eat your vegetables, you can't supply your body with the essential macronutrients to live a long, healthy life. Or something like that. Solomonov recommends grilling mushrooms and eggplant. "Crimini mushrooms on the grill are awesome," he says. "They tend to be really dry and fibrous, so we pre-roast whole mushrooms to get them a little more tender. And then we cool them and then skewer and grill them." He also says marinating, brining and roasting eggplant until it's soft will enhance the mouthfeel and flavor.
Chef Bruce Peng of New York's Hao Noodle likes a large amount of garlic atop eggplant, with peppercorn powder, pepper powder, cumin powder, pickled daikon, minced scallions, and minced cilantro to finish.
Chef Tom Naumsuwan of Wayla, a new, NYC-based Thai restaurant, was born and raised in Bangkok, and has experience cooking with street vendors in Thailand's capital. He recommends grilling onions and peppers to complement any meat or seafood that might end up on your plate, but also tropical fruit like pineapple and lychee.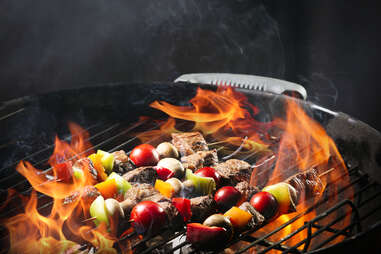 Colorful skewers are good for Instagram, but not ideal for real life
Picture a colorful, beautiful skewer with meat and veggies. Now throw that picture away, it's a mistake!
"You know what doesn't work well?" Solomonov asks. "When people put fucking onions and tomato next to a piece of meat on a stick. It cooks out! They burn. Imagine taking a grape or cherry tomato and a cube of meat and putting them both in the oven. Which one would get done first? The tomato would obviously explode."
Bowers concurs. "Each skewer should include just one item, like steak or mushrooms," he says. "Mixing veggies and meat on the same skewer don't work, as some items take longer to cook."
Sign up here for our daily Thrillist email, get Eatmail for more food coverage, and subscribe here for our YouTube channel to get your fix of the best in food/drink/fun.
Lee Breslouer is a writer and editor based in Colorado, takes photos of stuff he eats and drinks @LeeBreslouer, and will eat anything grilled over hot coals.