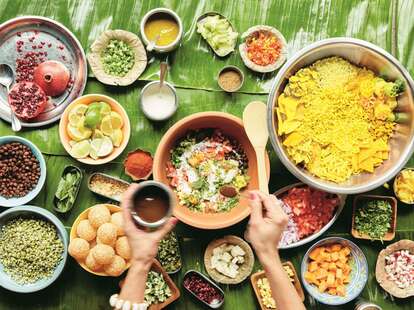 Chaat Party

| Photo by Linda Xiao
Chaat Party

| Photo by Linda Xiao
Nearly every culture has an interpretation of, frankly, the best way to eat: a lot of little snacks. There are tapas in Spain, banchan in Korea, mezze in the Mediterranean, and antipasti in Italy. In Indian culture, this is known as chaat.
For me, an ideal chaat is everything that a good wardrobe should be—robust, colorful, textured, varied, and complex. Even with the most purist approach to chaat, I find myself craving daring modern approaches to iconic Indian dishes made famous by chefs and food writers in America.
At Priyanka Chopra Jonas' New York City restaurant, Sona, there's an entire section dedicated to golgappas: airy, fried flour balls filled with things like avocado and pickled beets. Priya Krishna, author of Indian-ish, taught me about "Chaachos" her quirky take on "chaat + nachos."
Nashville-based restaurateur Maneet Chauhan runs five restaurants including Chaatable, dedicated to this very variety of snack. "A literal translation of the Hindi word 'chaat' means 'to lick,'" she explains. "It came around to describe snacks that were so good, one would find themselves polishing the palm leaf or the banana leaf that they were served on."
Chauhan is also the author of Chaat: Recipes from the Kitchens, Markets, and Railways of India, so we could think of no one better to guide us through the best tips and recipes to throw an Indian chaat brunch.
Shopping for your chaat party
Firstly, know that chaat is not one dish, but a variety of dishes. And fortunately, they all require similar ingredients to make.
"You can head to any Indian grocery store and find all the ingredients," Chauhan says. "These essentially involve Indian chutney, puffed rice, fruits such as pomegranate, pineapple, apple and vegetables like onions, tomatoes, cucumber and beetroot."
For those who don't have access to an Indian grocery store, Chauhan recommends a traditional market like Kroger. "I recently hosted a chaat party for which I got every single ingredient from Publix, a southern American grocery store in a variety of states."
Find a base for your chaat party
Like any piece of engineering marvel, the base of a chaat is of prime importance. "And mostly, it's something super crunchy," says Chauhan. This includes things like papdi: a crispy flatbread, almost like a tostada, but smaller and made of wheat. There's also savory Indian snacks such as vadas (lentil dumplings), samosas (pastry stuffed with potatoes and peas), and kachori (flat pastry stuffed with lentils, spices and onions).
Top it like its hot
Chaats are a big play on temperatures and textures coming into one dish. The real magic of any chaat is therefore in its toppings.
"It needs to have one sweet thing, one spicy thing, one savory thing and one tart thing," Chauhan says. Load the base with something seasonal like a fruit or potato-based topping, lots of cold yogurt, and chutneys made of refreshing ingredients. And finally, add a smattering of spice powders like chili powder, roasted cumin powder, and chaat masala
How to make chaat
Ingredients:
• Coarsely chopped tomatoes, cucumbers, pineapple, mangoes, potatoes, roasted sweet potatoes, coriander, and mint
• Finely chopped onions, tomatoes, cucumbers, ginger, red and green chiles, scallions, and radishes
• Lemon and lime wedges
• Roasted corn kernels
• Star fruit slices
• Raita (whole milk yogurt whisked together with water to make it thin enough to drizzle and then seasoned with salt and freshly squeezed lemon juice)
• Roasted peanuts and cashews
• Puris
• Puffed rice
• Sev
• Chakri (chickpea flour crackers)
• Chekkalu (rice flour crackers)
• Thattai (spiced rice flour and sesame crackers)
• Namak para (spiced whole wheat flour crackers)
• Murruku (wheat flour crackers)
• Chaat masala
• Red chile powder
• Tamarind, cilantro-mint, and green chile chutneys
Tamarind chutney
Ingredients:
• 1 tablespoon vegetable oil
• 1 teaspoon cumin seeds
• 1 teaspoon coriander seeds
• 1 teaspoon fennel seeds
• 1 teaspoon red chile flakes
• 1 tablespoon fresh ginger, finely chopped
• ¼ cup golden raisins
• ¼ cup pitted dates, coarsely chopped
• 1 (16-ounce) block seedless tamarind pulp, coarsely chopped
• 1 cup jaggery or dark brown sugar
• 1 teaspoon chaat masala
• ½ teaspoon black salt (kala namak)
• 1 teaspoon ground ginger
• Kosher salt as per taste
Directions:
1. In a sauté pan, heat the oil over medium heat until it glistens, about 2 minutes. Add the cumin, coriander, fennel, and chile flakes and sauté until aromatic, about 2 minutes. Add the fresh ginger, raisins, dates, tamarind, and jaggery, increase the heat to medium-high, and bring to a boil.
2. Reduce the heat to medium and cook until the sauce is thick and coats the back of a spoon, about 10 minutes, stirring with a wooden spoon occasionally to prevent scorching and to encourage the flavors to mingle.
3. Remove the pan from the heat and stir in the chaat masala, black salt, and ground ginger. Transfer the chutney to a food processor or blender and blend on high speed until smooth. Taste and season with salt. The chutney will keep in a covered container in the refrigerator for up to 2 weeks.
Cilantro-mint chutney
Ingredients:
• 1 cup tightly packed fresh cilantro leaves
• 1 cup tightly packed fresh mint leaves
• Pulp from 1 small mango (about ¼ cup)
• 5 serrano chiles, seeded
• ¼ cup fresh lime juice, plus more to taste
• Kosher salt
Directions:
1. In a food processor or blender, combine the cilantro, mint, mango, chiles, lime juice, and salt to taste and blend at high speed until smooth.
2. Add water as needed to achieve a thick and slightly chunky consistency.
3. Adjust the seasoning with lime juice and salt as needed.
Green chile chutney
Ingredients:
• 2 tablespoons chana dal
• ½ teaspoon ground cumin, roasted
• ½ teaspoon sugar
• ½ teaspoon kosher salt, plus more to taste
• 1 teaspoon chaat masala
• Pinch of hing (asafetida)
• 1 tablespoon fresh lemon juice, plus more to taste
• ½ cup tightly packed fresh mint leaves
• 1 cup tightly packed fresh cilantro leaves
• 3 garlic cloves
• 3 serrano chiles, seeded
• 3-inch knob fresh ginger, peeled with a spoon and coarsely chopped
Directions:
1. Heat a cast-iron pan over high heat until nearly smoking.
2. Add the dal and toast, swirling the pan the entire time, until it takes on a light golden-brown color.
3. Immediately transfer the dal to a bowl or onto a plate to prevent it from over toasting. In a food processor, combine the toasted dal and the rest of the ingredients and blend until quite smooth.
4. Add water, 1 tablespoon at a time, to achieve a thick consistency that holds together on a spoon and is not runny.
5. Taste and season with additional salt and lemon juice according to taste.
Assemble the chaat
1. Put each item in an individual bowl alongside a stack of larger bowls to enable your guests to mix up their chaat with a spoon or, more traditionally, their hands.
2. If you are able to source banana leaves, I would spread them out over the table before arranging everything else for a bright pop of color.
4. Creativity should be the driving force when deciding what ingredients to bring to the table. There is no limit except your imagination when it comes to what to add into your bowl.
Sonal Ved is a Thrillist contributor and the author of Tiffin: 500 Authentic Recipes Celebrating India's Regional Cuisine. She is the content lead at India Food Network and Tastemade India, and the food editor at Vogue India.