The Best Olive Types and Our Favorite Ways to Enjoy Them
For snacking, making cocktails, and tossing into recipes.
Olives—those beautiful, fatty, oily spheres of goodness—what would we do without them? We certainly wouldn't savor them, soaked in gin at the bottom of a Martini, or fish them, spicy and slick with tomato juice, out of a Bloody Mary for a satisfying mid-cocktail bite.
Olives, if you can't tell, are kind of a big deal to us, as they should be to you. To celebrate those pitted pretties and highlight the best types of olives for snacking—from green to black and everything in between—we created this handy guide. Use it to pinpoint exactly which type of olive you want gracing your next aperitif.
Amfissa
Hand-picked in Delphi, Greece when they're very ripe, these olives are slowly brine-cured for a mild flavor and buttery softness. They come in a variety of black and green hues and have a citrusy brightness, perfect for sitting alongside feta in a mezze platter.
Alfonso
Grown in the foothills of the La Yarada mountains in South America, these large, purple olives are brine-cured, then soaked in red wine. They are often used to make arroz al olivar, a traditional Peruvian rice made with olives, garlic, and peppers.
Beldi
These are hard-to-find, dry-cured Moroccan olives, which are exceptionally flavored. On the saltier side, they'd make a great addition to an anchovy pizza or fennel salad.
Castelvetrano
Hailing from their namesake town of Castelvetrano, Sicily, these bright green olives have meaty, buttery flesh. Their mild flavor offers a nice versatility. Chop them up and serve as a topping over meat, toss into pasta, or serve in a martini.
Cerignola
Harvested in Italy's Puglia region, they're extra big and extra crisp. Pair them with cured meats and hard cheeses, like parmesan. They're your go-to antipasto olive.
Gaeta
Tart and citrusy, these olives from Puglia are either dry-cured (wrinkled) or brine-cured (plump). Perfect on their own, Gaeta olives can also be used as a substitute for Kalamata olives.
Gordal
Fat and meaty, these olives from Andalucia, Spain are extremely versatile and fairly mild. A standard table olive, these can be served alongside tapas.
Halkidiki
Grown in the historic Greek region of Macedonia, they're brine-cured for a pleasantly sour, salty taste and are big enough to be stuffed with sun-dried tomatoes, blue cheese, or almonds.
Kalamata
The most popular Greek olive, usually preserved in red vinegar, red wine and/or olive oil. A Greek salad classic.
Lucques
Some compare the taste of these bright green French olives to an avocado. They are firmer than most olives, and because of their depth of flavor, can easily be paired with rosé, or a sweet white wine for an excellent aperitif moment.
Manzanilla
Often stuffed with bright red pimentos, this well-known olive has a crisp texture and slightly smoky, nutty flavor. You can incorporate them into picadillo, or a Spanish-style rice like paella. These are also great in a martini or bloody Mary.
Mission
Native to California, these mild olives are either all-cured (black) or brine-cured (green). This is the variety most used for cold-pressed olive oil in the California olive oil industry.
Nicoise
A perfect balance of herbal and bitter, these olives are used in many classic Southern French dishes, like the tuna-based Nicoise salad.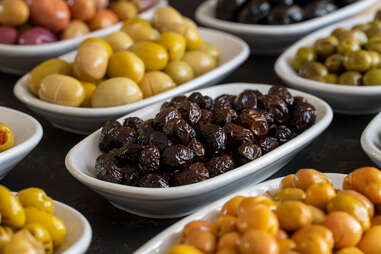 Nyon
Slightly bitter with a soft, wrinkly flesh, these Southern French olives are dry-cured then aged in brine. Warm them up as an appetizer, or pulse them into a tapenade.
Picholine
Crunchy and oblong, these green French olives have a tart, nutty flavor—a similar flavor profile to a Granny Smith apple. Pair with brie or prosciutto.
Taggiasca
Also known as Ligurian olives, they are typically cured with a mix of bay leaves, rosemary, and thyme. These would be great in any seafood dish, or baked within a focaccia.